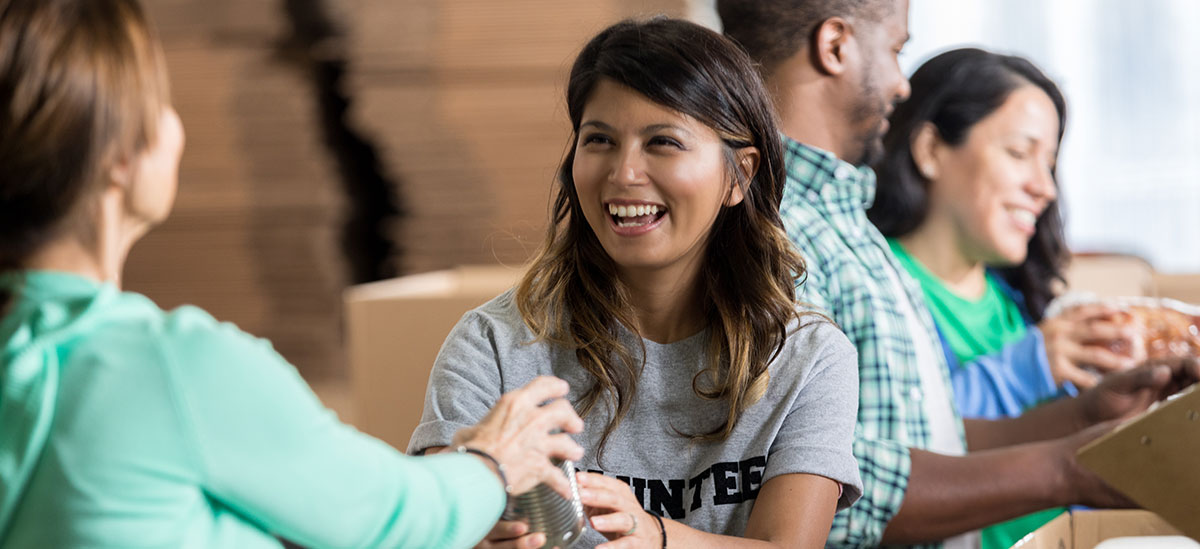 Philanthropic giving is shaped by a variety of everchanging factors. Understanding the current giving landscape can help nonprofit organizations better prepare financially for both the short and long term by setting an informed fundraising strategy. Let's recap a few examples of some of the major influences in philanthropy over the past two years:
Giving from ultra-high net worth donors: The Giving Pledge, a movement by billionaires around the world to commit a majority of their wealth to charitable causes, added 14 new signatories, bringing the total to 230.
Unrestricted giving and trust-based philanthropy: Since 2020, MacKenzie Scott has made headlines by giving at least $8.5 billion in unrestricted dollars to a multitude of nonprofits across the country with no application requirement.
Increase in overall giving: The Giving USA 2021 Report reflected an increase in giving to $471.44 billion in 2020, which can be attributed to the increased focus on social justice and racial equity and COVID relief among other factors, which we will reflect on in this paper.[1]
What does this backdrop mean for philanthropy going forward? Can nonprofits expect these trends to continue? In this paper, we break down recent giving trends and consider the headwinds and tailwinds that are influencing today's philanthropic landscape.
Who Is Giving?
Overall giving was at an all-time high in 2020, increasing by 5.1% from 2019. In keeping with prior years, the majority of charitable donations were made by individuals and bequests from individuals (Chart 1). The S&P 500, often a primary gauge of high-net-worth wealth, posted one of the best years on record in 2020, with 16.26% growth. Beating that by more than 10%, the 26.89% return the S&P saw in 2021 may be a tailwind for individual giving.
Chart 1: Charitable Giving in 2020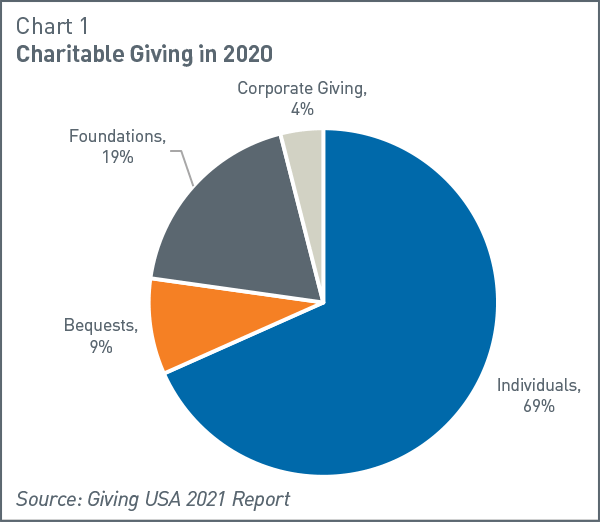 View accessible version of this chart.
Source: Giving USA 2021 Report.
Giving by foundations saw the largest increase in 2020, growing by 17% from 2019. This growth can be attributed to a combination of several factors, including urgency around social and racial justice and emergency funding for organizations at the front line of the pandemic paired with a quick stock market recovery and subsequent growth which led to larger pools for foundations to give from.
Corporate giving decreased 6.1% overall in 2020 due to declining corporate pretax profits and a national GDP decrease. In 2021, real GDP increased 5.7% from 2020. If this is an indication of an increase in corporate pretax profits, it may point to even greater corporate giving levels for 2021.
Will Donors Continue to Give?
Current Headwinds and Tailwinds
Donor Discretionary Income
One factor likely to impact giving from individuals this year is the steady decline in the savings rate. During the height of the pandemic in 2020, individual consumption dropped by nearly 30% from pre-pandemic levels, leading to large jumps in personal savings. As COVID restrictions were lifted in 2021 people felt the need to make up for lost time, resulting in a savings rate that is below pre-pandemic levels, thus creating a smaller pool of assets from which to donate. While the decline in savings is shrinking the pool of available assets, growth in wages around the country has the opposite effect.
Economic Indicators
Factors that may impact charitable giving from both individuals and corporations include high inflation levels and the uncertainty of the Federal Reserve (Fed) raising interest rates. U.S. inflation hit a 39-year high in 2021 at 7%, prompting the Fed to consider rate hikes.[2] Inflation causes prices around the country to rise, decreasing corporate profits, impacting individuals' disposable income. In an effort to subdue rising inflation, the Fed is expected to raise the Federal Funds rate multiple times in 2022. The anticipated rate increases are expected to have a negative impact on the stock market, which could negatively impact investment portfolios. In addition to stock values declining, an increase in rates will cause a surge in the cost of capital for corporations, potentially shrinking corporate profits. For more information on the current inflation environment, see our whitepaper Nonprofit Inflation Flash Update.
Donor Priorities
While diversity, equity, and inclusion (DE&I) have been a focus for many nonprofits for years, the renewed social justice movement that ensued after George Floyd's tragic death has caused both individual and corporate donors to inquire about the DE&I practices and outcomes across the nonprofit sector. Regardless of an organization's primary mission, now more than ever, they need to demonstrate a commitment to DE&I through all aspects of the entity – employee base (hiring, promotions, attrition, etc.), board and leadership recruitment, volunteer efforts, marketing and branding, the organization's performance and much more. How is your organization thinking about DE&I? Are you proactively sharing diversity metrics in your annual report? Do you have team members assigned to measurable tasks intended to improve DE&I efforts? These questions are important to aligns with the values of your existing donors – and those you hope to bring on board.
Government Policy and Intervention
Government policy and intervention, including monetary and fiscal stimulus, can affect how much, and when donors might choose to give. While most donors' primary motivation for contributing to nonprofits is not financial gain, nonprofits benefit when donors are incentivized to give through tax policy. Donors can reduce their annual gross income (AGI) by receiving a deduction for charitable donations and avoid paying capital gains tax when they contribute appreciated securities. The introduction of the CARES Act in 2020 provided an excellent example of this type of incentivizing tax policy. The Act was extended into 2021 and allows itemizing taxpayers to receive a deduction of up to 100% of AGI for cash contributions (formerly 60 percent prior to the CARES Act). Non-itemizers who take the standard deduction can deduct up to $300 if filing an individual return, and up to $600 for those who are married filing jointly. As of the beginning of February 2022, the IRS has not announced whether these provisions will apply to the 2022 tax year. Another example of policy influencing philanthropy is the Accelerating Charitable Efforts (ACE) Act, introduced in the Senate in 2021.[3] One of the main goals of this bill is to encourage distributions from donor advised funds (DAF) by establishing qualified and nonqualified categories for DAF accounts, among other
changes.[4] For more information on this proposed act, see our whitepaper The Accelerating Charitable Efforts (ACE) Act.
Conclusion
The past two years have seen shifts in the philanthropic environment in the form of increases in giving, new trends in the causes to which donors are drawn, and giving movements involving the ultrawealthy around the world. Several factors at play today, such as inflation and the ongoing pandemic, may impact what we see in 2021 and 2022 giving data. Staying informed can allow your organization some foresight into what challenges may be ahead for fundraising. Begin with understanding your donor base – who is giving to your organization, and how might the factors discussed in this paper may affect them.
Charitable Giving Headwinds and Tailwinds
The table below summarizes charitable giving headwinds and tailwinds by donor type.
Donor Type
Charitable Giving Headwinds
Charitable Giving Tailwinds
Individual

Uncertainty around the global economy and 

volatility in the stock market could negatively impact philanthropic giving

Potential unemployment increase could decrease giving

Significant increase in household wealth over last 8-9 years, increasing potential donor base
Overall giving has increased in the last five years

Bequests

The softening of estate tax has potential to remove impetus to make bequests
Multigenerational communication has begun to shift bequests to split-interest gifts

Potential increase in bequest donations in the future due to the aging population
Large generational transfer of wealth

Corporation

Corporate tax rate could increase in the future, decreasing corporate giving

Donations have increased to charitable causes as shifts focus on corporate social responsibility

Foundations

The maximum annual gross-income deduction for non-cash assets is 10% lower for private foundations than for gifts given to public charities

Run-up in global equity market in last decade increased market value of many foundations
About Us
The Endowment & Foundation National Practice Group
The Endowment & Foundation National Practice Group builds on PNC Bank's longstanding commitment to philanthropy and is focused on endowments, private and public foundations, and nonprofit organizations. We seek to help these organizations address their distinct investment, distribution and capital preservation challenges. For more information, please contact Henri Cancio-Fitzgerald at 704-551-2843 or  henri.fitzgerald@pnc.com.
If you have questions or for more information, please contact your PNC Institutional Asset Management representative.



---

Accessible Version of Charts

Chart 1: Charitable Giving in 2020

| | | |
| --- | --- | --- |
| Donor Type | Growth Rate |   |
| Bequests | 9.00% |   |
| Foundations | 19.00% |   |
| Corporations | 4.00% |   |
| Individuals | 69.00% |   |