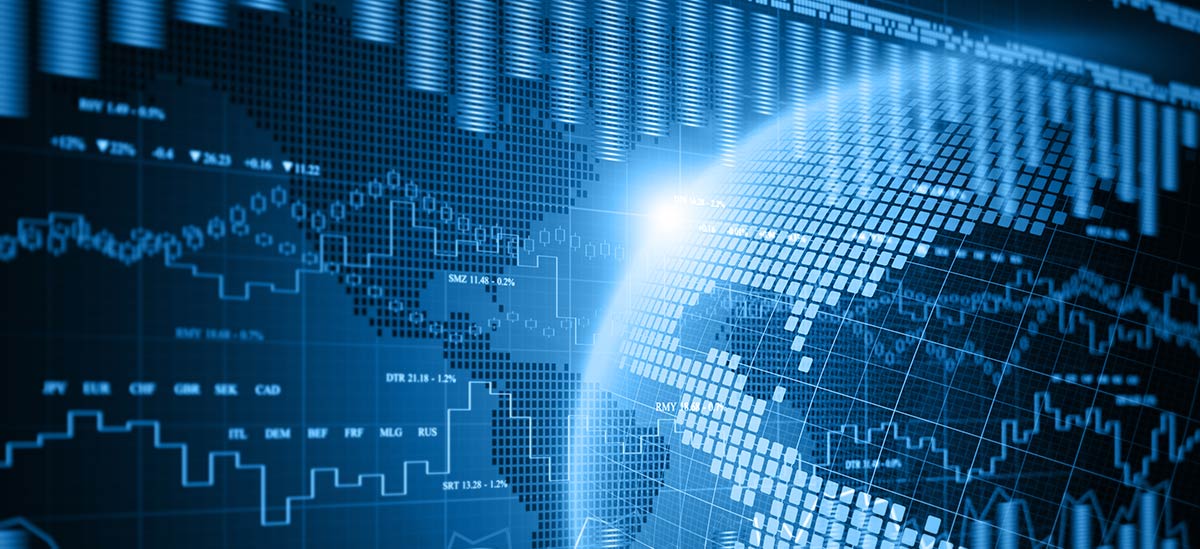 Low Interest Rate Environment
A precipitous fall in rates in 2020 followed the onset of the COVID-19 pandemic, driving interest rates to all-time lows where they remained throughout the summer of 2020. The unprecedented stimulus response from the Federal Reserve resulted in a 150bp cut to the Federal Funds Upper Bound to 0.25%, with borrowing benchmarks (i.e. LIBOR, SOFR, or BSBY) even lower at nearly zero. Additionally, over $3 trillion of asset purchases helped the Federal Reserve drive down longer-term rates.[1] The 10-year Treasury hit an all-time low yield of 0.508% at close on August 4, 2020, when just eight months earlier the Treasury yielded nearly 2%.
View accessible version of this chart.
Source: Bloomberg*
Yield Curve Steepening, but Remains Flat through Historical Lens
During third quarter of 2020, the rate environment began to shift as optimism for vaccine development and economic reopening grew. As shown in the first chart below, the yield curve was almost completely flat as expectations for increases to both short- and long-term rates were subdued in August 2020 (blue line). Since then, the curve has steepened considerably (orange line), although yields remain comfortably within the steepness observed at the beginning of the last Fed rate hike cycle in 2015, as well as below averages over longer historical data series.
Chart 2: U.S. Dollar Swap Curve
View accessible version of this chart.
Source: Bloomberg*
New Inflation Environment, FOMC at Crossroads
The July Federal Open Market Committee (FOMC) meeting recently concluded, resulting in no change to the accommodative policy stance but coming during a very delicate period for the U.S. economy. Although the country has largely reopened since the springtime, with most restrictions lifted nationwide, the labor market has failed to reach the velocity forecasted by economists and remains nearly six million jobs below pre-pandemic levels. Concurrently, headline CPI inflation has accelerated to the highest level since 2008 due to easy year-over-year comparisons, re-opening momentum, and record fiscal stimulus which supported household income to the highest level on record in March 2021. Strong household balance sheets are fueling exceedingly strong demand for goods and services across every industry. The Fed is now faced with the dilemma of balancing inflationary risks from accommodative policy with the possibility that labor market conditions re-accelerate. While FOMC Chairman Powell continues to dismiss inflation data as transitory, there is growing disagreement within the Fed on how to evolve their policy stance moving forward. This is best seen through the Fed's 'Dot Plot', a plot of each member's expectation for the Federal Funds rate over time, which now forecasts as many as two rate hikes to occur in 2023 (up from 2024) as well as the potential for one hike to be advanced into 2022.
Chart 3: Federal Funds Rate - Recent Forecasts
View accessible version of this chart.
Sources: Bloomberg, Federal Reserve*
Hedging Solutions for a Low Interest Rate World
A macroeconomic environment with rising inflation along with an improving labor market could provoke rate hikes sooner than the Federal Reserve forecasts. To mitigate the adverse effects of higher interest expense, borrowers can take advantage of today's interest rate environment by entering into pay-fixed swaps. For example, the current 5-year pay-fixed swap rate is in the lowest decile over the last 30 years and the premium above 1M LIBOR is below the 30 year average. With pay fixed swap rates historically low and the cost of converting from floating below historic averages, companies can hedge portions of their variable rate debt against future interest rate increases and potential volatility.
Ready to Help
Consult with your Derivative Products Group Representative to evaluate the optimal interest rate risk management solutions based on your company's current and projected financial situation.
---
Accessible Version of Charts
| | | | | |
| --- | --- | --- | --- | --- |
| Date | 3M LIBOR | 5 Year Treasury Yield | 10 Year Treasury Yield | 30 Year Treasury |
| 7/9/2001 | 3.79% | 4.80% | 5.33% | 5.69% |
| 12/31/2001 | 1.88% | 4.30% | 5.05% | 5.47% |
| 7/1/2002 | 1.86% | 4.01% | 4.78% | 5.48% |
| 12/31/2002 | 1.38% | 2.74% | 3.82% | 4.78% |
| 7/1/2003 | 1.11% | 2.44% | 3.55% | 4.59% |
| 12/31/2003 | 1.15% | 3.25% | 4.25% | 5.07% |
| 7/1/2004 | 1.60% | 3.73% | 4.57% | 5.29% |
| 12/31/2004 | 2.56% | 3.61% | 4.22% | 4.83% |
| 7/1/2005 | 3.53% | 3.83% | 4.05% | 4.30% |
| 12/30/2005 | 4.54% | 4.35% | 4.39% | 4.54% |
| 7/3/2006 | 5.48% | 5.11% | 5.15% | 5.20% |
| 12/29/2006 | 5.36% | 4.69% | 4.70% | 4.81% |
| 7/2/2007 | 5.36% | 4.89% | 4.99% | 5.09% |
| 12/31/2007 | 4.70% | 3.44% | 4.03% | 4.45% |
| 7/1/2008 | 2.79% | 3.36% | 4.00% | 4.55% |
| 12/31/2008 | 1.43% | 1.55% | 2.21% | 2.68% |
| 7/1/2009 | 0.59% | 2.51% | 3.54% | 4.33% |
| 12/31/2009 | 0.25% | 2.68% | 3.84% | 4.64% |
| 7/1/2010 | 0.53% | 1.80% | 2.95% | 3.90% |
| 12/31/2010 | 0.30% | 2.01% | 3.30% | 4.34% |
| 7/1/2011 | 0.25% | 1.78% | 3.18% | 4.39% |
| 12/30/2011 | 0.58% | 0.83% | 1.88% | 2.90% |
| 7/2/2012 | 0.46% | 0.67% | 1.59% | 2.70% |
| 12/31/2012 | 0.31% | 0.72% | 1.76% | 2.95% |
| 7/1/2013 | 0.27% | 1.38% | 2.48% | 3.48% |
| 12/31/2013 | 0.25% | 1.74% | 3.03% | 3.97% |
| 7/1/2014 | 0.23% | 1.66% | 2.57% | 3.40% |
| 12/31/2014 | 0.26% | 1.65% | 2.17% | 2.75% |
| 7/1/2015 | 0.28% | 1.71% | 2.42% | 3.20% |
| 12/31/2015 | 0.61% | 1.76% | 2.27% | 3.02% |
| 7/1/2016 | 0.65% | 1.00% | 1.45% | 2.23% |
| 12/30/2016 | 1.00% | 1.93% | 2.45% | 3.07% |
| 7/3/2017 | 1.30% | 1.93% | 2.35% | 2.87% |
| 12/29/2017 | 1.69% | 2.21% | 2.41% | 2.74% |
| 7/2/2018 | 2.34% | 2.76% | 2.87% | 2.99% |
| 12/31/2018 | 2.81% | 2.51% | 2.69% | 3.02% |
| 7/1/2019 | 2.33% | 1.79% | 2.03% | 2.55% |
| 12/31/2019 | 1.91% | 1.69% | 1.92% | 2.39% |
| 7/1/2020 | 0.30% | 0.31% | 0.68% | 1.43% |
| 12/31/2020 | 0.24% | 0.36% | 0.92% | 1.65% |
| 7/1/2021 | 0.14% | 0.89% | 1.46% | 2.06% |
| 8/17/2021 | 0.13% | 0.77% | 1.26% | 1.92% |
Chart 2: U.S. Dollar Swap Curve
| | | | |
| --- | --- | --- | --- |
|   | 2020 Nadir, 8-4-20 | Today | Dec 2015 Rate Hike, 12-16-15 |
| 1d | 0.089% | 0.086% | 0.152% |
| 2d | 0.125% | 0.095% | 0.460% |
| 7d | 0.110% | 0.091% | 0.341% |
| 1m | 0.149% | 0.100% | 0.360% |
| 2m | 0.221% | 0.114% | 0.441% |
| 3m | 0.249% | 0.119% | 0.533% |
| 6m | 0.306% | 0.157% | 0.770% |
| 1yr | 0.451% | 0.239% | 1.084% |
| 2yr | 0.184% | 0.279% | 1.081% |
| 3yr | 0.181% | 0.483% | 1.333% |
| 4yr | 0.201% | 0.673% | 1.533% |
| 5yr | 0.243% | 0.825% | 1.696% |
| 6yr | 0.299% | 0.952% | 1.835% |
| 7yr | 0.357% | 1.058% | 1.951% |
| 8yr | 0.411% | 1.146% | 2.048% |
| 9yr | 0.461% | 1.219% | 2.134% |
| 10yr | 0.505% | 1.283% | 2.207% |
| 11yr | 0.547% | 1.338% | 2.272% |
| 12yr | 0.582% | 1.386% | 2.330% |
| 15yr | 0.655% | 1.491% | 2.451% |
| 20yr | 0.728% | 1.591% | 2.572% |
| 25yr | 0.751% | 1.628% | 2.629% |
| 30yr | 0.759% | 1.642% | 2.662% |
| 40yr | 0.713% | 1.585% | 2.681% |
| 50yr | 0.647% | 1.495% | 2.664% |
Chart 3: Federal Funds Rate - Recent Forecasts
| | | | | |
| --- | --- | --- | --- | --- |
|   | 2021 | 2022 | 2023 | 2024 |
| Median Projection |   | 0.125% | 0.625% |   |
| Average Projection |   | 0.250% | 0.694% |   |
| Latest Futures |   | 0.310% | 0.785% |   |
| Long-Run Nuetral Rate | 2.500% | 2.500% | 2.500% | 2.500% |
| Pre-Pandemic Fed Funds Upper Bound | 1.750% | 1.750% | 1.750% | 1.750% |