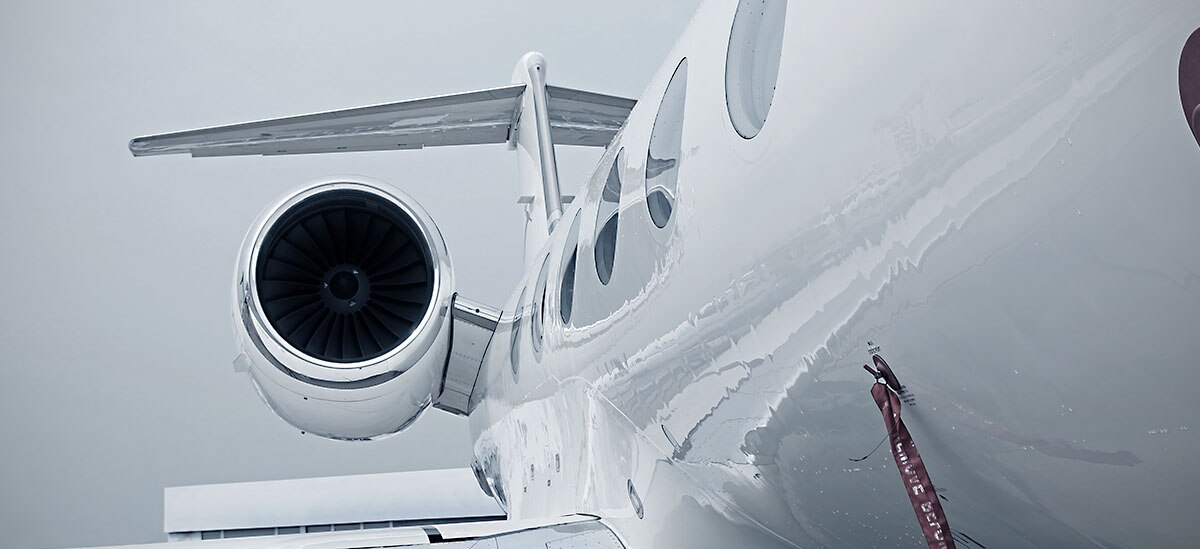 The Federal Aviation Administrations's (FAA) Federal Regulation 14 CFR - 91.225 and 14 CFR - 91.227 final rules, with a compliance deadline of January 1, 2020, offer myriad challenges to high-end corporate and private jet owners.
Basically, the new rules mandate that aircraft flying in airspace defined in 14 CFR 91.225 to install and operate an Automatic Dependent Surveillance-Broadcast (ADS-B) system to remain in full safety compliance.1. To be in full compliance, high-end jet owners have to install ADS-B Out to operate in airspace, replacing the current Mode C transponder in operation today.
According to the FAA, ADS-B is a foundational NextGen technology that transforms aircraft surveillance using satellite-based positioning. According to the federal agency, ADS-B Out transmits information about a plane's altitude, speed, and location to air traffic control and other nearby aircraft. ADS-B In allows aircraft to receive traffic and weather information from ground stations and to see nearby aircraft that are broadcasting their positions through ADS-B Out.
"Owners can choose to install only ADS-B Out equipment to meet the 2020 requirement, or they can purchase an integrated system that also includes ADS-B In," The FAA states.2
Overall, the FAA pegs the number of U.S.-based aviation aircraft that are not in compliance with the mandate at more than 100,000.3 That suggests aviation firms have plenty of work to do to become compliant by the January 1, 2020 deadline.
Get the Right Financing in Place
One critical area is finding the right financing deal to get the tools and technologies needed for full compliance. How can high-end jet owners best examine the financing side of ADS-B, and figure out three key rule components – how to comply, how to approximate cost ranges, and how to get the best financing deal to gain full compliance?
To properly fund the purchase and installation of ADS-B equipment, start with these essential steps:
Know what you'll have to pay - To purchase and install ADS-B Out systems for high-end corporate jets, owners can expect to pay anywhere from $100,000 to $200,000, depending on the jet model.
According to data from StandardAero, published on Avionics.com, the average upgrade price per aircraft for specific high-end corporate jets are as follows4:
• Bombardier CL604 ROM: $100,000
• Falcon 50EX/F900EX/F2000 ROM: $60,000 to $140,000
• Hawker 800XP-900XP (Rockwell Collins equipped): $50,000 to $200,000
• Hawker 800XP (Primus equipped): $90,000 to $140,000
Focus on financing – Financing the purchase and installation of ADS-B systems is highly advisable, as a loan can provide several specific benefits, including a fast and efficient application process, the ability to conserve much-needed cash, fixed payments (which allow for superior cash forecasting for aviation companies) and the ability to preserve any current bank lines of credit.
Get a $500 rebate - General aviation aircraft owners can also apply for a $500 rebate to curb the high cost of purchasing and installing ADS-B systems aircraft by the 2020 deadline. The program, which was launched in September, 2016, will issue 20,000 rebates on a first-come, first-served basis until all 20,000 rebates are used up, the FAA reports.
"The rebate is available only to owners of U.S.-registered, fixed-wing, single-engine piston aircraft that were first registered before January 1, 2016," the agency states. "The FAA will not provide rebates for software upgrades on already equipped aircraft, or for aircraft for which the FAA has paid or committed to upgrade. The FAA estimates that 160,000 aircraft need to be equipped by the deadline."
Additionally, if you do buy ADS-B system products and services directly from a manufacturer, make sure to ask about rebates, as companies may provide them as part of an ongoing marketing promotion.
Act Now to Get in Full Compliance
Aviation industry decision makers should not wait too long to begin complying with the FAA mandate, and to begin the process of purchasing and installing ADS-B systems.
There's always the likelihood of system-based products and services to rise, making it wiser to buy now, when prices are stable, and put your firm on the fast track to full Federal Regulation 14 CFR - 91.225 and 14 CFR - 91.227 compliance by January, 2020.
Go with PNC on ADS-B
PNC Aviation Finance offers a suite of flexible financing solutions that are uniquely designed to meet the needs of high-end corporate and private aircraft owners. PNC offers full lending capabilities and solutions that offer loan programs featuring flexible structures at highly competitive rates (fixed, floating & hybrid). You can get either a lump sum or "pay as you go" repayment option, or term option to refinance your aircraft for affordable technology upgrades.
Plan For the Financial Side of ADS-B
Plan to finance and upgrade your aircraft's equipment by contacting a PNC Aviation Finance representative.