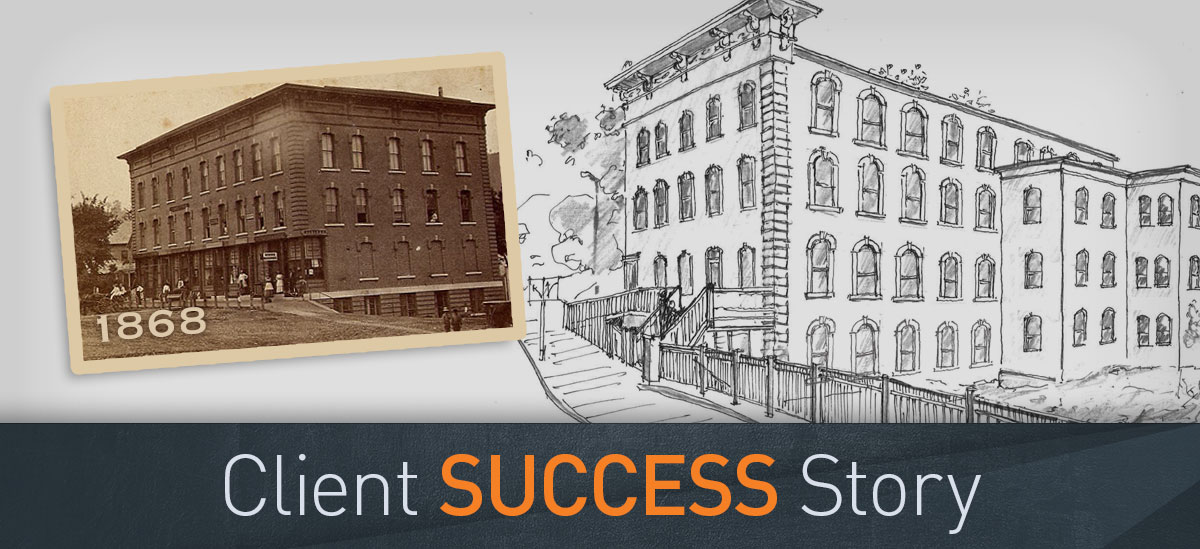 Date: July 2019
Location: Springfield, Vermont
Financing Amount: $3,915,608 LIHTC; $1,267,224 Federal Historic
Scope: 20 units; 6,780 sq. ft. of commercial space
In 1868, The Woolson Block, a three-story Italianate-style brick building perched above the Black River Falls in Springfield, Vermont, was a busy mixed-use building. In 2020, a gut rehab will restore the building to its vibrant roots, creating 15 rental apartments; four single-room occupancy units; and a manager's unit for youth transitioning from foster care on two upper floors. On the ground floor, approximately 6,780 square feet of commercial space will contribute to the community's charm and vitality.
At the rear, a wood-framed addition will be removed to create an attractive outdoor area and stabilize the rock ledge the building sits upon. New ADA-compliant ramps will be installed to provide access to the new code-compliant elevator for access to each floor level.
The Woolson Block will offer both a Section 8 Project Based Housing Choice Voucher contract for eight of the units and a Single Room Occupancy Master Lease for another five units. The seven non-subsidized units are highly competitive in the market due to the building's very desirable location and the need for additional housing.
The building's pedigree as a Certified Historic Structure, along with the community's dedication to historic rehabilitation contributed to the success of the project.
PNC Real Estate's Tax Credit Solutions group helped make the transformation possible.
Working with Housing Vermont on the bank's first deal in the state, PNC Real Estate provided $5.1 million in Federal Tax Credit equity and coordinated funding from nine additional sources including the sponsor, a first-time client, to raise the $8.6 million required for the renovation.
PNC Real Estate's ability to bring the funding sources together simplified a complex financing process for the client and accelerated the closing.
Funding Sources
Federal Tax Credit Equity from PNC Bank
$5,182,832
Downtown Tax Credits
$328,500
Vermont Housing & Conservation Board:


Housing For All Revenue Bond




HOME Program




National Housing Trust Fund


$1,001,524
$425,000
$323,476

Vermont Community Development Program
(VCDP) through the Town of Springfield
$450,000
Vermont Community Foundation
$250,000
Town of Springfield Revolving Loan Fund
$200,000
Southern Windsor County Regional Planning
Commission – EPA Loan
$175,000
Efficiency Vermont
$34,650
Developers' Loan
$68,334
Springfield Housing Authority
$248,000
TDC including commercial    
$8,687,316
Housing Vermont has helped to revitalize downtowns statewide while building affordable apartments, investing in quality jobs and reducing carbon emissions. It has created or renovated 6,000 apartments to serve low- and moderate-income Vermonters including seniors, those with special needs and formerly homeless individuals.
In discussing the project, Nancy Owens, president, Housing Vermont, noted, We typically syndicate to local banks, but PNC Real Estate had the money to invest, brought a great deal of expertise and a good reputation to the table and enabled a 90-day close so we could begin the rental process. Thanks to PNC Real Estate's leadership, we will be offering several important community benefits including creating much-needed affordable housing and boosting the vitality of downtown Springfield, Vermont."