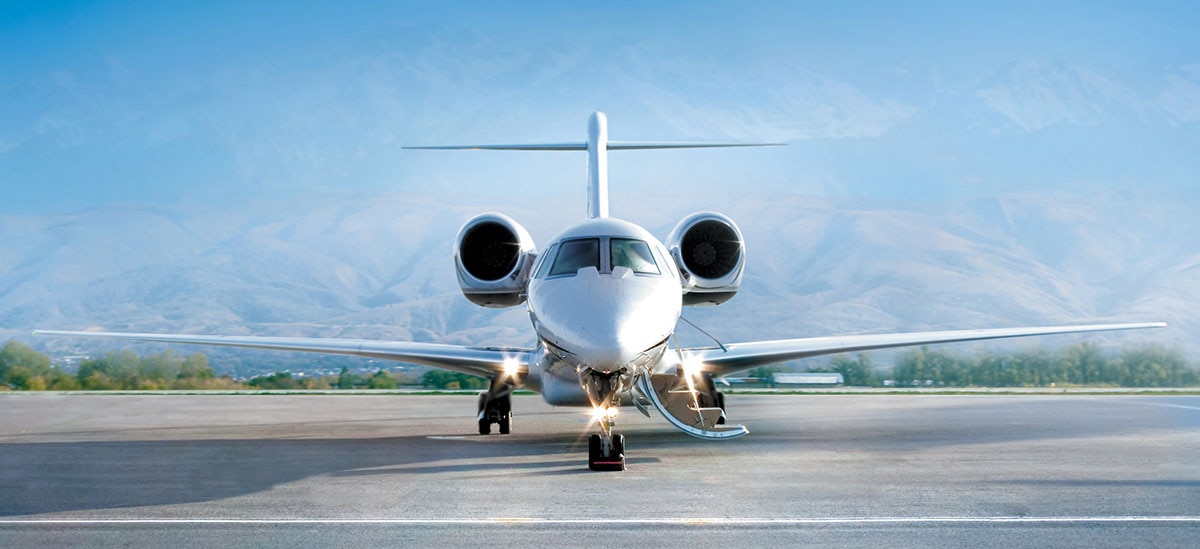 Time is running out for business aircraft operating in U.S. airspace to be equipped with advanced avionics to meet a federal government mandate that calls for inadequately equipped planes to be grounded after January 1, 2020. The good news is the upgraded flight deck equipment will enable more direct, fuel-efficient flights that will ultimately save aircraft operators time and money.
The U.S. Federal Aviation Administration (FAA) is transitioning air traffic control (ATC) from ground-based radar systems installed more than half a century ago to a new, modern, satellite-based system. At the heart of the FAA's NextGen ATC system is Automatic Dependent Surveillance-Broadcast (ADS-B) technology. The agency has installed a nationwide ADS-B radio network that uses GPS signals from satellites to track aircraft location and separate aircraft from each other.[1]
Aircraft equipped with ADS-B Out transponders relay their position almost continuously, a major change from the radar-based system in which there is at least a 4.7- second gap between aircraft position transmissions. In fact, radar sometimes even has problems distinguishing planes from birds—ground-based radar is outdated, imprecise air navigation technology.
On the other hand, with the continuous positioning knowledge enabled by ADS-B, air traffic controllers can space aircraft closer together, particularly in challenging geographic areas such as mountainous regions. This allows aircraft to fly more direct routes, saving time, fuel and reducing emissions. It also could provide major benefits in severe weather situations as controllers with precise positioning information can guide aircraft around storms.
The FAA is mandating that all aircraft operating in most U.S. airspace be equipped with ADS-B Out transponders by January 1, 2020. That deadline may appear to give aircraft owners ample time, but it is generally estimated that more than 70% of business jets in the U.S. still need to equip.
Equip ASAP
It is in aircraft owners' best interest to equip as soon as possible for three reasons:
1) The cost of equipage will only increase as the deadline draws nearer and a logjam of aircraft trying to meet the mandate drives up the price of equipment. The Aircraft Owners and Pilots Association (AOPA) estimates the cost of ADS-B Out equipage at $5,000 or more per aircraft, and that is before the expected late push to comply with the mandate.
2) Suppliers and installers of ADS-B Out equipment will likely be hard pressed to handle the rush of demand in the final months and weeks before the deadline arrives. Regardless of cost, equipment may not be available for those who wait too long.
3) The FAA is already using ADS-B, meaning aircraft with the proper equipment can begin reaping benefits now.
Most importantly, equipping soon allows you to rest easy knowing your aircraft will be able to continue flying beyond January 1, 2020. Despite some misinformed rumors, FAA officials have been clear: the ADS-B Out deadline will not be extended.
ADS-B should pay off long term, so aircraft owners should not be too alarmed about the price of equipage. JetBlue Airways, an early adopter of ADS-B Out, says the equipment has allowed it to save hundreds of dollars per flight in fuel costs on routes over the Gulf of Mexico—airspace not well covered by radar. It has also allowed the airline to reroute around storms over the Gulf, saving valuable time.
Wise Investment
Becoming ADS-B-equipped should be viewed as an investment rather than a lost cost, particularly for those aircraft owners who go beyond the mandate—which only requires ADS-B Out transmitters—and also install ADS-B In equipment.
Aircraft with ADS-B In equipment will be able to receive weather reports and forecasts, notice to airmen (NOTAM), flight data from FAA ATC centers and other critical information that will improve pilots' situational awareness and lead to more efficient, safer flying. For ADS-B In-equipped aircraft, traffic, weather and aeronautical information will be available at no extra cost, according to the FAA.
Pilots flying aircraft equipped with ADS-B In avionics will be able to "see what controllers see: other aircraft in the sky around them," the FAA explains. "Pilots are also able to see—and avoid—bad weather and terrain, and receive flight information such as temporary flight restrictions."
PNC Aviation Finance's experienced team can assist aircraft owners trying to navigate ADS-B equipage and financing options. Do not risk getting grounded—determine the best, most cost-efficient means for financing your aircraft and equipping your aircraft's flight deck with ADS-B avionics as soon as possible.
Avoid Getting Grounded
Contact us to avoid grounding yourself and your business.