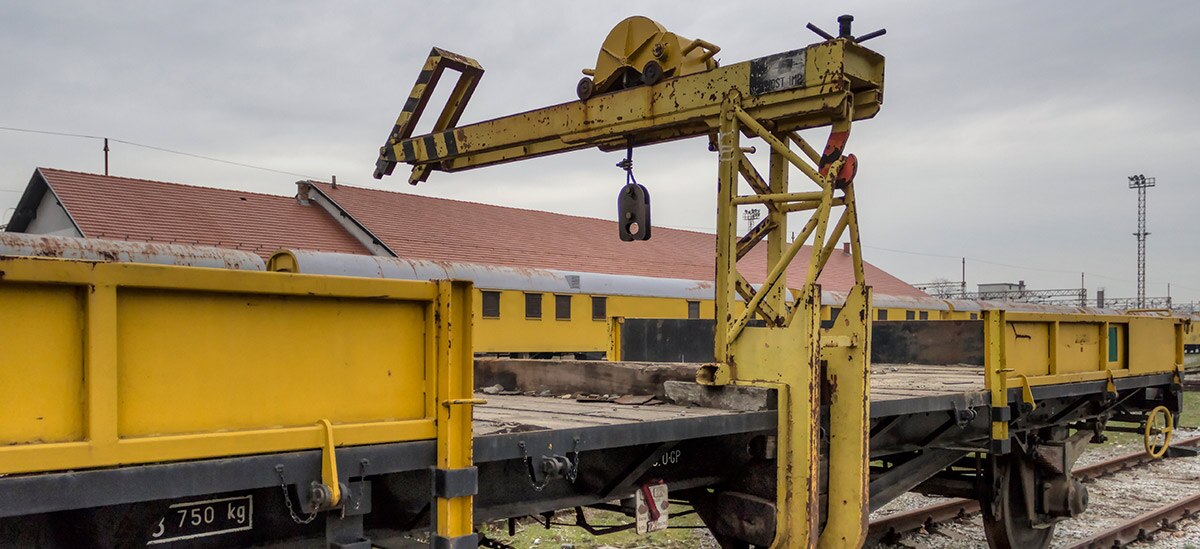 In 2019, the total combined U.S. rail traffic between January 1 and August 31 was 18,200,147 carloads and intermodal units.

More than 300,000 rail cars[1] in the U.S. delivered fuel, supplies, and commodities that power American life. That said, it's easy to understand that when a rail car goes down due to a maintenance issue, it's a problem. Deliveries are slowed or delayed, costs rise, and the supply chain is affected. Generally, these issues fall directly on a shipper's shoulders, especially considering the fact that only 20% of those cars are owned by the railroads. Preventive maintenance (PM), condition-based maintenance (CBM), and predictive maintenance (PdM) can eliminate these issues, though.
Why Condition-Based Maintenance is Key
Studies show that condition-based maintenance (CBM), which requires shippers to monitor the condition of a rail car in order to decide when maintenance should be done, can save "5% to 12% of life cycle cost."[2] And yet some shippers are so busy with other tasks such as recertification they are caught by surprise when a railcar breaks down.
One of the main reasons rail car owners and leasees forgo PM or CBM is cost, says Art Guzzetti, vice president of policy and mobility at the Association of American Railroads. When profits are up and budgets are hearty, tasks such as preventative maintenance are easily funded. However, if net income is down, shippers look to cut corners somewhere and sometimes that means they are stretching out replacement cycles in effect playing Russian roulette with their transportation.
The Basics of Preventative Maintenance
There are simple strategies that shippers can employ to get started with PM, CBM, and PdM, says Richard Kloster, senior vice president of AllTranstek LLC, a private transportation consulting company. Shippers need a detailed inventory of all railcars that includes what kind of cars are in a fleet, the age of the car, how often it is used, and what it's used for.
"Are you using it once a week to haul light loads or every week to haul heavy contents? Are you moving coal? If it's a tank car are you hauling corrosive materials like acid that are going to wear out the steel shell? Do you need a coating inside to protect the car from the commodity or protect the commodity from the tank car? These are all questions you're going to need to discuss," says Kloster.
You'll also need to consider the moving and non-moving parts and keep track of how often they need to be changed out. Wear components such as wheel sets have a finite lifecycle, while castings – which don't move and are typically solid metal – are much more dependent on hauling and environmental conditions. "A casting might last the lifetime of a car, but it still needs maintenance," explains Kloster. 
And then there are specialty components that appear on only certain types of cars such as doors, gates, hatches, and valves. These are generally expensive and also dependent on use and load and are almost always the responsibility of the shipper – not the leasing company, says Terry Hicks, vice president of sales for Appalachian Railcar Services.
"Air brake hoses have an 8- year life. Tank cars have a 10-year requalification they have to go through. You may want to cycle rail cars through once a year to make sure they are in proper shape and in good standing," he says.
Preventing the Inevitable
Those organizations that skip regular maintenance may find themselves dealing with a bad order – a rail car breakdown -- which can raise costs and extend a car's out of service time. If the repair is simple and can be completed in the field the cost won't be too steep. You'll pay the agreed upon price from the Car Repair Billing Price Master.
However, if the car must be taken in or a repair must be done in the field, costs can escalate quickly. "Rail cars are assets that generate revenue. If you've got a car hauling and it has a broken hatch and you can't move it because the commodity it's hauling is leaking out, that dictates remedy in the field, but if it's not close to a shop that is capable of handling that repair it's going to get expensive," explains Hicks.
Likewise, if the rail car is damaged in the field and the closest repair shop is miles away from its origin or destination, costs to move that car can be extremely prohibitive.
The solution to both of these problems is scheduling your rail cars for regular maintenance based on repair history, age of fleet, and use type and making sure the repair shops are going over components and systems that may fail in the immediate future. This can be difficult for those shippers that have a lean employee base or that simply don't have the time to handle the scheduling and movement of the fleet. There are also shop considerations. 
There are only 450 railcar shops in the U.S. – and half of them are small so-called mom-and-pop shops – the majority of which are clustered around shipping thoroughfares. Many focus on specific repair types such as coal cars or tank cars, for example. "Cycle times and shop capacity are definitely critical to know," says Hicks. "There are some parts with long lead times and the goal is always to have those parts waiting for you when you bring a car in for that repair."
The Benefits of Building in Maintenance
If this seems like a lot to handle, there is another option: Building maintenance into the cost of a rail car lease, creating a full turnkey solution. Organizations can opt for a full service lease such as those that PNC offers, which include preventative maintenance. The company also offers a modified full service lease that allows customization.
Not only does the responsibility for preventative maintenance fall on PNC, but the company can help predict when things might fail and bring a car in before it has a problem in the field. Using the power of big data and historical repair, PNC can help clients make better decisions. This helps you control costs and keep rail cars on the tracks where they belong. PNC can plan ahead and, if they know a rail car will be passing through Wyoming, schedule a stop once the car is empty and on its way back. PNC also has preferred relationships with key repair shops so repairs can move seamlessly from the field to the shop and back out hauling with as few interruptions as possible.
"With the total railway repair spend between $2.5 and $4 billion each year it pays to do it right and do it before there's a problem," explains AllTranstek's Kloster. "The repair process is so much more sophisticated today. Leasing companies are building models to figure it all out and save money wherever they can."
Ready to Help
To learn more about how a solution like PNC Equipment Finance's Railcar Lease & Asset Management Solutions can help you keep your products moving seamlessly contact us.