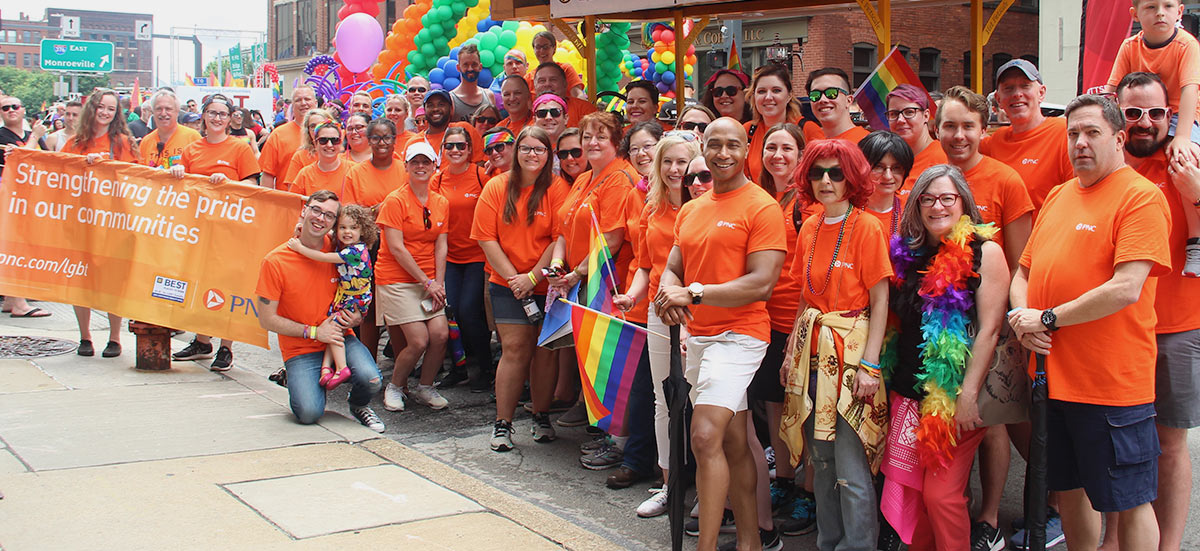 2018 Photo
For the past decade, PNC has received recognition as one of the "Best Places to Work for LGBTQ Equality" by the Human Rights Campaign (HRC). It is a distinction rooted in the bank's longtime work with HRC that has resulted in inclusive policies, as well as its own commitment to provide a fair and equitable environment for members of the LGBTQ+ community.
The Measure of Success
Each year, the HRC Foundation measures progress related to LGBTQ+ workplace inclusion through its annual Corporate Equality Index (CEI) – a benchmarking tool that assesses and promotes employer policies, best practices and benefits relevant to LGBTQ communities. Companies scoring 100 on the survey are recognized among the "Best Places to Work for LGBTQ+ Equality.
"Building an inclusive culture is a journey, and we're committed to fostering an environment of safety and trust," says PNC Chief Diversity Officer Gina Coleman. "I think PNC's position on diversity, equity and inclusion is well aligned with the advocacy and policy work that the Human Rights Campaign conducts, and we will continue our efforts to implement LGBTQ+ policies and practices that supportmembers of those communities.
By using HRC's CEI guidelines, businesses can help ensure their existing policy and benefits infrastructure is inclusive of LGBTQ+ employees and their families.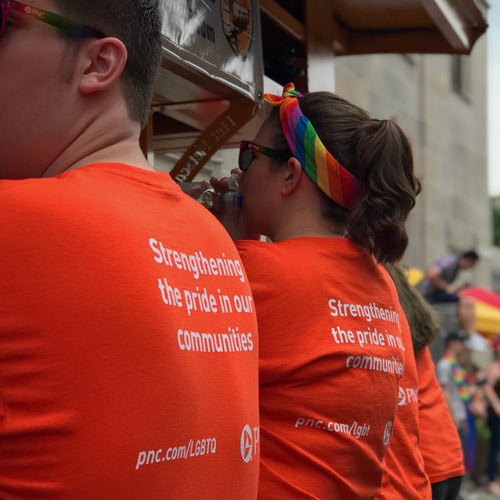 Contributing to Proud Communities
PNC works to cultivate an environment of inclusion in the workplace and beyond in many different ways.
PNC Proud, the bank's employee business resource group for LGBTQ+ employees and allies, boasts 12chapters across the bank's footprint that not only contribute to the work culture, but to the communities in which they work and live. That includes event sponsorships that celebrate and support LGBTQ+ members and initiatives.
Several recent charitable event sponsorships include:
Atlanta Pride (Atlanta Pride Committee)
Out!Raleigh Pride (LGBT Center of Raleigh)
North Jersey Pride's 2020 Pride Season (North Jersey Pride Inc.)
Stonewall Columbus Pride March and Festival (Stonewall Columbus Inc., Ohio)
PNC also has worked with organizations such as the Reaching Out MBA[1], Out and Equal[2] and Lavender Law [3] for advocacy, mentorship and recruitment. PNC attorneys have also volunteered their time through the Name Change Project.
Valued and Protected
Before PNC began working with HRC, it worked with state and local organizations around the country against legislative efforts to restrict the rights of LGBTQ+ individuals.
"We obviously advocate on behalf of fundamental banking, legislative and regulatory issues, but we also engage as an active member of the communities we serve. Sometimes that leads us to issues of advocacy, whether it's issues important to our employees or the broader communities in which we live and work," says Thomas Lamb, senior vice president and managing director of government affairs at PNC.
"For at least a decade, we've worked with HRC to support vital legislation across the country that protects members of the LGBTQ+ community. We hope the end result is that every individual will feel valued and protected."
As an HRC national corporate partner, PNC has supported the organization's advocacy work around state regulations and became a signatory to the national Business Coalition for the Equality Act, as well as for the Business Statement on Anti-LGBTQ State Legislation.
Deeply Personal Work
Reymundo Ocañas, executive vice president of Community Development Banking at PNC, has served as an HRC Foundation board member since 2017, but his HRC involvement began shortly after he and his husband married in 2013.
"We got married right before marriage equality became the law of the land," recalls Ocañas, who is based in Houston. "We had to travel to New York because the U.S. Supreme Court decision to recognize same-sex marriage wouldn't come until 2015, and Texas didn't allow same-sex marriages. We were able to advocate for our rights through our involvement with HRC."
Though impactful progress has been made, Ocañas notes PNC's support for HRC initiatives is key.
"It is critical to acknowledge that challenges for the LGBTQ+ community remain," he says. "It is more important than ever to celebrate and embrace the diversity in our country, and the Human Rights Campaign is on the frontlines working to ensure the road to true equality is unobstructed."