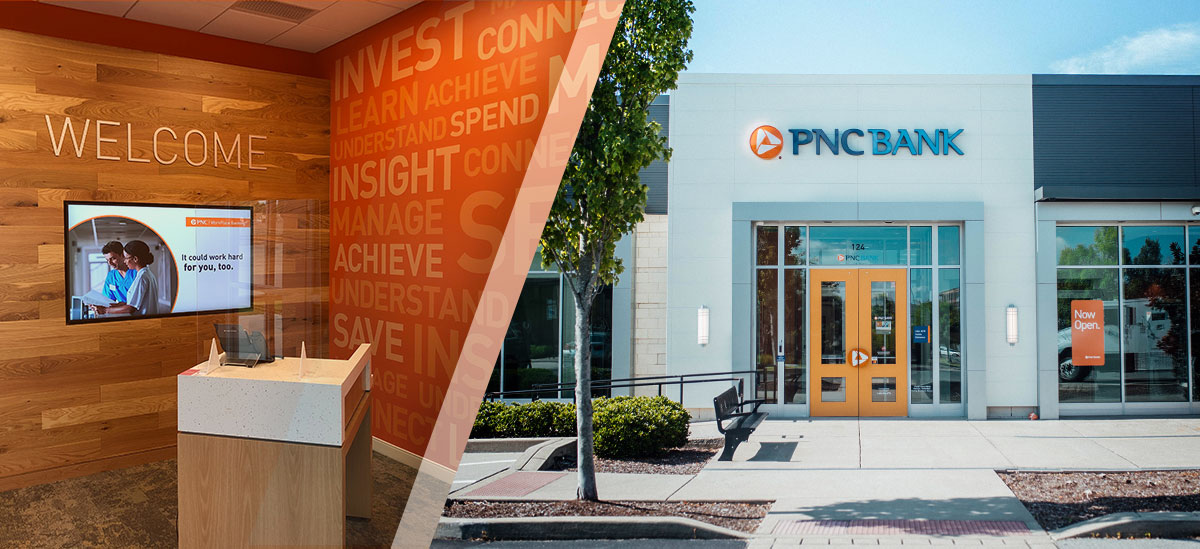 The bold idea behind PNC's Solution Centers, which provide a physical presence in several of the bank's newest markets, is not readily apparent from a blueprint.
"They're a physical presence where the bricks aren't the most important building material," said Kevin McCann, PNC's national territory executive within its consumer bank. "Ultimately, Solution Centers are built around people and their needs, which often can be met through digital solutions."
Representing a natural evolution of physical and digital banking coming together, Solution Centers allow customers to interact with PNC's trained staff for individual consultation on their personal needs or financial goals. Within the comfort of conversational gathering spaces, the centers feature mobile work stations, ATM and banking kiosks and screen-mirroring capabilities that allow for hands-on demonstrations of PNC's digital banking technology.
Continuing PNC's national expansion, 20 Solution Centers are expected to open through 2020. Houston, Dallas, Boston, Denver and Nashville are the destinations for the newest locations, but no matter where Solution Centers open across the country in the future, a core PNC value, "Customer Focus," will guide the way.
"It's pretty well known that customers' preferences have been shifting toward digital for years," McCann said. "But customers still rely on in-person interactions with people when it comes to those meaningful, moment-of-truth needs. I think customers want the best of both worlds, and Solution Centers are an innovative way to deliver on that."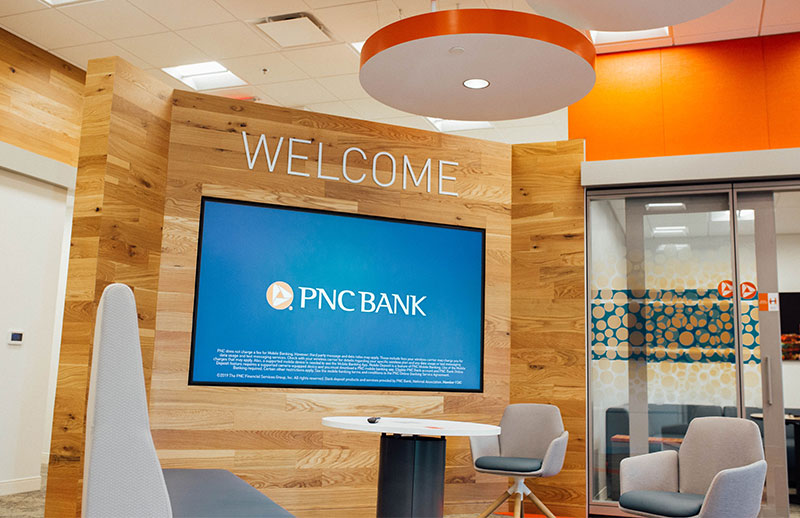 Solution Centers helped PNC establish its presence in Kansas City and Dallas in 2018, the same year it introduced national availability of online-only accounts.
"Bringing Solution Centers to life in markets where PNC didn't formerly have a physical retail banking presence is pivotal," said Louis R. Cestello, executive vice president and head of PNC's Regional Markets. "Our ability to provide an avenue for delivering robust and technologically-advanced banking services to these communities is crucial to our continued national growth."
Plans to expand PNC's Solution Center model in new markets continue to grow and evolve, as PNC constantly monitors how customers prefer to conduct their banking services between physical and digital channels. The current aspiration is to build enough Solution Centers in each expansion market for 80 percent of the metro area population to reside within a 15-minute drive of at least one location.
"There's something to be said for the comfort level that comes with a bank putting down roots in the community," McCann said. "Even on the digital end, there's impact in having a physical presence. We've learned that customers were more comfortable opening an account with us digitally when they knew we were physically available nearby, if they needed us."
Meaningful discussions with customers don't just happen within the confines of Solution Centers. Even during the earliest days in Kansas City and Dallas, the Solution Center staffing model called for a proactive, almost adventurous approach to customer engagement and education

"The technology freed bankers and untethered them from the building," McCann said. "The Solution Center is there, and it's important for us to always have someone inside staffing it. But when our team members can be out and about, they can really focus on these new locations and being part of the community. They're out doing community events, providing financial education, conducting workplace on-site visits and participating in community service. Pre-COVID, they spent 80 percent of their time outside of the Solution Center."
The constraints introduced by the Coronavirus pandemic have limited the opportunities for Solution Center employees to physically meet and greet in their communities. But community interactions didn't disappear — they just moved to video chats and other socially distant interactions.
"You'd think COVID would've crippled this proactive Solution Center model," McCann said, "but I think it's demonstrated how nimble this can be and how in line we are with the true needs and values of our customers."
Those needs and values might shift as the pandemic continues to play out. But the pace of change in banking accelerated well before COVID-19 came along. PNC's Solution Center staff members strive to support customers at every stage of the process. Their purpose does not depend on the walls and windows around them.
"I truly believe our proactive approach of trying to be part of the community is a powerful differentiator," McCann said. "We know we have the digital offerings that enable people to not be tethered to bank branches. We understand that we are new to these communities, and we are focused on earning our way in by playing a meaningful part. For us, there is nothing more important than building loyalty and trust."