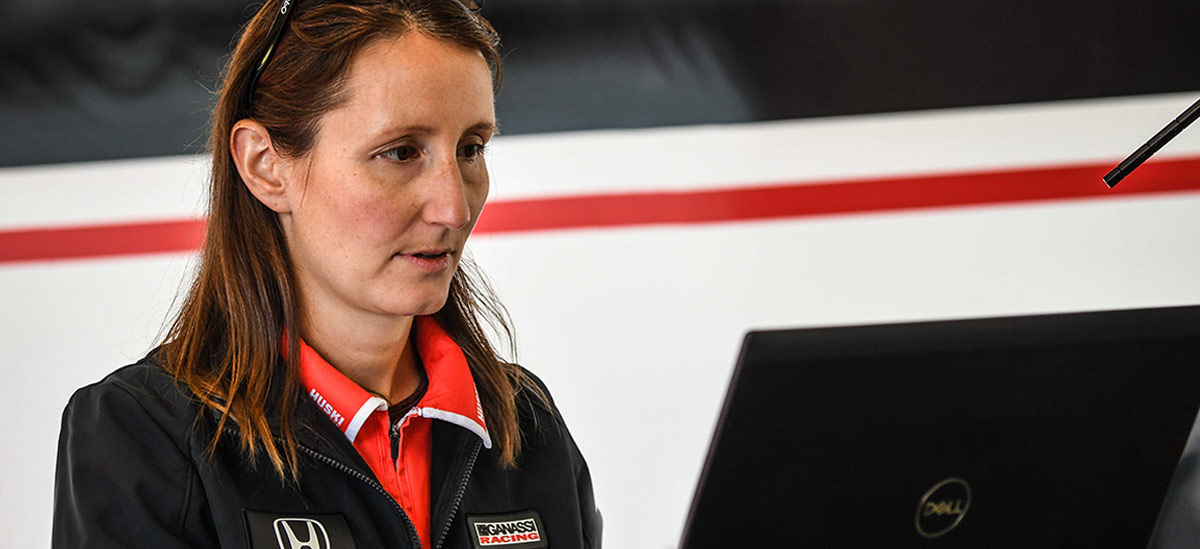 Much like on the racetrack, there were a litany of twists and turns that INDYCAR Assistant Engineer Angela Ashmore had to navigate before she crossed the biggest finish line in her career to date at Chip Ganassi Racing, a proud sponsorship affiliate of PNC.
Ashmore built a strong affinity for motorsports as a child while watching NASCAR races on TV and knew exactly what she wanted to do for a living from the beginning. With her dad's encouragement early on and in high school, and an aptitude for math and science, she pursued a mechanical engineering degree at Purdue University in Indiana.
The road only got more difficult from there.
Unlike many motorsports professionals, Ashmore didn't come from a family with a background in the field, leaving her with no connections that could help her get a foot in the door, and little knowledge of where to start. Ashmore said this was a disadvantage when the green starting flag was waved at the onset of her career. Even more discouraging, two months before she was to join the motorsports division at a research and development company, the company shut down the department, leaving Ashmore back at square one.
It wasn't until two years after that unexpected bump in the road that she found herself where she wanted to be all along. A close friend made her aware of an opportunity at a family racing group, which led to her long-awaited entrance into the industry, and eventually, to Chip Ganassi Racing.
"I took the opportunity and never looked back," Ashmore said.
Her work has yielded a newfound confidence she's eager to share with other women in search of fruitful career paths. Ashmore is also part of PNC's newly formed Women in Motorsports initiative, a program designed to drive awareness and support for gender equality and economic inclusion for women in the industry.
Launched in March, and complete with a specialized intern program, the collaboration is another step in PNC's pursuit to narrow the economic gender gap. Central to this commitment is PNC's Project 257℠: Accelerating Women's Financial Equality, an enterprise-wide initiative that includes a focus on representation in STEM and other professions in which women are underrepresented.
While the difficulties she faced could have been discouraging, Ashmore urges women to look beyond the doubts and second-guessing, and confidently engineer a rightful place in their field of choice.
Angela Ashmore
How has motorsports shaped your life beyond your career?
I almost think it's the other way around: My personality and DNA make me well-suited to motorsports. I am extremely competitive. Through high school I took advanced classes that I wasn't interested in just to boost my GPA. I couldn't stand the thought that someone could beat me to the top of the class. That critical thinking and problem solving gave me the ability to think clearly in high stress situations and come up with solutions quickly. In motorsports, sometimes you only have 20 seconds to evaluate a situation and communicate the solution; it's very fast paced. Not everyone is suited to that environment.
What are some of your biggest accomplishments?
When INDYCAR Driver Marcus Ericsson won the 2022 Indy 500 in May, I became the first woman in INDYCAR to be part of a winning crew. That's at the top of my list. We've also won three races with Marcus in the last two years, and we're currently leading in the INDYCAR Standings.
Have you found it intimidating venturing into this field, and what kind of obstacles have you faced?
I feel like I had to work a little harder up front. When I first came in, for example, a group of guys would go out to lunch, and no one would invite me. It wasn't because they were trying to exclude me. They just didn't think about it. I had to be assertive -- 'Hey, do you mind if I go to lunch with you guys?' -- or else, they wouldn't have invited me on their own. I've had to pick away at those things until eventually, they trust you, respect you, and know you do the job well, and you don't have to shoehorn yourself in anymore.
As one of the faces of the Women in Motorsports program, what has that meant to you?
I look back at how difficult it was to get my foot in the door and find an opportunity for a spot on a competitive team. Opportunities like that are extremely hard to come by. For PNC to open spots up to help interns get exposure to a career in motorsports is a big deal. It's cool to see their immersion, how quickly they're coming up to speed, and how they're being embraced by the rest of the team. It helps me appreciate how far we've come. The pace at which the motorsports environment has evolved for diverse groups of people is encouraging.
What advice would you give to Women in Motorsports interns?
Don't take the opportunity for granted. Work as hard as you can and prove yourself. These chances are extremely hard to come by. If I could go back and give myself advice, I'd say to be more confident. Trust yourself. You put in the work, yet sometimes you question if you belong here. I hope someday down the road we get to a point where no one has to give that a second thought. Chip Ganassi Racing wants the best people for the job. It doesn't matter who you are, or what your background is. If you're the most qualified, you're going to get the job. I think that speaks volumes about the opportunities for women here.
What still needs to change overall to keep improving gender equality in any field?
We still have an uphill battle. It starts early. We tell little boys, 'That was really smart.' But we tell girls, 'You look so cute today.' That self-doubt and lack of confidence that gets in women's way happens way before the mechanical engineering degree and their first job in motorsports. Parents and teachers need to value girls as individuals and encourage them, and I'm hopeful that the tremendous push we're seeing recently to guide girls to the STEM path is a big step in the right direction.