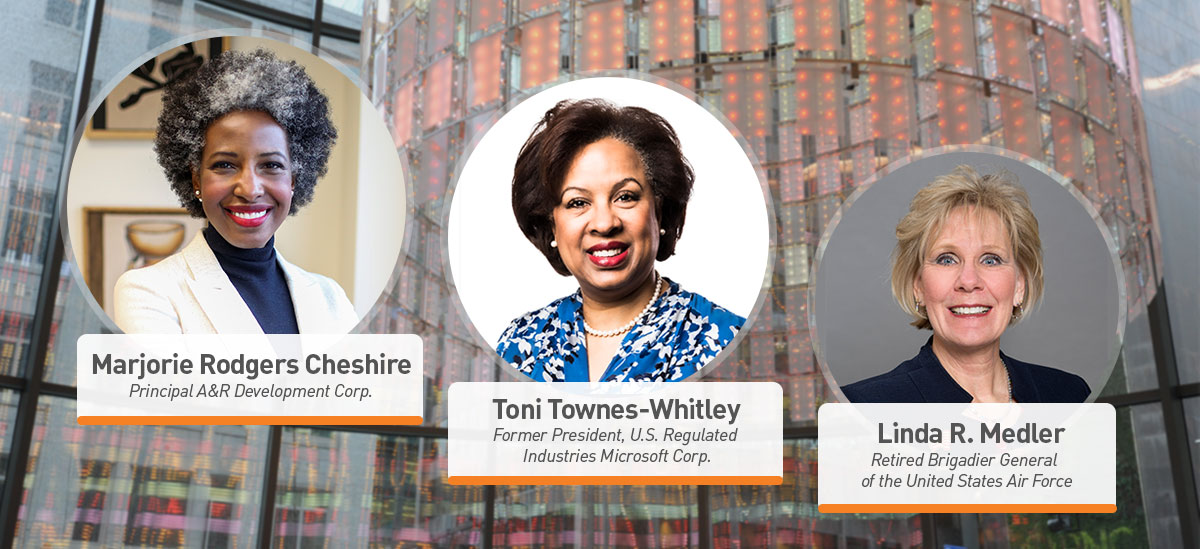 Though the number of women serving on corporate boards at the largest U.S. companies has seen modest gains in recent years, the push for diversity in boardrooms across America continues. PNC is among those corporations pushing for board diversity, understanding the benefit of having women at the table to help shape the workplace.
Slightly more than one-quarter of the board directors at Fortune 500 companies are women, according to a recent study by the Alliance of Board Diversity and Deloitte. Women of color account for only 5.7% of board directors.1
Five women currently make up more than a third of PNC's Board of Directors:
Debra A. Cafaro
Chair of the Board and Chief Executive Officer of Ventas, Inc.


Marjorie Rodgers Cheshire
Principal A&R Development Corp


Chancellor of the University of Houston System and President of University of Houston


Linda R. Medler
Retired Brigadier General of the United States Air Force


Toni Townes-Whitley
Former President, U.S. Regulated Industries Microsoft Corp.
Noting their extraordinary contributions, PNC Board Chair and CEO William S. Demchak says these five business leaders bring invaluable expertise to the board and help the company navigate challenges as they arise.
Right now, continuing the pipelines for women in leadership roles is in jeopardy across the country, Demchak notes, as women have been disproportionately impacted by the pandemic. More than 1 million women left the U.S. labor force from February 2020 to January 2022.2
"The participation rate of women in the workforce is down, over 57% from just a couple of years. To get to a number that low, you have to go all the way back to 1988," says Demchak, who is working with the board to find answers for this challenge. "We have lost more than 30 years of progress through the course of this pandemic, and we need to find a solution because it's important for our country, for our communities and for our company."
Three of the five women on the PNC board share the journeys that landed them in top leadership roles along with their thoughts on the challenges women face in the workforce and what it will take to continue growing the number of women in CEO roles.
How would you describe your career path?
Townes-Whitley: One adjective that I'd use would be nonlinear. I'm an economist by training who went into management consulting and started to work up and down the tech stack – from management consulting to system integration to software development, to the Microsoft opportunity that took my experience global. I've been able to work cross-sector – with public sector being one of my primary areas of focus. I have had the ability to move into telecommunications, state and local government and the healthcare financial services. My career has led me to work domestically and in 140 countries.
I would say that journey has built what I would call this interesting intersection of civics and technology that has shown itself in how new and emerging technology gets deployed, built and then understood in the context of not only business, but society at large. My work with PNC has been a phenomenal place to further exercise that path.
Women traditionally have not always raised concerns about having disproportionate work share. If we don't address this, I think we're going to continue to see some of that burnout that we're capturing among women in the workplace.
—Toni Townes-Whitley

Rodgers Cheshire: I think of my career in themes. The first 15 years were about working for large companies and great brands. I started my career in brand management before business school, working at Nestle and then moved to management consulting after business school. I think that was great training for me. I later moved into the media and entertainment space starting out with ABC. Then I moved within the Disney family over to ESPN as the special assistant to the president of that division.
I was there for the launch of ESPN, the magazine, and the ESPN zones. I had a great experience being part of a brand extending itself and growing itself into different lines of business. My next move took me to Oxygen media. I was there at a time when the industry was trying to figure out how television and the internet would converge. Being part of the building of a new brand in television also was exciting. Eventually, I was recruited to work at the NFL. I became the senior director of brand and consumer marketing, and I was charged with figuring out marketing strategies to demographic segments such as youth, women and the Hispanic market.
I eventually had this strong pull to become a general manager. I had felt siloed in my previous roles, and I was interested in spending my days thinking about things like risk management, capital allocation and how to analyze financial statements. I just wanted to use the full breadth of my training.
I ultimately made the decision to join my family's real estate development business. I returned to Baltimore and spent the last 18 years with my family's real estate investment company.
Medler: My path is a little different from my fellow board members. I grew up in a working-class family in Kentucky. I decided to enlist in the Marine Corps during the post-Vietnam War era. I had found my calling in life. I loved wearing the uniform and the mission of protecting our nation.
I became a wife and mother while serving. Being a Marine at that time in the '70s was not something that allowed me the ability to do both very well. I made the very tough decision to separate from the Marines, and I worked as a secretary for seven years to put food on the table.
Organizations being flexible and supportive, through the many phases of life, is how we can keep great talent and grow that talent into tomorrow's CEOs and Board Members
— Ret. U.S. Air Force Gen. Linda R. Medler
I finally decided that education was really important for me to progress in a career, and I had these wonderful veteran benefits to go to school. So, I decided to start classes at the University of Arkansas at Little Rock and graduated in three years. I missed serving in the military, so I decided to go talk to the Air Force about serving full time and earning a commission. They really took a chance on a 30-year-old mother of two. I wasn't your normal second lieutenant, but I had a technical degree and a good GPA. And then 27 years later, I retired as a brigadier general.
After retiring, I jumped over to work with Raytheon Missile Systems and then the opportunity came my way to serve on boards, including PNC. I also began running my own firm providing cybersecurity consulting services to a wide variety of clients.
How did you know PNC's Board of Directors was going to be a good match for you?
Townes-Whitley: I came to PNC through a formal search. This is my first public board, but I had been part of a number of advisory and nonprofit boards.
My work at Microsoft engaged in all forms of collaborative and cloud technologies and specific solutions for the banking industry so I was familiar with PNC.
Being on the board, I have gotten to live this idea of bringing the very best of national banking and finance brilliance, capability and expertise to PNC's Main Street banking construct. The culture feels inclusive, respectful and, quite frankly, consistent with my values.
Medler: I really wasn't quite sure if I would like serving as a board member when the opportunity came my way. I'm more of a roll-up-your-sleeves kind of person, but then I met Bill Demchak and the great team at PNC.
I operate best in a collaborative, supportive environment that makes everybody better while engaging in creative discussion over tough issues. So, I was excited to take my skills that the military had given me, particularly within cybersecurity, and continue to use them to protect our nation, but from the industry perspective.
I'm glad I got the chance to join. Now, I serve on a couple other boards and in my spare time I run a small cyber consulting business.
How do we get more women back in the workforce after such significant losses during the pandemic?
Townes-Whitley: I think we need to look at the pandemic as a crisis period and think about the important information we have learned, particularly as it relates to women – and women of color, who unfortunately have experienced a disproportionate impact. Women traditionally have not always raised concerns about having disproportionate work share. If we don't address this, I think we're going to continue to see some of that burnout that we're capturing among women in the workplace.
I also think we have to continually broaden the definition of flexible work. I don't believe it is just as binary as remote office work. I will tell you that the needs of a woman in the workplace are seasonal, and it's not the same thing for 30 years. It changes. I believe that work policies have to provide optionality and flexibility for the seasons that occur. Right now, we are in a season that includes a PTSD feel, coming off a crisis where workers have lost people, and I think we need to approach this concern from a crisis management standpoint.
We're going to have to expand our sense of what a CEO looks like and performs like in order to widen the expanse of women in top roles.
— Marjorie Rodgers Cheshire 
Rodgers Cheshire: When I talk to mothers, childcare issues are what many are trying to tackle as they try to do their jobs. From a policy standpoint, we're also going to have to figure out childcare to begin to make a way for women to come back to the workforce. I think PNC has been progressive and sometimes ahead of the curve on policies like paternity leave and other family-oriented benefits and support that impacts how women perform, but we have to normalize the use of these kinds of policies.
How do we increase the number of women in board and CEO roles?
Medler: There has to be an intentional pipeline in order for women to make it to these roles. You don't join the military as a second lieutenant and become a general officer in a year or even 20 years. It takes hard work, but also doors opening with opportunities for you to excel You have these life paths. You have mentors along the way, and a lot of it relies on the opportunities you're given. Organizations have a responsibility to present an opportunity based on what they think an employee can accomplish. The process just has to be intentional to get women to feel like they are needed and that they can stay when a crisis occurs, such as COVID for example. Organizations being flexible and supportive, through the many phases of life, is how we can keep great talent and grow that talent into tomorrow's CEOs and Board Members.
Rodgers Cheshire: We need to allow for and recognize differences in style and approach. We have different ways of approaching things that can be additive and creative. We're going to have to expand our sense of what a CEO looks like and performs like in order to widen the expanse of women in top roles.