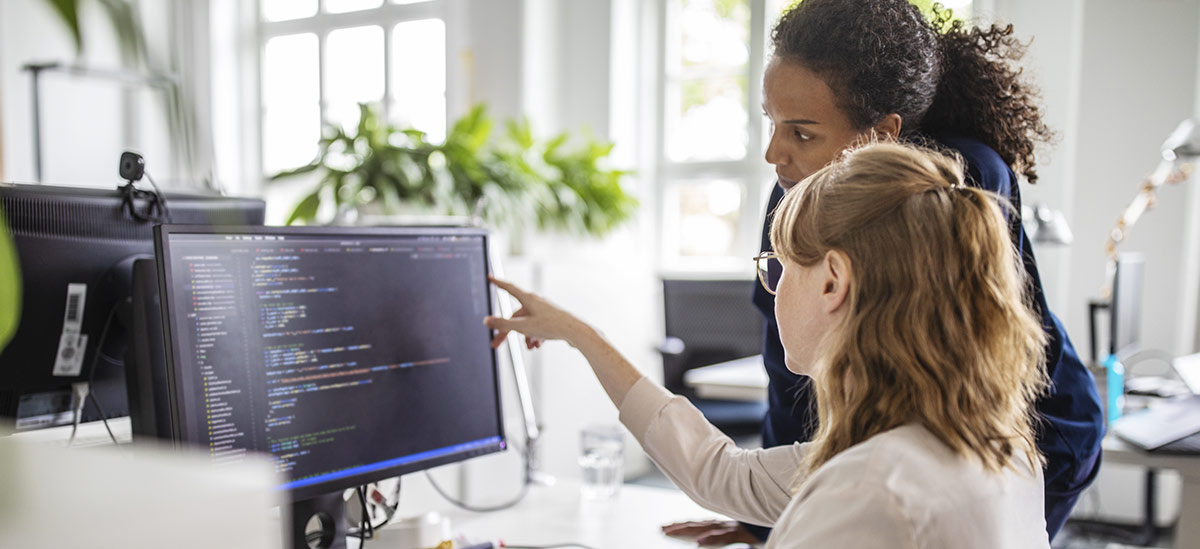 Diversity in talent and thought are keys to driving PNC to be a technology leader in the financial services industry. To ensure that all voices are heard and all individuals have a seat at the table, PNC is committed to doing its part to help diversify a traditionally male-dominated industry.
"Women are significantly underrepresented in the technology industry from entry level to executive," said Deborah Guild, head of Enterprise Technology and Security and chief security officer for PNC. "We know that if we want to provide the best technology and security to our customers, we have to have a diverse group of decision-makers."
Guild and Ganesh Krishnan, enterprise chief information officer and head of Business Technology and Innovation, lead PNC's technology and corporate security teams as members of PNC's Executive Committee and are embracing the task of providing leadership within the bank and in PNC's communities to promote opportunities for women in tech. 
Growing Tech Talent from Within
Identifying, retaining and advancing female technology talent already within the bank is an important place to start and PNC Tech Connect is central to that effort. The group of PNC employees is dedicated to providing women with a community to share ideas, participate in career development events and promote the growth of women in computing and technology roles. Tech Connect offers its members the opportunity to participate in networking and thought leadership events. With more than 1,000 members, the group is open to those already in tech-related roles, those who have an interest in technology and their advocates.
To provide additional leadership resources and training to women employees both in and outside of PNC's Technology infrastructure, PNC offers a nine-month, or two-day intensive, leadership development program called WeLEAD. The program provides an opportunity for women to hone leadership skills, mentor one another and discuss barriers to career development in the technology field. WeLEAD is a nine-month development program with two-day intensive workshops available as well.
"Tech Connect is a vital part of our effort to retain and develop the very best talent," Krishnan said. "It's a community, but also an opportunity to introduce our technology and security teams to women who may not have ever realized that a career in technology was available to them at PNC."
Investments in tech talent are not only important for the development and retention of employees, they're critical to PNC's continued business growth. Through the recent acquisition of BBVA USA Bancshares, Inc., including its U.S. banking subsidiary BBVA USA, PNC is now the fifth largest U.S. commercial banking organization with over $560 billion in assets and sustained investments in technology and innovation have helped make that expansion possible. PNC's ongoing development of industry-leading products and services, like the recently launched Low Cash ModeSM digital offering, sets PNC apart from its peers.
Eyeing the Future
Developing PNC's existing talent is a priority, but equally important is cultivating the next generation of women technology leaders in the bank's communities. PNC is active in various student initiatives including Young Innovators, which encourages participation in STEAM education curricula through high school coding competitions. PNC is also a multi-year sponsor of the University of Pittsburgh's She Innovates, an all-female hackathon, in which both Guild and Krishnan have participated as judges of the competition.
Being a leader in our community and helping inspire girls to explore career paths in technology is what will ultimately lead to more opportunities for the women leaders they will become.
–Debbie Guild, head of Enterprise Technology and Security and chief security officer for PNC.
Building an upward trend of women in technology roles across career levels is a goal that both Guild and Krishnan acknowledge will take time. But work to change attitudes, build confidence and create an inclusive environment for women in technology has been long underway at PNC.
"Having decision-makers in technology that better represent the diversity of the overall workforce is the best way for PNC to continue providing the very best for our customers," Krishnan said. "PNC, and the financial services industry at large, are best served by opening the door to career paths in technology to anyone who wants to pursue them."​