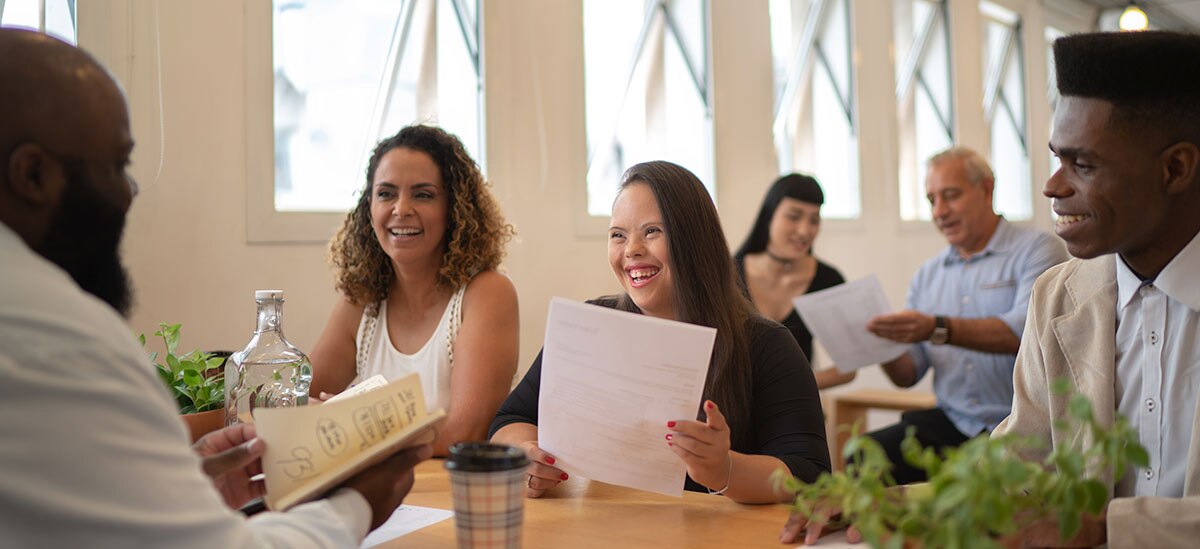 Across America, nearly one in five of our neighbors, family, friends and coworkers live with a physical or developmental challenge that may or may not be readily apparent. And that's just the number of people who report a disability; we know that many more live with conditions that they don't disclose for any number of reasons.
Of the more than 56 million Americans who do report a disability, approximately half are working-age adults (21-64), but only about 12 million are currently employed, according to the U.S. Census Bureau.
Although this issue is rarely highlighted, it has far-reaching implications for our economy and the social services that provide support for individuals with disabilities and their families.
PNC and other employers across the country worked to bring attention to the matter among our own hiring managers and in the broader business community as part of National Disability Employment Awareness Month in October.
Hundreds of thousands – perhaps even millions – of individuals with disabilities who have dropped out of the labor force are capable of working, but misunderstanding, stereotypes and a lack of access to opportunity have made it difficult or impossible for many to find jobs. 
Among those who are employed, many worry that their opportunities for advancement will be limited by perceptions about their disabilities and their capacity to make meaningful contributions. And many of those whose disabilities are not obvious – whether they suffer from a disease like multiple sclerosis or a mental disorder such as clinical depression – fear that if they are open about their disabilities with their employers, they will see their career development grind to a halt.
Fight Stereotypes and Myths
Their concerns are not unfounded. Misperceptions about disabilities have given rise to dozens of stereotypes and myths that groups including the American Association of People with Disabilities – the nation's largest disability rights organization – have been fighting for years to debunk. In recent years, I have been pleased to co-chair forums with the AAPD and other business and civic leaders on the importance of opening up pathways to employment for people with disabilities and to promote mentoring programs, educational events, job fairs and legislation aimed at helping people with disabilities enter or re-enter the workforce. 
This is an issue with which I've been involved for many years. I have an older brother, Brian, who was born with a disability. With support from ACHIEVA (http://www.achieva.org/), an organization that serves more than 14,500 individuals with disability and their families in Southwestern Pennsylvania, he and many others are able to live independently. 
My family is grateful for that support. When ACHIEVA approached me a few years ago, I did not hesitate to lead their capital campaign to expand their capacity to serve many more members of the region's disability community in the future. This is an issue about which I'm personally passionate, but that's just one of the reasons for being so vocal about the importance of employers recognizing the value of disabled individuals in the workforce.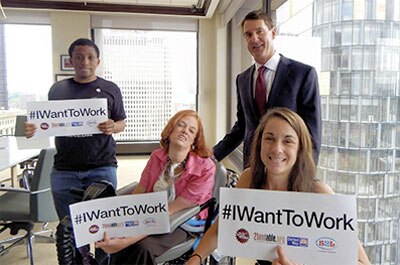 PNC's Bill Demchak with (from left) Jason Davis, Dr. Josie Badger and Katie Smith of United Way's #IWantToWork campaign, which advocates for young people with disabilities in Pennsylvania to get equal access
to jobs that allow them to live independently.
Maximize Talent and Productivity
This is critical not just for the well-being of the individuals with disabilities who want to work; the importance of tapping into every pocket of available talent and maximizing our capacity for productivity for the well-being of our economy cannot be overstated. 
Employers are struggling today to find the skilled workers we need to fill the jobs we have available and those that will open up as baby boomers retire over the next 20 years.
We need to begin working now to build the pipeline of new talent, and we can't afford to exclude anyone who is capable of contributing.  As a nation, it also benefits us anytime we can reduce the resources needed to provide taxpayer-funded support for our neighbors by helping our neighbors find work that enables them to support themselves. 
The year 2015 marked the 25th anniversary of the passage of the Americans With Disabilities Act. We've come a long way during these 2 ½ decades in terms of our understanding and compassion for people who live with physical and mental disabilities. But we haven't come far enough.
As chief executive of a company that employs nearly 54,000 people, I can't stress enough how important it is that business leaders recognize the capabilities of individuals with disabilities. We must commit to making reasonable accommodations where they may be needed, work to eliminate once and for all the stigma attached to disability, and clear the way of barriers that have previously prevented so many qualified individuals from making the contributions that they are capable of making in spite of their disabilities.