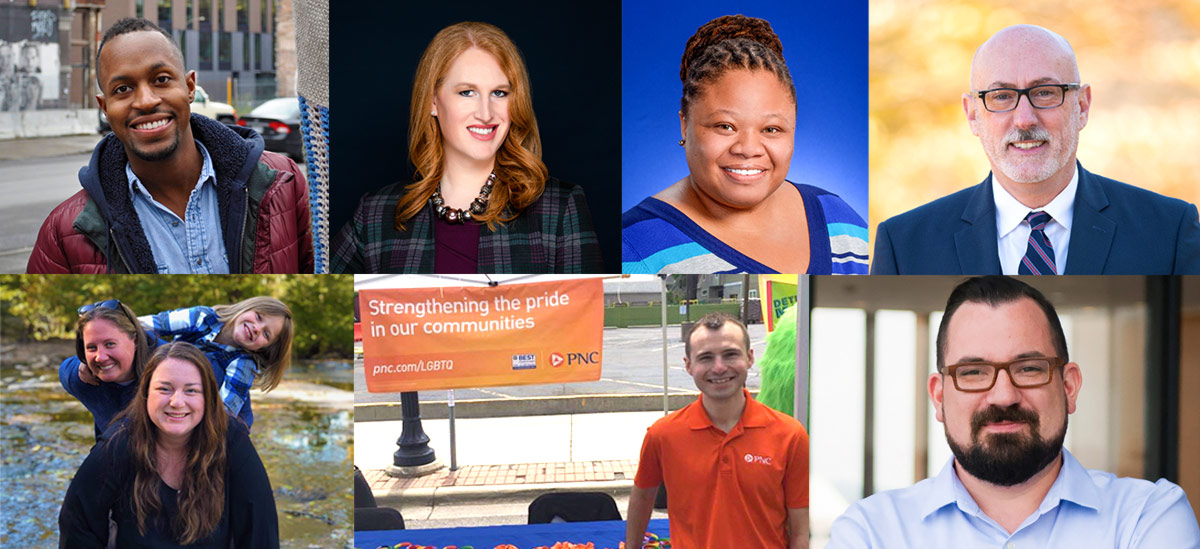 There are no shortages of challenges and triumphs for members of the lesbian, gay, bisexual, transgender and queer (LGBTQ+) community. While many states still do not offer LGBTQ+ employees legal protection against discrimination, many others do, and a growing number of companies are voluntarily adopting policies that create diverse and inclusive workplace cultures.
Eight PNC employees who identify as part of the LGBTQ+ community reflected on their personal and professional experiences:
Je'Na Brown, assistant vice president, project manager, Treasury Management – Washington, D.C. (she, her, hers)
Ashley Brundage, vice president, Regional Diversity & Inclusion Councils – Tampa, Florida (she, her, hers)
Kristin Hanson, vice president, Branch and Business Center – Louisville, Kentucky (she, her, hers)
Aaron Haury, assistant vice president, senior branch manager, Retail Banking – Waterford, Michigan (he, him, his)
Julie Rose, senior quality analyst, Enterprise Fraud Management – Louisville (she, her, hers)
Paul Victor Rowe, vice president, Retail Banking and co-lead of the Louisville Diversity & Inclusion Regional Council –Louisville (he, him, his)
Josh Stewart, senior vice president, Talent Solutions and Outreach – Pittsburgh, Pennsylvania (he, him, his)
Justin Tyner, retail learning facilitator, PNC University – Washington (he, him, his)
Each employee shared stories about past employers as well as PNC, noting how the company promotes an environment where employees are valued for their strengths and provided the comfort for being themselves.
Many expressed pride that PNC serves as a corporate sponsor of the Human Rights Campaign (HRC) and the National LGBT Chamber of Commerce (NGLCC). They also expressed pride that the company endorsed the Business Coalition for the Equality Act. House of Representatives passed the Equality Act February 2021, and it currently awaits Senate approval.
HRC has recognized PNC as a Best Place to Work for LGBTQ+ Equality for the past nine years. The company also offers PNC Proud, an employee business resource group (ERBG) that provides a network for LGBTQ+ employees and allies to learn from one another and impact LGBTQ+ stakeholders across PNC's footprint.
What was your experience coming out at work?
Brundage: As a woman of trans experience, every moment of every day is a coming out moment for me. It's me full force, every day, all day. It's quite a task, but it's important for me to be comfortable being uncomfortable, because so many people don't think they can be their true, authentic self.
Tyner: I wouldn't really say that I came out at work per se. Upon introducing myself to the team on my first day, I shared a little bit about myself including that I have a husband. They were extremely welcoming and made me feel included and comfortable being myself.
Brown: My experience has been a positive one. I can bring my whole self to work without worrying about judgement or shame. I'm fortunate to have supportive co-workers and management who respect me for who I am and what I bring to the table. My perspective is always factored into decisions made by the team, which makes a huge difference in my satisfaction at work. It's why I love PNC and why I've chosen to grow my career here.
Rose: Coming out at work now is a non-issue at PNC. The environment feels safe. My wife and I adopted our daughter in November 2018 and having the parental leave option as adoptive parents helped us tremendously. Both my manager and co-workers have been very supportive. PNC has risen to the occasion by continuing to support progressive ideals and working to enhance employee benefits through the addition of fertility treatment coverage  and family-building programs. I am so happy and encouraged by how these enhancements will help employees, not only in the LGBTQ+ community, but anyone who may encounter fertility issues.
Did your professional experience change?
Tyner: My professional experience has not changed. Professionally, I pride myself on the skills and talents that I possess, which makes me an asset to our team. Being part of the LGBTQ+ community plays an integral part in me being me, but it, alongside my professionalism, are just two of many components of my overall makeup.
Stewart: At PNC, we're lucky to be in a place where the decision to be out or to not be out at work is our own and respected. In cultures not like PNC's, cultures that aren't LGBTQ+ inclusive, the decision not to be out is often motivated by fear rather than personal choice. Bringing your "whole self to work" means just that – the ability to decide and navigate the decision to be out on your own terms. Inclusion is critical for productivity and engagement .
How have you dealt with challenges?
Rowe: You're not going to change someone's belief systems, but you can help them understand the effects of their words or actions. And over time, you can change how they treat people. One of the things I did here at PNC to help all of us overcome these challenges was establish a local chapter of the PNC Proud in 2012. I knew that was a space where I could make a difference for myself and my peers, as well as for early-career employees. We now have a community where we can support each other. We even have parents with LGBTQ+ children who are joining our group to have a place to talk about their families .
Tyner: In my previous role, I had many customers presume that I'm married to a woman when they saw my ring. I would just smile and politely let them know I have a husband. I don't expect everyone to understand or be tolerant – nor is it my job to make them, but I feel it is important that I stand in  and honor my truth. I also welcome any opportunity to explain, educate or inform those who are open to learning and understanding.
Stewart: Along the way in my career, there have been challenges – not overt, scary ones, but instances where people don't realize the impact of what they say. My mantra is "meet someone where they are." Don't immediately assume ill-intent, it's rarely the case. While still caring for yourself and your own well-being, take the time to understand how someone arrived at their thoughts, opinions and behaviors first. Have a meeting, get closer to them and say, "This is what I heard or observed, this is how it impacted me." There will always be challenges, but it's all in how you meet those challenges.
Haury: Being accepted by colleagues has such a positive impact on our lives inside and outside of the workplace. Unfortunately for the LGBTQ+ community, coming out at work can be a constant, uphill battle. Coming out is hard because you run the risk of being rejected and risking that rejection whenever we interact with new team members is exhausting. Having an inclusive workplace and teams that make us feel like we belong helps to negate the sense of anxiety that exists.
PNC cites diversity and inclusion among its values. What does that mean to you?
Tyner: The older I become, the more I have grown to understand how important it is to work for and invest your time in a company that shares your personal beliefs and values. PNC prides itself on being inclusive and diverse, and as an employee, I definitely can attest to the fact that it is both. PNC promotes and sustains a sense of community and family. In my short time here, I have had the privilege of meeting so many different people from all walks of life. Diversity and inclusion are all about being intentional – whether engaging in inclusive conversations among peers, colleagues and partners, learning an old skill in a new or different way or simply having empathy and awareness.
Stewart: It's about putting the right people in the right roles doing the right work so we can remain competitive, continue to innovate and challenge each other to think bigger. There may be other companies that move faster than we do in this conversation, but our message, our strategy, is more deliberate and authentic than what I've experienced elsewhere.
Brundage: It means recognizing the diversity of our employees by celebrating things that matter most to them, such as LGBTQ+ Pride. To me, celebrating Pride is a way to honor the history of the Stonewall Uprising in 1969. Stonewall began about 50 years ago when a group of transgender women of color decided they had had enough violence and discrimination. Since then, many things have changed but some things are still as bad as that fateful day. This is why I don't stay silent. This is why I march in the Pride Parade every year with my friends and family.
Rowe: Working at PNC today it is clear – inclusion is a priority. After my work with PNC Proud , I was named co-lead for regional diversity and inclusion councils in 2019 and received a 2020 Performance Award for helping to create a more welcoming environment for all employees. Not only does making these values a priority create a more diverse workforce, it has allowed many of our LGBTQ+ customers to feel more understood. They are more comfortable being their authentic self when working with PNC to achieve their financial objectives.
It is also gratifying to see PNC play an important role on the larger stage, signing onto important initiatives like the Kentucky Competitive Workforce Coalition to help ensure LGBTQ+ equality in workplaces throughout Kentucky, as well as the Equality Act, to ensure LGBTQ+ equality in workplaces across America.
Hanson: The messages and actions from PNC's leadership about the importance of inclusion make PNC a safe place for us. My wife works for another company, and in the last nine years she has never mentioned to her coworkers that she is a lesbian or that she has a wife. It's very upsetting that she can't do that; unfortunately, there are a lot of places where that's the case.
Brown: PNC introduced a new "Lives the Values" performance goal this year that includes diversity and inclusion as a core component.  It's a great way for all of us to keep inclusion at the forefront of what we do every day. All employees are being held accountable for doing their part to contribute to our inclusive culture.
Haury: The PNC Proud EBRG is a great resource. I strongly recommend joining either as a member of the LGBTQ+ community or as an ally. In fact, the PNC Proud chapter in Detroit has a ratio of at least 5:1 allies to self-identified LGBTQ+ individuals. I joined the EBRG shortly after starting my employment with PNC, and quickly felt welcome.