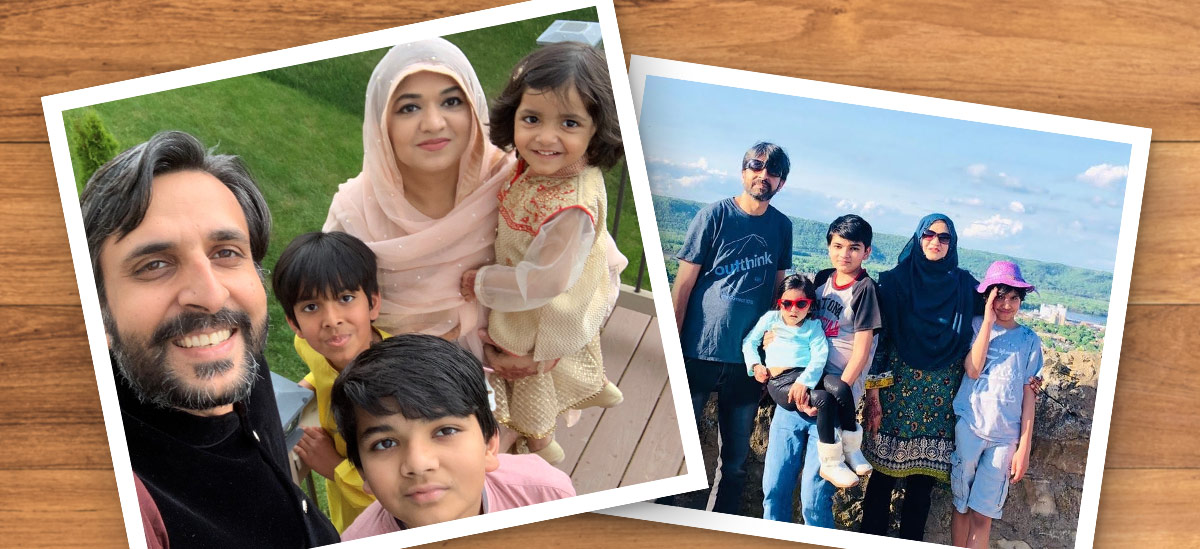 As a young girl, Saima Shafiq, PNC software services manager, watched her mother juggle the responsibilities of raising eight children while selflessly serving her neighbors in need. This instilled in her the importance of hard work and having compassion for others.
"Growing up in Pakistan, my mother helped countless people – some she knew and many she didn't," said Saima. "She never let anything stand in the way of her devotion to others. That's why I've always been so focused on serving my community. I believe you shouldn't be sleeping when your neighbors are hungry. That's a strong part of my Islamic faith."
It was this spirit that led Working Mother, a media outlet dedicated to mentoring and advocating for women, to recognize Saima as PNC's representative for Working Mother of the Year. Working Mother also recognized PNC among its 2020 Working Mother 100 Best Companies, marking the 18th time PNC has received this honor for offering progressive programs that support the advancement of women in the workforce.
Saima has been with PNC for 13 years. She is responsible for leading PNC's enterprise center for excellence for artificial intelligence (AI) technologies, providing customers and employees with better experiences and personalized service through automation. Having spent her entire career in technology, Saima has witnessed firsthand how emerging technologies have changed the way we live our lives. It's the amazing scope of AI and the opportunity to play a role in positively impacting the lives of others that drives her to succeed. Her coworkers describe her as a complex problem solver and innovative leader who cares deeply about leaving a lasting impact on her work and her three children: Hadi, 15, Haziq, 11 and Hiba, 4.
Like her co-workers, Saima's children recognize her commitment to others; and they're an essential part of her community work with the MCC School, an Islamic school located in Bloomington, Minnesota. For the past 10 years, Saima has served the non-profit organization, focused on building responsible and empathetic leaders of tomorrow, in various roles. Today, she acts as the education director and academic coordinator planning the school's yearly curriculum.
In response to the COVID-19 pandemic, Saima leveraged her technology background to set up an e-learning system. She brought the school's entire in-person experience online within a week allowing the organization to continue its mission while barely skipping a beat. She also spearheaded a community drive for Al-Mahmood Foundation that collected 6,000 handmade facemasks for first responders, health care workers and seniors. Saima coordinated the effort remotely, using online tools she built to manage logistics for the nearly 75 families who volunteered to help.
"I feel an obligation to use my strengths to serve my community – and my children and husband support me in this. They volunteer whenever they can," said Saima. "Raising my children to be caring and compassionate human beings who serve and contribute to a greater good is one of the most rewarding experiences."
Saima is also proud to be part of a workplace culture at PNC that supports and recognizes her efforts and those of other working mothers. With leadership programs, mentorship opportunities and flexible policies, empowering and supporting women is integral to how PNC operates. At PNC, Saima participates in the Women's Leadership Development Program and has served as a technology mentor to low-income area high school students. These opportunities support what Saima describes as her own burning passion to help others realize their true potential.
"I've achieved many great things in my life, but this award came as a surprise," said Saima. "What makes this award different is that it includes various aspects of my life. It reflects my work at PNC, being a mother and the work I do for my community. It gives me goose bumps when I think about it. I do all of these things out of pure passion. Receiving this recognition has given me faith that I'm doing the right things to serve humanity."