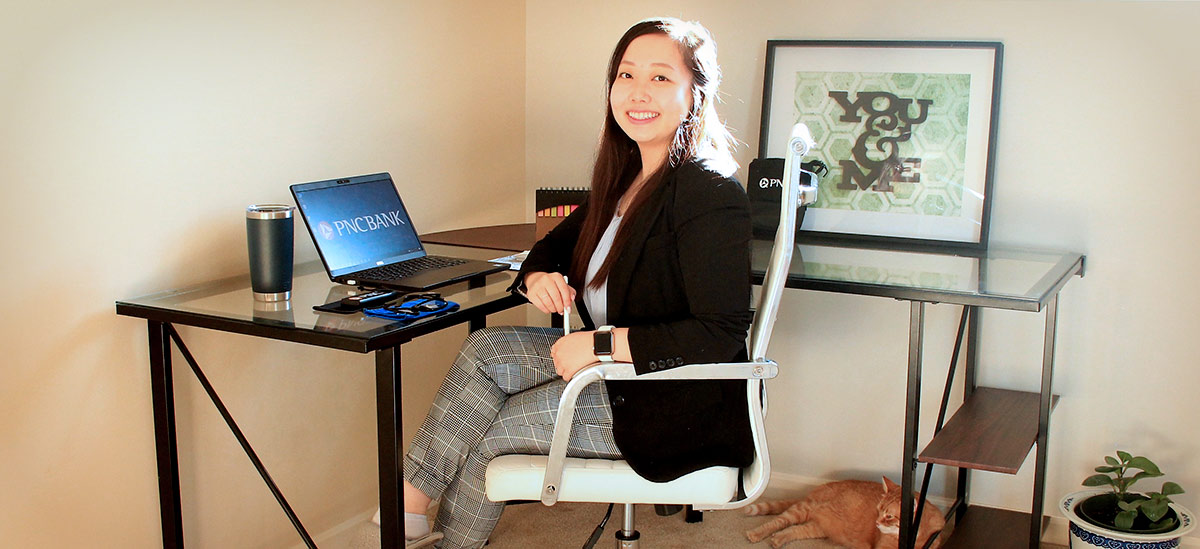 Annie Kang, a Finance intern who will enter her senior year at The Ohio State University, networked with more than 70 employees from PNC while working from home in Columbus, Ohio, this summer.
For a moment, Josh Stewart wondered if maybe he and his team went too far in their pursuit of an engaging and entirely virtual 2020 summer internship program for PNC.
A "Shark Tank"-style competition, a speaker series with two or three different executives each week, a new digital work portfolio and lunchtime Skype sessions with local regional presidents were just a few of the activities intended to foster engagement, provide professional experience and evaluate talent.
"I expected that we would put lots of ideas on the table, but given we only had a few weeks to pivot, we might be able to pull off half of them," said Stewart, PNC's director of talent programs and accessibility. "In the end, we did all of them."
Through a six-week schedule that ultimately grew to 150 events and activities, PNC offered its 463 summer interns an unprecedented volume and variety of opportunities to engage with managers, organizational leaders and one another — all while working remotely amid the COVID-19 pandemic.
Stewart and interns alike acknowledged the unfortunate absence of in-person interaction and an immersion into PNC's office life. But novel ideas emerged during a scramble by Stewart and his team to reimagine their playbook in the weeks ahead of the program's June start, and feedback from the interns suggested there's still plenty of connectivity, learning and character-building to find.
Warm Welcome
"I remember my first week, I posted about being a PNC intern on LinkedIn, and a bunch of people I'd never heard of or met before commented, 'Congratulations', 'Welcome to PNC', all these words of encouragement," said Annie Kang, a Finance intern who will enter her senior year at The Ohio State University. "I just really liked to see that community, and that PNC was so welcoming for everyone, including interns."
The 186 likes and 31 comments on Kang's LinkedIn post served as a sign of the interactions to come. Over the course of her internship, Kang built a spreadsheet to organize her connections and watched as it expanded to 70-plus people, ranging from fellow Finance interns to business leaders. A new digital site specifically for interns made networking across different teams easy. Virtual after-hour activities — talent shows, game nights — allowed interns to reveal more of their personalities.
I kind of went into this internship thinking a lot of this work would be on my own, but they did a great job of keeping it engaging.
—Annie Kang
Branching Out
Part of PNC's secret to engagement was to allow interns to branch out from their defined day-to-day responsibilities and solve problems potentially unrelated to their lines of business.
Venture Vault, PNC's spin on "Shark Tank," scratched an entrepreneurial itch for almost a quarter of the 2020 internship class. Randomly grouped into teams of six, the competition participants set out to imagine better ways to instill financial responsibility in teenagers and young adults. Most teams met multiple times a week for more than a month ahead of the competition finale on July 31.
Each intern also received a $50 DonorsChoose gift card to help preschool teachers obtain high-quality resources and learning experiences for their students. DonorsChoose is an online charity that connects individual donors with classrooms in need; this effort is part of a $10 million alliance between PNC Grow Up Great and DonorsChoose to positively impact pre-K and Head Start classrooms across PNC's communities. Project requests supported by PNC interns included children's books in Pittsburgh, a projector in Cleveland, a fish tank in Milwaukee and remote learning tools in Durham, N.C.
Stewart questioned whether PNC would have introduced these new initiatives and deviated from its usual program if internships had remained office-oriented. It's a thought that crossed interns' minds too.
"If I was in an office, what would the environment be like?" asked Jarvis Ballard, a Wealth Management intern and Finance major who will enter his senior year at North Carolina A&T State University. "But they've also been trying to make the experience just like if we were in the office. They're making it very inclusive."
Focus And Follow Through
As summer approached and the pandemic created challenges, Ballard began to hear from friends and fellow Finance majors about cancelled internships. He worried about his own fate. He wanted to connect the concepts he learned in class to their real-world applications. PNC would be his first opportunity to work alongside professional advisors.
"For PNC to follow through really showed a lot to me," Ballard said.
Demonstrating PNC's commitment to talent development is what Stewart and his team set out to do each year through the internship program. The twists and turns of 2020 led to a revelation for the program's architects.
"In the end, we've set a new bar for internships at PNC," Stewart said. "So much of what we've created for the virtual experience allowed our interns to see our culture and values in a different way than they would have in the past. We'll take what we've learned here to enhance the experience of interns for years to come, virtual or otherwise."
Learn more about internship opportunities at PNC.