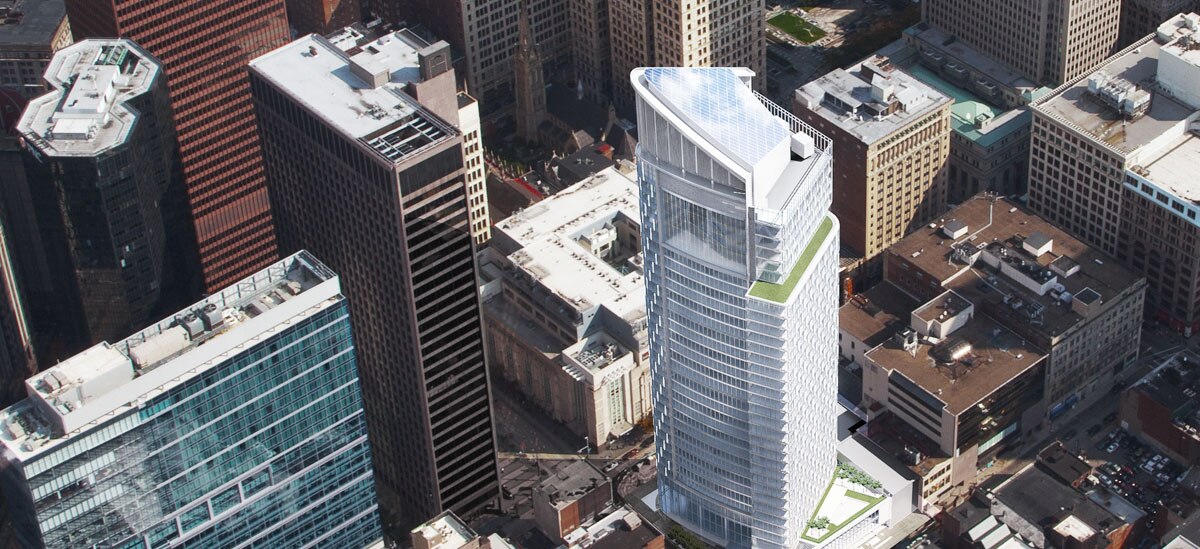 Over the last 10 years, sustainable building design has become a key design driver as organizations look to add value. Its objective, to reduce operating costs and carbon footprints alike, has made it a priority of numerous organizations across industrialized economies.
The Tower at PNC Plaza was designed by Gensler, a global design firm. Doug Gensler, AIA, was the principal in charge of the project and talked to Insights about sustainable design and The Tower at PNC Plaza:
How do you define sustainable design?
Gensler: Sustainable design uses innovation to create environments that help organizations become more resourceful, resilient and regenerative. It minimizes our collective reliance on natural resources and relies on air, daylight and other natural elements to create an environment that supports building performance and employee well-being. When deciding whether to adopt sustainable design practices, companies should consider employee, environmental and economic performance objectives.
The building's employees have "Focus" areas for individual work and "Collaborate" areas, like the "living room" space on every other floor
When did sustainable design start? How has it evolved?

Gensler: People have been building sustainably since the late 1970's starting with solar energy and water harvesting (or rainwater collection). In the 1990's the formation of the U.S. Green Building Council sparked wider interest and adoption. Its leadership and "triple P" approach -- people, planet, profit – established a consistent and universal way to measure a building's sustainable achievements. Consumer expectations and expanded government regulations will continue to raise the bar.
Smart organizations, like PNC, realize that sustainable design differentiates them in competitive markets. Talented people have a choice regarding where they work and will gravitate to healthier and more inspired workplaces.
Tell us about Gensler's work with PNC over the past 15 years
Gensler: We have worked with PNC across its portfolio—from new retail branch prototypes, transformed work environments to LEED-certified Platinum level mixed-use developments like The Tower. The goal on all of these projects has been to drive environmental and business performance. We are proud to be one of the partners that helped PNC achieve more LEED-certified buildings than any other company - more than 250 in all.
What's unique about the new tower?
Gensler: Collectively as designers, we have mastered the art of creating hermetically sealed and mechanically conditioned buildings that operate independently of environmental conditions. This project is about how a building can collaborate with the environment and engage its user in achieving new levels of performance.
PNC and Gensler conducted a tremendous amount of research into other innovative and high-performing buildings to determine what is working well and would offer significant value. Our biggest question was, "How can we reduce the demand for resources as much as possible while delivering an extremely high-performing building with an exceptional work environment?" This priority literally shaped the building's form and systems, which collectively establish a fully integrated ecosystem.
Aspects of The Tower, including the core to skin dimension, the floor to ceiling height, the operable double skin and the solar chimney, work together as a "passive system" that uses virtually no energy to contribute toward the 50 percent energy reduction. The Tower is also expected to use 77 percent less water than a typical office building because of its water recycling and treatment system.
The third-floor café has an outdoor terrace and the 28th floor indoor park (shown here) has spectacular views and temperature that will reflect outdoors that day
The design is driven from both the outside in and inside out. Employee and visitor experience is thoughtfully supported by a vertical campus of work, collaboration, learning and social spaces that capitalize on the natural ventilation, extraordinary views and daylight that permeate all spaces.
This building achieves a new level of fully integrating passive and active systems to drive performance, which is good for the environment and smart for business.