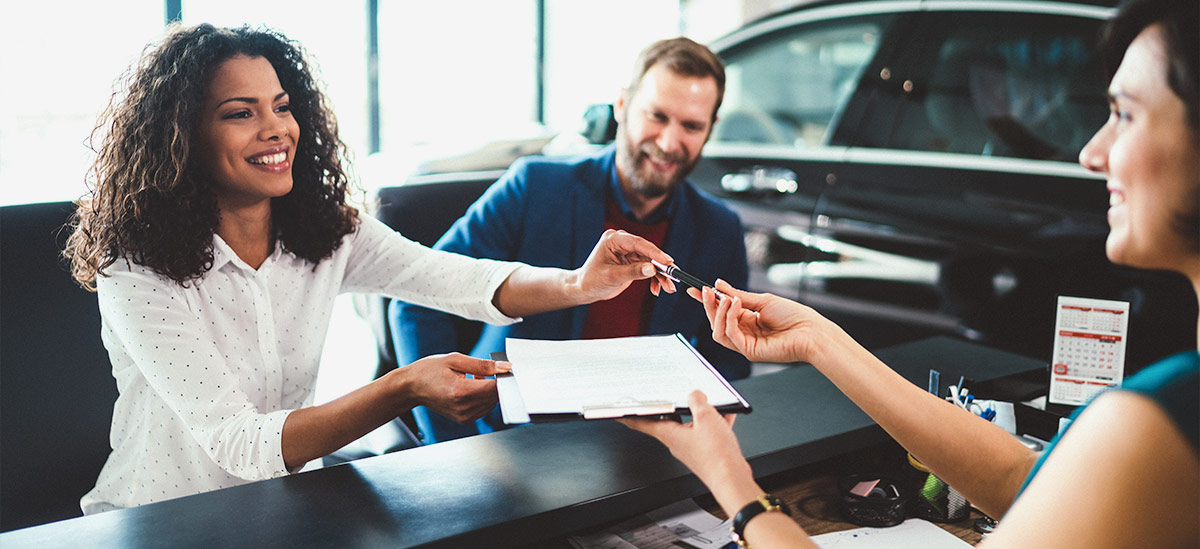 Whether buying your first or tenth car, the process can get complicated. That's why we're here to help. We've put together a guide to help you through the purchasing process. With our tips and information on what to consider when buying a new car, you can find a vehicle that checks the boxes without breaking the bank.
Determine Your Budget
Set a reasonable budget before you start car shopping. Calculate how much you can comfortably spend upfront and on monthly payments. If you want to trade in a vehicle, research its current value online with data tools such as the Consumer Reports Car Value Estimator[1]. All this information can help narrow your search and provide leverage when negotiating with a dealership.

How Much Should You Spend?
The 20/4/10 rule is an excellent guideline for considering the costs of purchasing a new vehicle. It suggests making a down payment of at least 20% of the purchase price, financing the car for four years and keeping monthly payments to 10% or less of your gross income[2].

Explore Financing Options
Research different financing options to learn about possible interest rates and loan terms. Dealerships usually offer financing options, but it can be a good idea to shop around first to gather information about the auto loan market and better negotiate when the dealer provides their terms.

Consider Getting Pre-Qualified for a Loan
Getting pre-qualified for an auto loan is one way to consider financing options before going to a dealership—and set yourself up for an easier purchase. It removes any uncertainty surrounding loan rates, monthly payments and spending limits[3]. The bank issuing the pre-qualification might look at income statements and other financial information to determine how much you can afford to finance.

Key Considerations When Shopping For a New Car
After setting a budget—and possibly getting pre-approved—consider looking for specific makes and models that might fit your needs. Even though the price is an essential consideration, some other deciding factors can also help narrow down your choices:

• Safety: Look for modern safety features like blind-spot monitoring, lane-centering assist and forward-collision warning systems to help everyone remain safe[4].

• Reliability: Evaluate the car's reliability by reviewing publications like Consumer Reports, which provides ratings for different vehicles[5].

• Cost to Own: The cost to own includes insurance, regular maintenance or repairs, taxes and other fees to show the actual price of owning and maintaining the car, above and beyond just the monthly payments.

• Resale Value: Make sure to research how much the vehicle will be worth in the future. You can never be sure when it might be time for the next upgrade, so it's good to know whether the car may maintain its value over time.

• Size: Do you regularly have passengers? If so, how many? Do you like outdoor adventures and want extra space to pack essential gear? These are important considerations when choosing the right-sized vehicle for your lifestyle.

Explore the Car in Person & Take a Test Drive
Once you've compared different makes and models and narrowed down the options, the next step is to visit dealerships and check out the vehicles in person. Take a test drive, see how comfortable the car is, how the features work and if it might suit you. Make sure to ask any questions about the vehicle, including how it might compare to other models.

Negotiate Your Deal
Now that you've found the perfect vehicle, it's time to negotiate the best deal and sign the paperwork.

Ways That May Help You Get the Best Price for Your New Car
Negotiating can be tricky, especially if this is your first time buying a car. But it doesn't have to be. Here are a few tips to prepare you to drive away with the best price:

• Knowledge is power, so research the current state of the new vehicle environment before visiting the dealership. For instance, if fewer incentives are currently offered and dealers expect above the sticker price for certain models, consider adjusting your vehicle preference or waiting for a better time to buy.

• Start with a lower offer than you're willing to pay. It shouldn't be a lowball offer but one that's based on the model's transaction prices.

• When negotiating, you can mention competitive prices and even present a printed offer if possible.

• Focus on discussing the entire price of the car rather than the monthly payments. Dealers typically include things like financing fees in the monthly payment, which can be confusing. First establish the vehicle's price, then the financing terms.

• Prepare for counteroffers. Try to be firm, not argumentative, as you slowly raise your initial offer in response to their counters.

• If the dealer can't meet your target price, don't be afraid to go elsewhere.

Should You Consider a Lease?
Leasing a car essentially means renting it for a set period. This can lead to lower up-front costs and less hassle in trading in the vehicle later, but it also means that you won't own the car at the end of the lease term. Additionally, leases typically take place within the warranty period, so consistently using leases allows a customer to drive while always being covered by a warranty.

Consider the pros and cons of leasing a car carefully before deciding whether buying or leasing is best.

Final Costs & Considerations
Remember to factor in all the final costs when buying a new car. Consider how much these can add to the purchase cost and how you might pay them. Some additional expenses that you might encounter in the last stages of the purchase process include:

• Warranties: Many dealerships offer extended warranties on new vehicles. Consider factoring this into the budget if you plan to purchase one.

• Taxes: Depending on where you live, sales or excise tax might be due when buying a car. Sales tax is a percentage of the purchase price of goods set by the local government, whereas excise tax is a flat tax factored into the purchase price of specific goods set by either the state or Federal Government.

• Registration fees: Depending on location, you may need to pay a fee when registering a new vehicle.

• Insurance: Make sure to factor in how much the insurance premiums will likely be for the new car.

Remember: Make sure you fully understand the terms and conditions before signing any paperwork.

Drive Away in Your New Car
There's nothing quite like driving off the lot in a brand-new car. So make sure the experience is a smooth one with these tips. From determining a budget to negotiating the best deal, you should have what you need to purchase a new car confidently.
---
Are you looking to refinance your auto loan? Consider PNC Bank. We provide a wide variety of finance options for new or used vehicles, including refinancing. Visit our website to learn more about how to refinance your car with us.