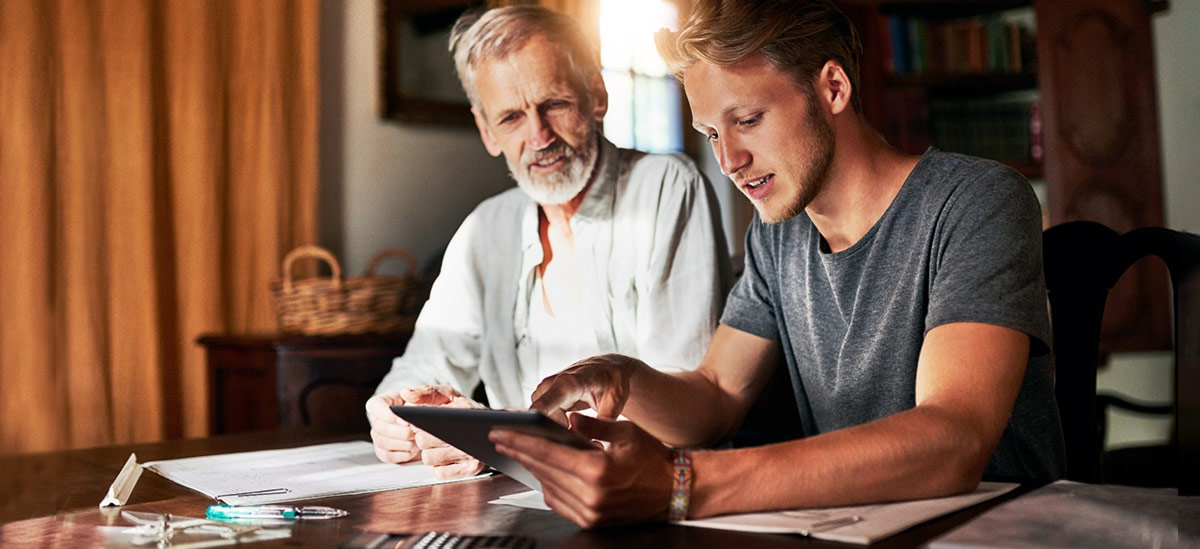 Students choose to go to college for a number of reasons: usually some combination of feeding their passion for knowledge, achieving their career goals and positioning themselves for higher earnings potential. (According to The Brookings Institution, career earnings for a bachelor's degree graduate are, on average, more than twice that of someone with only a high school diploma.1) College is an investment in the future — one that can seem relatively expensive at the time but that potentially holds the promise of lifelong rewards. 
Fortunately, there are sources of financial aid to help you afford college. Once you understand the various options and which ones you may qualify for, you can navigate education costs more easily.
Before we get into the specific types of financial aid, it's important to understand that some are awarded based on financial need, while others are based on merit. For example, depending on your family's financial circumstances, you may qualify for grants — free money awarded by the federal or state government, your college, a nonprofit organization or a private organization based on financial need. Academic and athletic scholarships are examples of merit-based aid: They are typically awarded to high achievers regardless of financial circumstances.
Federal Financial Aid
The federal government offers grants, loans and work-study programs through the U.S. Department of Education to help students with varying levels of financial need. The first step in determining whether you may qualify for any of these programs is completing and submitting the Free Application for Federal Student Aid (FAFSA®) at studentaid.gov.
Federal Grants
Federal grants typically do not need to be repaid.2 Pell Grants and Federal Supplemental Educational Opportunity Grants (FSEOGs) are awarded based solely on financial need. To earn other grants, such as the Teacher Education Assistance for College and Higher Education (TEACH) Grant, and the Iraq and Afghanistan Service Grant, a student must meet additional requirements. 
Federal Student Loans
Federal student loans do need to be repaid. They offer benefits including flexible repayment plans and fixed interest rates (they don't change over the life of the loan) that tend to be lower than those of private loans. These student loans typically have a repayment period of 10 years. 
Direct Subsidized Loan: Undergraduate students who demonstrate financial need may be eligible for this type of loan, which offers slightly better terms than a direct unsubsidized loan. Although this is a federal loan, the college determines the amount you may borrow, based on your financial need. 
Direct Unsubsidized Loan: This type of loan is available to undergraduate, graduate and professional students, regardless of financial need. The college determines the amount you may borrow, based on your cost of attendance and how much other financial aid you are receiving.
Direct PLUS Loan: Graduate students, professional students and the parents of dependent undergraduate students may apply for a PLUS loan to pay for eligible education expenses that aren't covered by other financial aid. Eligibility is not need-based, but the borrower is subject to a credit check. 
Federal Work-Study Programs
Students who demonstrate financial need may be eligible for work-study employment, a part-time, usually on-campus, job offered to help pay college costs. This type of job pays at least the federal minimum wage.
State Financial Aid
You may qualify for state-funded financial aid if you are attending a college located in your state of residence. Check with your state's Department of Education website to find out whether you may apply for grants, scholarships, work-study programs, state loans or tuition assistance.
Institutional (College-Sponsored) Financial Aid
Many colleges and universities have their own financial assistance programs and policies, so it's important for you to consult with the financial aid office to learn what's offered at the institution(s) you're considering. Colleges may offer grants, need- and merit-based scholarships, or other opportunities for financial support. 
College Grants
Like federal and state grants, college grants do not have to be repaid. The number and size of grants awarded can vary widely from school to school.
College Scholarships
Scholarships awarded by a college don't have to be repaid either. They may be based on academic merit, talent or a focus in a particular area of study. Check with your college as to what scholarships are available, and be sure to apply before the posted deadline.
Private Financial Aid 
In addition to federal, state and institutional financial assistance, you may be able to identify private sources of funding. Many students earn private scholarships and some take out private student loans to help with college costs.
Private Scholarships
Much like the scholarships awarded by colleges, private scholarships are gifts that do not require repayment. They may be offered by a variety of sources: nonprofit organizations, businesses, professional or social organizations, religious groups, etc. Ask around, search online (be careful to research any postings from unfamiliar sources to make sure they are legitimate), and ask your school's financial aid office for a list of available opportunities.
Private Student Loans
Private student loans are offered by banks and other lending institutions. They differ from federal loans in their interest rate, which is set by the lender rather than the government, and can be fixed or variable, as well as their qualification criteria. Students applying for a private loan may need a cosigner unless they have already built a strong credit history. If you are interested in pursuing a private loan, compare lenders' interest rates, terms and requirements.
Financial aid can help students make their dreams of a college education come true. Be sure to research all of the options included in this article as you begin to make this investment in your future.