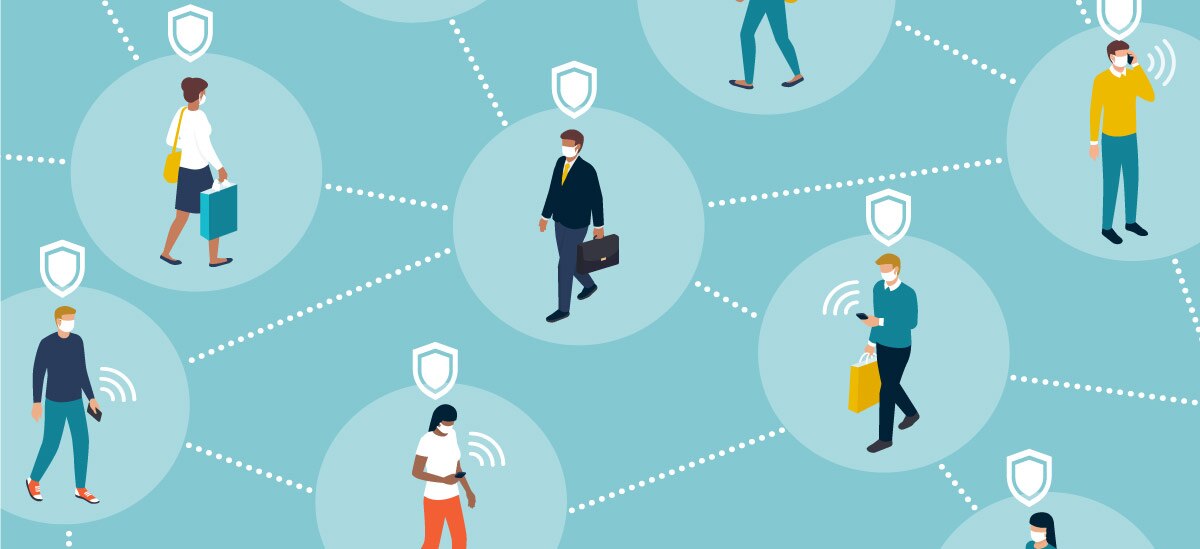 Just four months after America's first confirmed COVID-19 case was announced,[1] the Federal Trade Commission (FTC) reports that U.S. consumers have already lost more than $40 million to coronavirus-related scams.[2] The median loss per household scammed is $463. It's the latest example of how scammers take advantage of global crises to separate people from their hard-earned money.
Some fraud attempts are familiar with a new theme. Like with common tax scams, bad actors pretend to be the government asking for bank account information to "deposit a stimulus check." Instead, they withdraw money. New scams also have appeared. The FTC recently warned people about fake COVID-19 testing sites set up solely to gather social security numbers and credit card information.[3]
In today's digital world, some of the most common scams are deployed through email (phishing) or cellular phone text (SMiSHing) messages. These are attacks that resemble legitimate correspondence but are intended to bait you into clicking a link or calling a fake phone number to get urgent news about a coronavirus-related topic. Other fraudsters use robocalls, phony online shopping sites, and misleading social media posts to bait consumers into giving out sensitive personal information.
Current Threats Prey on Our Real-World Concerns
Regardless of the methods they use, scammers of all types are currently taking advantage of people's vulnerabilities in these six areas: 
Travel. According to the FTC, travel-related scams currently top the list as the most prevalent COVID-19-related scam, responsible for nearly 16 percent[4] of all reported complaints. In most cases, fraudsters pretend to be travel companies trying to reach consumers about bogus refunds for cancelled trips that were scheduled months ago.
Banking. Scammers often impersonate a representative of a bank or other financial institution to request information to validate your identity under the guise that they are trying to keep your account secure during these difficult times. Note that PNC constantly does everything we can to help prevent this from happening to you, and PNC will never call you directly to request sensitive information in order to keep your account secure. As the COVID-19 situation evolves, visit www.pnc.com/covid19update for PNC's latest security updates.

Financial Relief. The Federal Communications Commission (FCC) has alerted consumers about hoax text messages offering individuals $30,000 in financial relief from a non-existent "FCC Financial Care Center."[5] Other FTC complaints have included robocalls claiming to help those who are financially insecure right now with debt consolidation.[6]
Medical and Supply Scams. The U.S. Food and Drug Administration (FDA) continues to issue warnings to online sellers promoting products that allegedly prevent, treat, detect or cure COVID-19.[7] Other reports include "telemarketers" targeting patients to offer them COVID-19 test and mitigation kits. No such kits exist.
Charitable Donation Scams. Fraudsters asking for money by phone, text, email or even in person are pretending to be everyone from the World Health Organization[8] to the local food bank.
Work at Home Scams. Messages claiming you can earn "big money" working a few hours a week at home circulate all the time, but are particularly dangerous now as many out-of-work Americans look for ways to make ends meet. Scammers employing this tactic may request payment from you to start work, or ask you to deposit checks into your account and then transfer a portion of the money to them before you realize the checks aren't real.

Help Protect Your Identity and Your Money: Watch for These Telltale Signs
While the signs can vary depending on how fraudsters contact you, there are two characteristics nearly all scams have in common. First, they demand immediate action. Then, they ask for personal information like bank account or credit card information, a social security number or medical information.
Scammers contacting you by phone often "spoof" phone numbers to make you think it is a legitimate call. If you've already picked up, watch out for a pre-recorded message asking you to press a number to speak to a live operator—or someone offering you a free prize or offer. These are all signs of a potential theft in progress.  
Written communication via emails, text or fraudulent online shopping sites offer even more clues. Grammatical errors and misspellings are common. Email address "spoofing" is also used to trick consumers into believing the message is from a legitimate source. Scammers hope you won't notice that an email address has been changed from "@homelender.com" to "@home1ender.com." If you click on links or attachments in the email, malware can be introduced on your device that tracks your information and reports it back to the scammer. More tips for recognizing phishing and SMiSHing activities are included in this Learn How to Catch a Phish article. 
What to Do if You Suspect a Scam
Remember that no government agency or banking institution will ever insist you provide sensitive personal information over the phone or by text. Even legitimate for-profit companies will allow you time to make a decision about potentially buying a product or service they offer you by phone. If you suspect a phone scam, simply hang up.
If you receive an email or text that looks suspicious based on the telltale signs you now know about phishing and SMiSHing, don't click on any links, open any attachments or forward the message. Instead, delete it immediately.
If you suspect a scam or believe you are the victim of any of the above scams, you can file a complaint with the Federal Trade Commission. If you suspect you've received a fraudulent email that appears to be from PNC, forward the message to PNC Abuse (abuse@pnc.com). If you suspect you've received a fraudulent text message that appears to be from PNC, take a screen shot of the text message on your mobile phone and forward it to PNC Abuse (abuse@pnc.com).