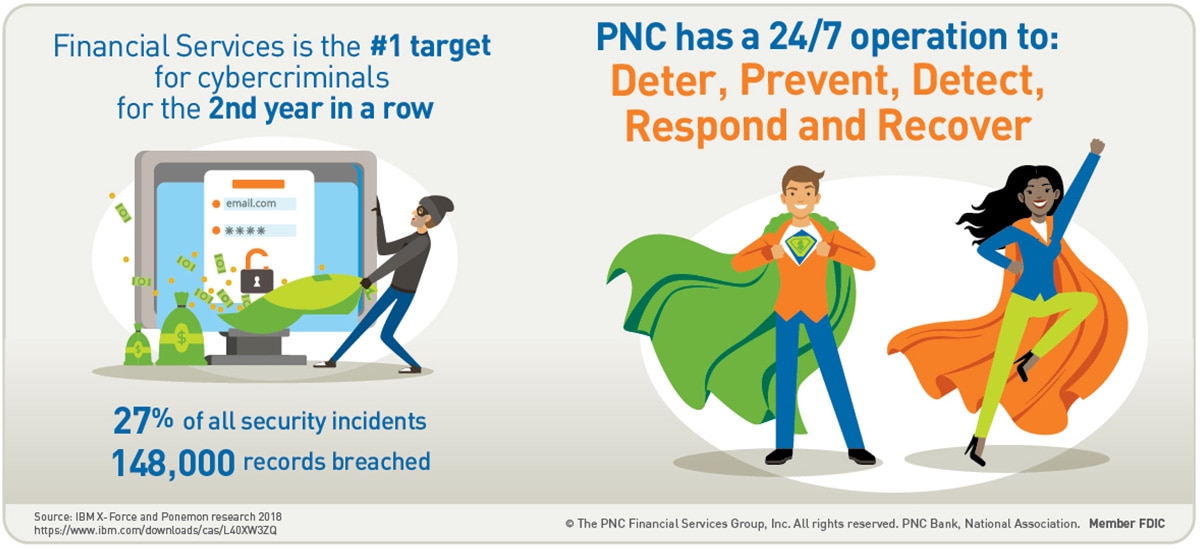 TEXT VERSION OF INFOGRAPHIC
Financial Services is the #1 target for cybercriminals for the 2nd year in a row[1]
PNC has a 24/7 operation to:
Deter, Prevent, Detect, Respond and Recover
Prevent  

The best cyber theft is one that never happens. We know – it's tough to remember multiple long passwords, and it might slow you down when we sometimes ask for more information before logging you in. But it's all part of PNC's comprehensive security program that uses layers of technology to help protect your account. Online, we have extended validation SSL certificates to help you recognize when you are on a legitimate PNC site and not a "fake" site created by fraudsters to trick you. SSL is standard security technology for establishing an encrypted link between a web server and a browser. This ensures that all data transferred between the web server and browser remains private. Whenever you visit PNC online, look for the green address bar (or a variation of the green bar depending on your Internet browser) and verify that the owner of the PNC site you're intending to visit is indeed PNC. The green address bar seen next to the URL of a website indicates that the website is trusted and secure. Out shopping? Our debit and credit cards feature "smart" chips that make it harder for criminals to copy your card.
What You Can Do:
Opt in to receive account and security alerts via text or email. You can set your alert preferences on the Alerts tab within your PNC Online Banking. Stay on top of your account balances, get notified of certain activity and more.
Get online statements. Cyber security is a challenge, but mail fraud is actually more common. You can help avoid it by accessing your statements through secure online banking.
Create effective passwords. Select something easy for you to remember but difficult for others to guess, then change it every few months. And never use the same password and user ID to conduct your PNC banking as you do for any other site. Reusing the same log-in credentials on different websites, such as social media sites or email, puts your credentials at risk (as well as any other account using those same credentials).
Utilize additional sign-on security. This optional security feature helps to verify your identity and protect your accounts from unauthorized access, utilizing your enrolled mobile device every time you sign on. A passcode is generated and sent to your phone via text (standard message and data rates may apply). You will then enter the code on your computer to access your account. Opt in to this feature by visiting the Customer Service tab within your PNC Online Banking.
Don't overshare. What you post on social media can be used against you. Think it's harmless to include your pet rabbit's name in a public post? Not if Cottontail is part of your banking password. Cyber criminals are quite crafty at using this kind of information to "guess" their way into your accounts. 
Avoid using public Wi-Fi to do online banking. It's not secure. Don't do it.
Secure all your devices. Smart phones, tablets, computers… equip them all with current security software, use the latest operating systems and always wipe them clean before trading them in.
Detect

When suspicious activity occurs, we are here to help. We have 60+ professionals with military, law enforcement and financial backgrounds working at our Enterprise Fusion Center. It's our "mission control" operation for monitoring major cyber threats before they even try to crack our network. To help you protect yours, we offer IBM® Trusteer Rapport to customers. This online fraud protection software detects threats as they occur and notifies PNC to help us drive further fraud prevention and detection.
What You Can Do:
Download Trusteer Rapport. It shows you right in your browser which sites you can trust and which ones are suspicious. Here's how to get it.
Know how to detect scams. You've heard of the big ones, like the phone call from the "IRS" that says you need to pay immediately. (Hint, they're not, and you don't.) Scammers will use mail, email, texts and more to coerce you into giving them money or account information. Automated "robocalls" and misspellings in texts and emails are usually good indicators that the messages are fraudulent.  
Learn how to catch a phish. What may seem like a harmless email link or text message could turn into a virus with one wrong click.
Resolve 

Your PNC Bank Visa Debit Card provides the highest levels of protection with PNC Security & Privacy, 24-hour fraud monitoring and Zero Liability.[2] If your card or card number is ever lost or stolen, your money will be replaced when you notify us promptly of unauthorized use. Learn more about PNC's suite of fraud prevention, detection and resolution services at PNC.com/security. We also offer Identity Theft Reimbursement to help you recover some costs involved in clearing your name. 
What You Can Do:
Report fraud ASAP. The sooner you report it, the faster PNC and the authorities can take steps to assist you. Also call your other financial institutions and ask to have your account numbers, passwords and PINs changed.
Document what happened. Keeping a detailed timeline of who you called, when and what they were supposed to do will help you follow up and make faster progress in fixing your finances or pursuing legal action.
More questions about how to protect yourself online? Review our Security and Privacy recommendations.