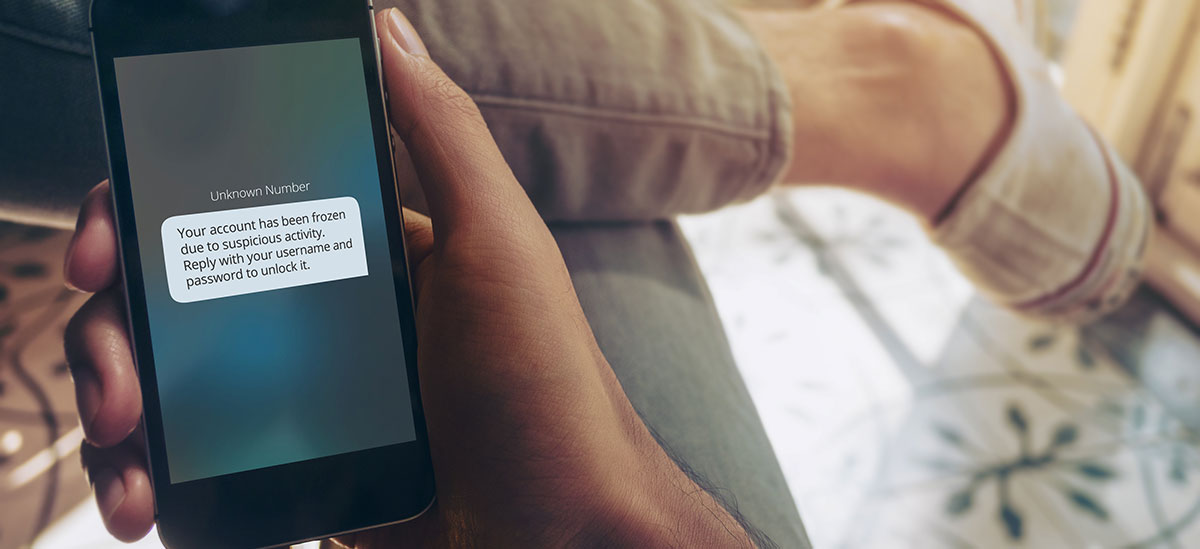 Every day cyber predators create new, deceptive methods of obtaining private financial information from unsuspecting individuals. A common practice is the use of text messages that prompt victims to click on internet links or send classified personal information electronically. Cyber hackers can pursue both your cell phone and your email inbox, so it is important to protect your information online. 
Fraud schemes that target you via text message is called "SMiShing," cleverly named after "Short Message Service" (SMS). SMiShing is an increasingly common criminal technique that imitates financial institutions and other trusted sources by sending fake SMS text messages.
Cleverly written to trick users, these texts ask recipients to click on faulty internet links and/or call private telephone numbers that lead the victim right into the criminal's hands.
Constructed to closely resemble legitimate website links and logins, subtle punctuation and character changes are made to lead users to malware-infested sites. Similarly, unverified phone numbers connect users to fraudulent voice automation systems, which typically request private information such as social security numbers, account numbers, passwords, etc.
When engaging in banking activity on a mobile device[1] such as a cellphone or tablet, there are many precautions you can take to help keep your private information secure.
1. Do not respond to SMS text messages without confirming it is from a trusted source.
Sharing personal information with an unverified source can put your privacy at risk. By simply responding to a "SMiShing" text message, users confirm to possible hackers that the recipient's phone number is live and possibly connected to an active bank account.
2. Do not click on provided internet links.
Hackers can easily disguise dangerous links to look as if they are legitimate by using normal URLs. If you receive internet links via text message, refrain from clicking and visit the primary PNC website for further information.
3. When in doubt, contact PNC.
To best protect your personal and financial information, use extra caution when reading your SMS text messages and emails, especially those that request private personal information. If you are concerned that a SMS text message or email regarding your financial information may be fraudulent, contact PNC Customer Service at 1-888-PNC- BANK (1-888-762-2265) or abuse@pnc.com.
According to the Consumer Protection Bureau, most SMiShing text messages arrive from 5 digit senders, instead of typical phone numbers. (Example: 123-45 vs. (123) 456 7890)
If you are a victim of identity theft, it's important that you take action immediately. If you have accounts at PNC, contact your branch or account representative, or call our toll-free number 1-888-PNC-BANK right away to report the situation.