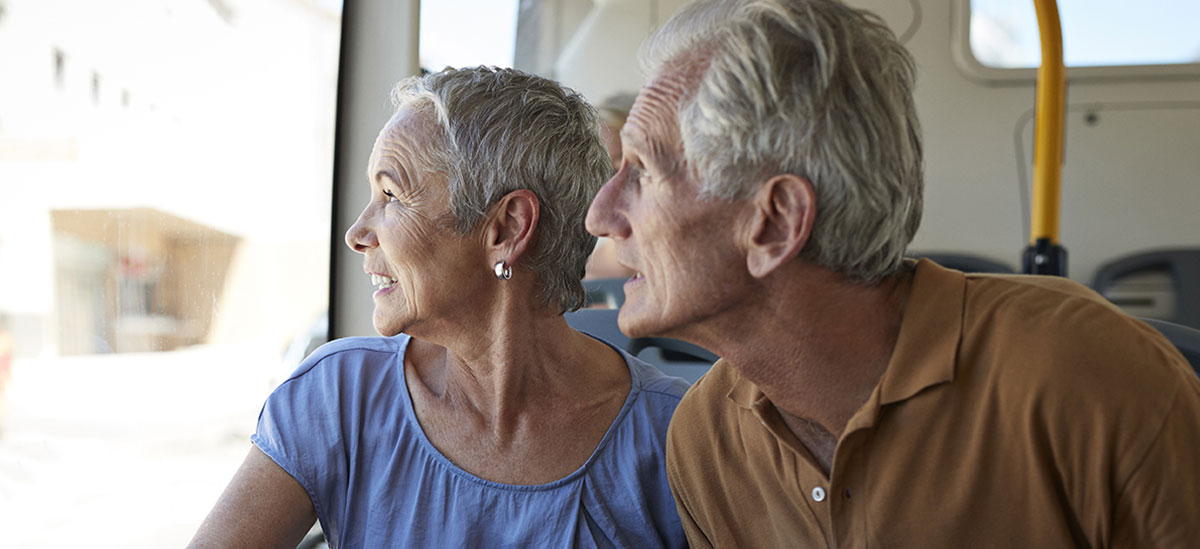 You've had strong savings habits over the years. But rising healthcare costs and living expenses may have you feeling like you didn't save enough to last you throughout retirement. You might be feeling like the life you saved for may have to take a back seat.
Not so fast. By planning ahead and building a budget, you have taken steps that should help you maintain the lifestyle you want in retirement. And that doesn't just include money for necessities, but money for you to pursue your passions as well.
You've worked hard to save for retirement.
Let's get the most out of it.
3 key steps to get the retirement you want.
Determine what you will need to maintain your current lifestyle.

Start with a budget that reflects your current situation. Then build from there. With online tools similar to the Retirement Lifestyle Planner, you can envision different retirement scenarios. After entering in your expected retirement income, you can use the Retirement Lifestyle Planner to select different lifestyle scenarios such as buying a new home, traveling or addressing healthcare costs. Then you can look at how the lifestyle you want may impact your retirement needs.

You may find you have more options than you imagined. Perhaps you'll want to change your retirement plans. Either way, you'll have a better look at how you can expect to live in retirement. Please keep in mind that this planner is intended to serve as a guide and is not a guarantee of future outcomes.

Prioritize and set a budget.

What is it you really want to do? Take adventurous trips? Spend time with family or friends? Or buy a convertible? Just take an honest look at what you want to do in retirement. This may require a bit of a balancing act. Maybe traveling the world would cost too much, but perhaps Europe is feasible. Then develop a budget planning worksheet with your ideal future in mind.

Keep saving for the retirement you want.

Keep saving. And keep putting money into an account that works for you. The idea is to earn the maximum interest while still having access to the funds you need. You'll want to keep earning interest even when you take money out to pursue your retirement dreams.
Here are a few ways to get the most from your savings. See which type of account works best for you:
Certificate of Deposit:
A Certificate of Deposit, or a CD, is a secure and easy way to save if you don't need immediate access to your money. A CD often pays you a higher interest rate than a traditional savings or money market account and, generally, the longer the term that you invest for, the higher the interest rate.
Consider funding a CD in a tax-deferred account to supplement your retirement savings. By separating your everyday expenses and passions, you won't be worried about impacting your current lifestyle. CDs also have flexible terms. Make sure that you have a specific use in mind for the funds at a time in the future that matches the CD maturity date.
PNC Premiere Money Market:
PNC's Premiere Money Market is a savings solution that provides easy money management to help you achieve your goals. A PNC Premiere Money Market has a tiered rate structure, which means higher balances will earn higher interest rates. In other words, the more you save, the more you earn.
Virtual Wallet®:
This is not your typical checking account. That's because Virtual Wallet comes with three ways to bucket your money so you can track your spending, save, and grow your finances. So, while you're busy living the life you've saved for, you can keep an eye on how your money is being spent. And, of course, you can also earn relationship rewards* with competitive interest rates on your Growth account.
With PNC's help, you can plan to make sure your savings continue to work for you throughout retirement. That way, you'll be able to take care of your everyday living expenses, and you'll have a plan for pursuing your dreams and passions during retirement.