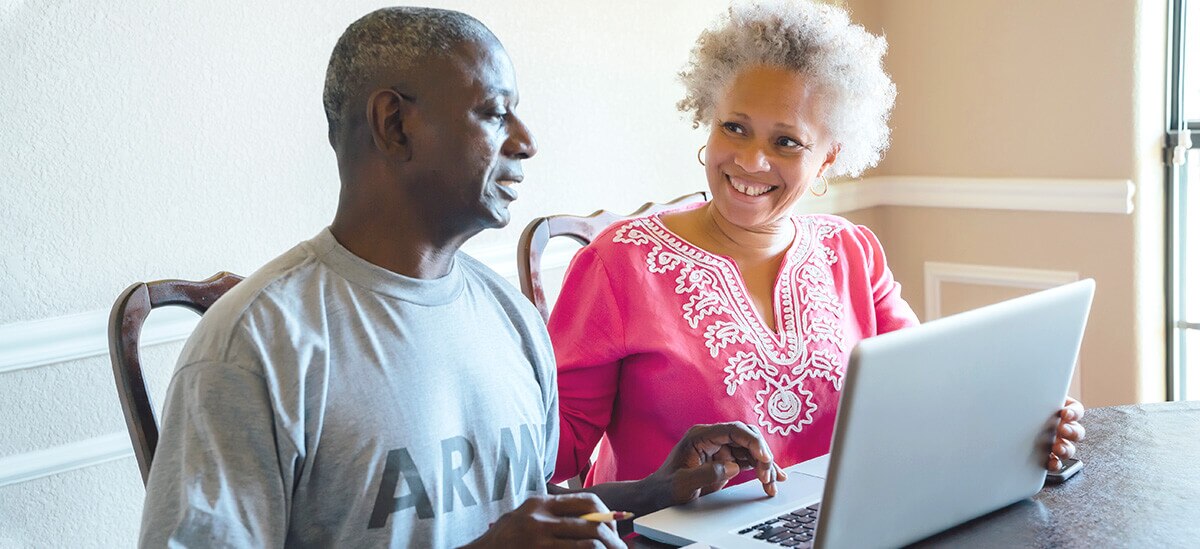 A military uniform is distinctive. It represents honor and tradition and certainly stands out in a crowd. But when it comes to personal money management, members of the military have very similar financial needs as civilians – there really isn't a distinction. Soldiers change jobs just like civilians, and they need a budget and retirement savings just like anyone else. That said, there are several federal benefits worth leveraging, and PNC can help.
David Thompson, vice president and relationship strategist for PNC Wealth Management, is a U.S. Army veteran who takes pride in looking out for his customers the same way he did for his colleagues in the 75th Ranger Regiment. Here are Thompson's tips for maximizing military benefits while borrowing, budgeting, and investing for retirement.
Borrowing
Do your research and speak to at least three options before choosing a lender. "Go to a trusted financial institution and do your homework to make sure you're getting the best rate for your situation," says Thompson. "If you use the Veterans Affairs (VA) home loan, make sure your mortgage officer is familiar with that loan."
Plan for repayments. Just because someone will loan you the money doesn't mean it's in your budget. The average enlistee joins the military at age 18 or in their early 20s. This is probably the first time they've gotten a regular paycheck, so it can be tempting to spend it rather than save.
In the event that you find yourself in a financial hardship, each branch of service has its own emergency relief agency that stands ready to help you and your military family.
Budgeting
Thompson says the biggest financial mistake people make is not budgeting. Living above your means is how you get in trouble. PNC online insights include a simple budget worksheet and an article that explains the benefits of budgeting to get you started. Then, stick to it.
Don't go for the top-of-the-line product with every purchase. Thompson suggests opting for a two-year-old used car instead of the brand-new model. "Use those savings to create an emergency savings account, save toward your retirement, or pay off credit card debt," he suggests.
Stretch your budget with federal benefits like the Post-9/11 GI Bill to pay for your education. It's how Thompson earned his bachelor's degree at Clemson University after he left the military. The bill pays for tuition (up to the highest public school tuition in your state), plus a book stipend and basic housing allowance based on your location. Eligible recipients may also transfer the benefit to a spouse or child.
Investing/Retirement
Take advantage of the Savings Deposit Program (SDP). While you're deployed, you can put away up to $10,000 in the SDP. All deposited funds earn 10 percent interest annually.
Consider participating in the Thrift Savings Plan (TSP), which functions as the military version of a 401(k). TSP initially operated as a tax-deferred investment program (meaning you don't pay taxes on any funds invested until you withdraw in retirement after age 59 ½). Now TSP offers Roth IRA-like investment options that allow you to invest money that's already been taxed, which means that you can opt to pay today's tax rates instead of tomorrow's.
Explore additional civilian investment and retirement savings products. Thompson suggests using a retirement calculator to estimate your financial needs for 20+ years of retirement later in life. Depending on your years of military service and pension, you may discover a potential shortfall that could be made up by contributing to an IRA product now.
Speak with a certified financial planner when you transition to civilian life. Like with borrowing, talk to at least three professionals before you hire someone. "You owe it to yourself to sit down and have a conversation with someone who can create a personalized financial plan that incorporates your unique situations, goals and objectives," says Thompson.
"Banking is a relationship business, and PNC is uniquely prepared to help military families navigate personal money management issues because so many of our employees have walked that path," Thompson continues. "The military teaches us that we can do things on our own, but great things are accomplished through teamwork."
Finding the right team to maximize your financial plan is important for veterans and civilians alike. Schedule an appointment with a PNC specialist to learn how we can assist you and your family with banking needs before, during or after your military service.
PNC was named one of G.I. Jobs' 2018 Top Military-Friendly Companies. It hires veterans into every line of business and at all levels.