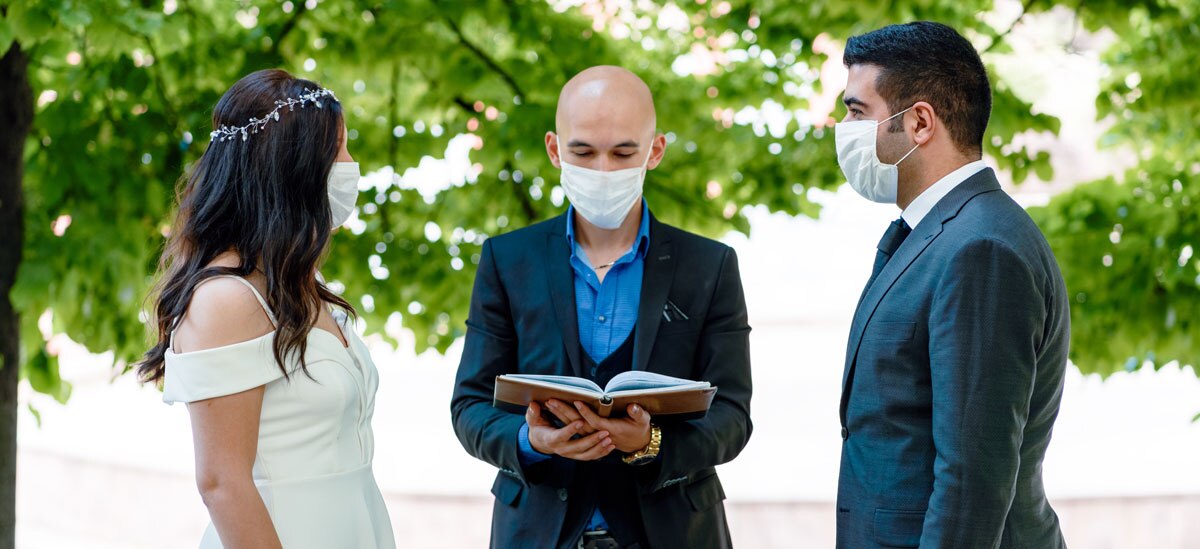 For many, 2020 began as any other year. For some, plans might have included a wedding. For others, the year would be spent focusing on their career, moving homes or retiring. In the wake of the COVID-19 pandemic, plans around the globe have been altered.
Despite disruptions, though, there are many ways that people are moving forward. Consider how some of the following suggestions might help you find that light at the end of the tunnel.
Scenario: Your original wedding was canceled
What that looks like: Surveys estimate that in the wake of COVID-19, roughly 6.5 percent of couples canceled their weddings in 2020 and 22.5 percent were postponed to 2021..[1] Letting go of how you envisioned that day to be can be upsetting and, without the proper insurance, costly. Financially speaking, every vendor and wedding insurance plan is different, and your individual contracts will determine if your cancellation (or postponement) is covered. Be sure to call each vendor as soon as you figure out your plan to get an idea for what your new ceremony might cost you.
How to move forward: With state regulations regarding social gatherings changing daily, it's essential to stay up-to-date on what's happening around the time of your event. If your own wedding won't be happening as you originally planned it, there are a few scenarios to consider:
1. Postpone it: Postponement still involves some risk, since there's no way to know how or when things will open back up completely. If this is the best option for you, contact your vendors immediately to discuss your options for dates. Planning as far out as possible could be your best bet because even as things open up, the number of people you can have at a gathering is still somewhat limited. This may also allow you to postpone payments. Some vendors may be willing to work with you, but small businesses may be struggling financially, so try to be understanding and flexible.
2. Reimagine the day: The pandemic has highlighted two additional wedding options: the "minimony" and the "micro wedding."
* Minimonies are mini ceremonies — with ten or fewer people attending — and can include some of the original details from your wedding, like a smaller cake and some floral arrangements. This allows you to use your original vendors, which is especially helpful if you can't get a full refund.
* Micro weddings are similar to minimonies but slightly larger with up to 50 guests.
3. Plan an intimate ceremony for two: Canceling your wedding outright is a big decision (that might include some monetary losses), but that doesn't mean you can't get married and celebrate in a unique way. If for some reason postponing or throwing a minimony or micro wedding doesn't work for you, there's no reason you can't throw on your wedding attire (assuming it's already purchased), have a photographer on hand to document the day (if you feel comfortable with that) and hold an intimate ceremony for two. You can also throw a virtual get-together with friends and family.
Scenario: You've been furloughed or laid off, or you recently graduated and are jobless
What that looks like: According to the Bureau of Labor Statistics, the August 2020 unemployment rate was 8.4 percent, equaling approximately 13.6 million people.[2]
How to move forward: This depends on your particular scenario. For example:
1. Figure out health insurance. If you were furloughed, your health insurance coverage might still be available to you.[3] Check-in with your human resources department to figure out what can help your situation. If you've just graduated into an uncertain job market, it may be possible to stay on your family's health insurance plan.
2. Determine your net income. If you were laid off, you may be receiving severance upon your departure. If that's not the case — or if it's not enough to keep you afloat — unemployment aid can help. With so many people applying right now, it can take a while to get through the system, and filing immediately can help you get the money faster. In most states, unemployment benefits last up to 26 weeks, although the CARES Act has allowed states to extend their unemployment benefits an additional 13 weeks.[4] If you were furloughed and are taking a pay cut for the foreseeable future, consider reworking your budget and making necessary cuts.
3. Look into your savings options. If you were laid off or took a pay cut — or if you just graduated and are jobless — but you have a savings account, now is a good time to figure out how many months you can get by with your savings (this emergency fund calculator can help you) and whatever income you still have coming in. Again, reworking your budget and making necessary cuts might be essential.
4. Figure out where you can get additional help. If you need even more financial assistance, consider calling your financial institutions — like your mortgage, student loan and credit card companies — to see how they can help. Many are offering flexible terms or deferrals on things like additional fees and interest during this time.
Scenario: You were planning a move
What that looks like: With social distancing regulations still in place around the country and unemployment at high levels, the housing market has been hit hard. Although numbers are changing rapidly, in June 2020, new listings were down 21 percent, and houses were on the market for an average 16 days longer than they were the previous year. For sellers, though, there is some good news — an absence of homes for sale means that medium listing prices are slowly rising.[5]
How to move forward: If you aren't worried about money, there's really no reason to consider changing your plans. In fact, the current low rate environment may even make it a good time to take out a mortgage. According to the Pew Research Center, approximately one-in-five U.S. adults actually say that they decided to move because of the pandemic.[6] If, however, you've lost your job or been furloughed, or you've had to take money from savings to cover expenses and that means you won't be able to put as much down as a down payment, now might not be the best time to move. Your mortgage broker can walk you through the best mortgage options based on your particular financial scenario.
Scenario: You were going to retire
What that looks like: If you were hoping to retire soon, the state of your portfolio might have you questioning if now is the right time.
How to move forward: According to a Forbes survey[7], 11 percent of respondents said that COVID-19 would impact their retirement planning by requiring them to work longer than they were planning. It's key to have a financial plan to help you navigate through downturns with minimal disruption. Whether now is the right time for you to retire is a personal question that's dependent on several specific financial factors. Some factors include assessing your financial plan to see how much you have saved over the past few months, what additional sources of income you might have, how you were going to cover healthcare expenses, and more. Talk to a retirement planning specialist from PNC to help you determine your best next steps based on your particular needs.
There is no doubt that the COVID-19 pandemic has thrown a wrench in many of our plans. Luckily, there is a solution for any scenario, even if it looks a bit different from how you imagined. For any questions regarding your specific financial needs, a personal finance specialist at PNC is always ready to help.