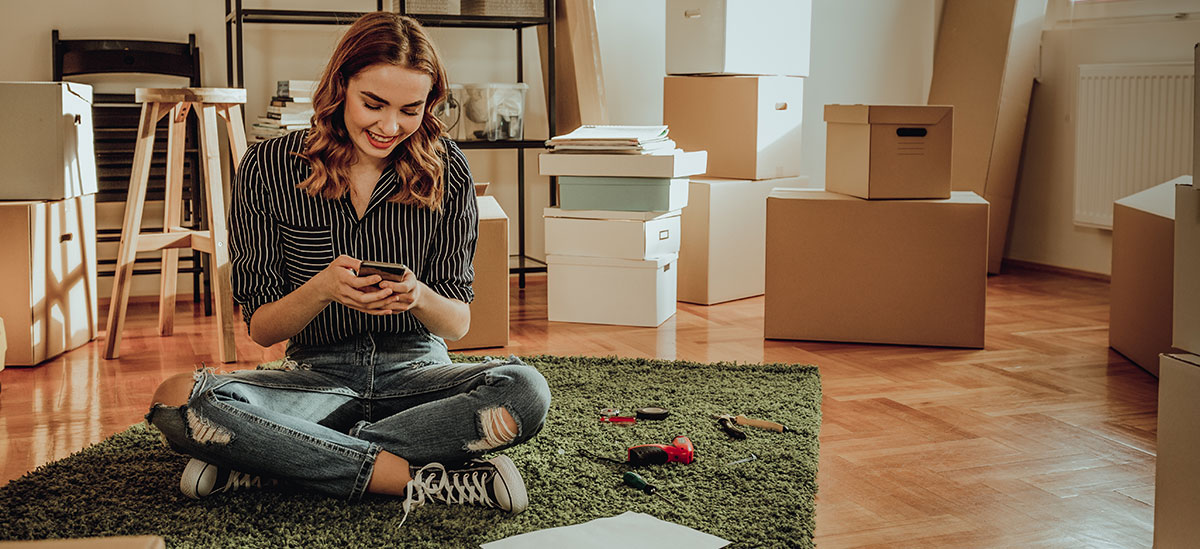 If you're considering off-campus housing, take a few minutes to map out your strategy. Here are some suggestions of what to consider and ask as you look for your new place.
College housing can be expensive. That's why so many students look to off-campus housing alternatives once they have fulfilled any requirement their college may have about living on campus (often the first year or two of enrollment). Living off-campus may be significantly less expensive than room and board in a dorm, and many students find they prefer the independence and privacy it can provide.
Whether you're a first-time renter or you've done this before, take some time to carefully consider your options before locking into a leasing agreement. Here are a few tips to get you started:
Analyze your monthly budget. Look at your budget to determine how much you can afford. If you are moving from a room-and-board situation to independent off-campus housing, remember that you will need to be buying your food separately. Factor that into your budget as well. (This podcast may help you create and stick with a budget.)
Make a list of possible options. Find a few different properties that interest you. Your school may have a database of off-campus housing options, you might be able to find postings in local papers or online listings, and it never hurts to ask around!
Do your research on each property, asking the following questions: Is it located in a neighborhood I'd be comfortable living in? How long of a commute would I have to and from school and/or work? Is the property located near any restaurants and stores, or is it out of the way? Remember that renting is a big financial decision, and just like any other major investment, you should be sure to shop around for your best fit.
Understand what convenience costs. You are likely to find that properties located closer to campus are more expensive to rent than those located farther away. Landlords know they can charge more for convenience, so these apartments may cost more than larger or more up-to-date properties elsewhere. If you don't have a car or access to reliable public transportation, paying a little extra to live close to campus might perfectly suit your needs, but if not, you may be able to broaden your options and potentially get more for your money by putting some distance between yourself and campus.
Consider having a roommate. Living with a roommate or two can help lower the cost of living off-campus. Be aware that this isn't a decision you should make lightly; be sure that you know and trust whomever you plan on living with. A responsible roommate — someone who pays their part of rent and utilities on time — can make your living situation easier, but living with an irresponsible roommate may lead to financial challenges.
Once you have selected some options, go visit each of them in person. You may be tempted to simply sign a rental agreement based on information or pictures you find on the property's website, but actually viewing the property and speaking to its landlord or leasing representative may help you spot problems (or benefits!) that you might have otherwise missed.
Making the Most of Your Visit
As you evaluate each of your housing options, a checklist may help you compare. Create a list of your must-haves, keeping in mind that this might be your new place. Also be sure to ask about any fees or other costs you may be responsible for over and above your rent payment.
Here are some suggestions of items to include on your checklist about the apartment itself:
Are the locks, fixtures (toilet, shower, refrigerator, oven, etc.), and heating and air conditioning system in good working condition?

Can you open the windows?

Are there laundry facilities either in your unit or elsewhere on the property?

Does the property offer tenants a gym? A swimming pool?

How close are your neighbors?

What policies does the landlord have in place to ensure your privacy?

How does trash pickup work?

Does the landlord offer needed maintenance and repairs?

What are your parking options?
Also ask any questions you may have about your potential financial obligations:
How much is monthly rent, and what are the payment terms?

How much is the security deposit, and what are its terms?

Are you responsible for utilities, such as water, gas and electricity?

Is there a charge for trash pickup?

What amenities or services — parking, laundry, gym access, etc. — command separate fees?

Is there an extra fee to have a pet?

Are you financially responsible for any needed repairs, or are those expenses covered by your lease?

Is Wi-Fi included?
Once you've done all of this research and legwork, compare the pros and cons of each option, and make the choice that best fits your budget and lifestyle. You'll be glad you took the time to find your ideal place!