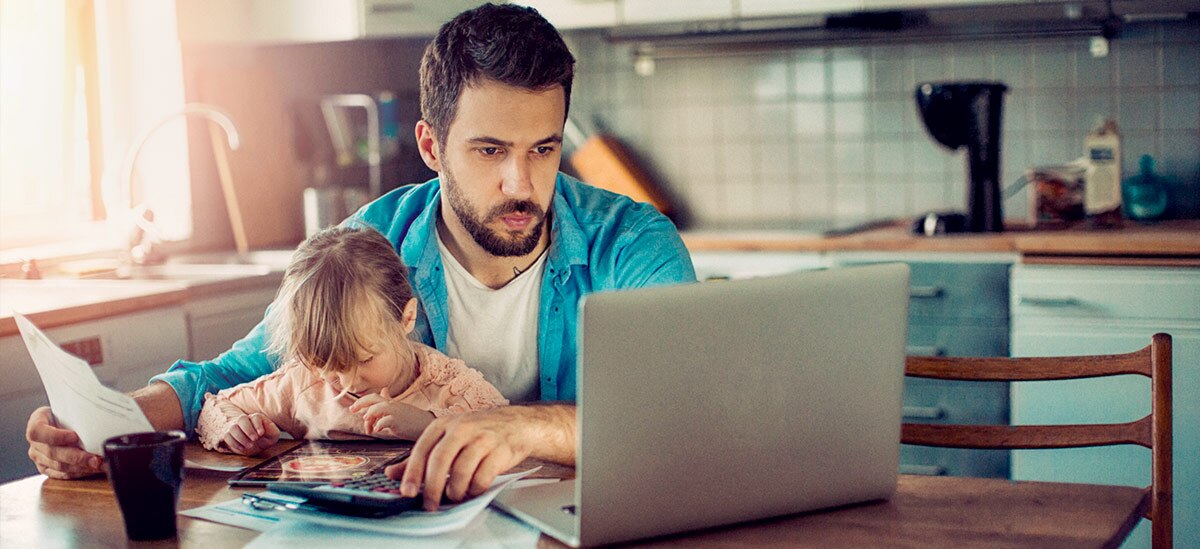 The last few months have been a challenge for a lot of people. Unemployment is up, paychecks are down, and millions don't have sufficient emergency savings for the current scenario. Small businesses and freelancers have lost income and work. And through it all, important financial decisions must still be made about mortgages, at-home care for children and elderly parents, student loans, and credit card debt. If you have questions about how to manage, you're not alone.
We spoke with a few people in challenging financial situations to see how they're coping, and with PNC professionals for insight and guidance. Here's what we found:
Your retirement savings have taken a dip
It's been a wild ride for the stock market, which took a dive in mid-March. Thankfully, stocks have mostly recovered, but some people's portfolios may have been affected, and there's no telling what's coming for the financial markets.
Suppose your portfolio has lost some value (or loses value later in the pandemic). In that case, advisors warn against cashing out—consumers who continued contributing to their retirement accounts during the last recession fared much better, in the end, than those who took their money out of the market.
"It's natural to feel the need to take action during times of crisis, but sometimes the right thing to do is nothing at all," says Madison Sharick, Manager of Financial Planning for PNC Investments. "After a market drop, sticking to your automated 401(k) contribution strategy may allow you to buy more securities with that same contribution amount. Consistency is key."
If you feel compelled to act, rebalancing your long-term target portfolio weights may be appropriate. "Doing so allows you to participate in a likely market recovery at the same risk tolerance that you experienced a downdraft," Sharick says.
You've lost your job
Millions of Americans have found themselves furloughed or unemployed. In some cases, unemployment benefits have taken weeks to arrive, and they may not cover someone's previous working salary.
Brad Berbari of Phoenix, AZ, was let go from his job as a mortgage banker during the first months of the pandemic. Since then, he's been living on unemployment income and savings and trying to launch an app focused on finding jobs locally, called Flexr. He's hoping to launch the app locally first, and nationally about six months later.
Berbari has spun his pandemic experience into a business opportunity. Although launching a new business isn't the right fit for everyone, if you've lost your income source, you may need to brainstorm alternative ways to bring in cash, and you should be reducing your expenses as much as possible.
"If your routine has changed, it's likely that your spending patterns have, too," Sharick says. "Review your budget to determine what's essential, paying special attention to recurring expenses. Take a hard look at subscription services that are easy to leave on autopilot, and explore if any payees are offering financial assistance programs."
Your industry has taken a hit
Some people haven't lost their jobs explicitly, but COVID-19 has impacted their line of work. Charles Snider of New York City, an art, antiques, and auctions professional, has watched his business slow significantly since much of his work requires an in-person presence. "Selling, showcasing, inspecting, examining artwork or antiques all require personal gestures, touching, working near someone," he says. "There are regular buyers and collectors who simply cannot spend the amount of money they used to without seeing the work of art in person."
Snider isn't sure when or if his business will return to normal. In the meantime, he's left the city to stay with family in Georgia, where he's supplementing his unemployment income by teaching art classes via Zoom. "I am under the impression the opportunities and growth in this field have severely diminished," he says. "I hope I am wrong."
If the pandemic has affected your field, this may be the time for some soul searching. Can you pivot to an industry that's still hiring, such as online learning, healthcare fields, or even delivery-related work? Many companies are hiring for remote positions—take a look at websites like VirtualVocations.com or FlexJobs.com for ideas. And there's always online school: Maybe this is a good time to take that coding course or get the certification you need to make the career switch you've been considering.
You're taking care of children but still working full time
As hundreds of school districts started the year with virtual instruction or flexible hybrid schedules, many are trying to homeschool full- or part-time while also managing their full-time jobs. For families with earners who must work outside the home, it's hard to wrangle childcare without the safety net of school.
Jennifer Stringer, who runs a small marketing and communications company, faces the prospect of either dialing back her work hours or hiring help for the days her daughter, a rising kindergartner, is learning remotely. "We just did an art class earlier today, and it was about an hour long," says Stringer, who lives in Brooklyn, NY. "It was a Zoom session, and I sat with my daughter the whole time. Whether it's a Zoom activity or remote learning that's assigned by her school, that work is just not independent."
Solutions to this situation are myriad: Some people have hired a babysitter to help with childcare, versus sending their kids back to daycare with multiple caregivers and children. Others have set up a nanny share with another household to keep their quarantine bubble small. Stringer formed a "pod" with another family this fall to alternate having the kids in their homes for remote learning. They're also considering hiring a tutor or educator who could work with their children on remote days.
"Cutting back on work hours is a last resort," Stringer says. "Having started this business and having worked so hard to build up the team and our clients and our pipeline, it's really hard to think about pressing pause on that."
Have questions? PNC can help.
COVID-19 has had a significant financial impact on many people, from job loss to higher childcare expenses to needing to make a career pivot. It may take some time for the dust to settle, and in the end, America's economy may look very different. If you have questions about your situation, PNC has specialists who can help. Don't hesitate to reach out: A PNC professional can guide you through your options—and you may have more options than you think.