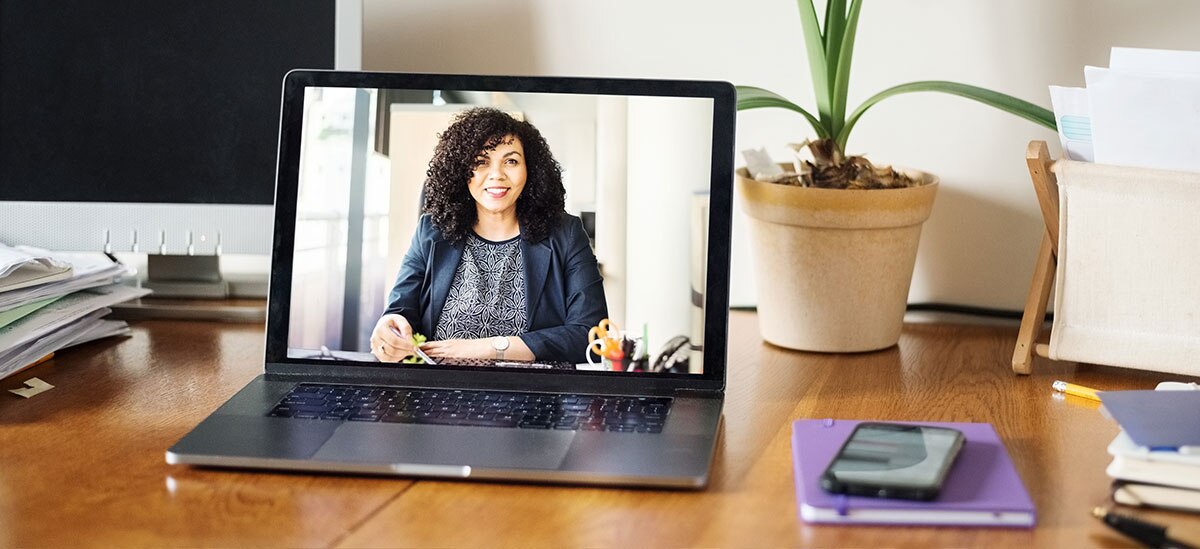 Largely in response to the COVID-19 pandemic, working from home — also known as WFH or remote working — has become much more commonplace. At many companies, the job interview process has followed suit, with hiring managers leveraging virtual interviews to get to know job candidates. And while remote video interviews give these recruiters the opportunity to evaluate candidates' qualifications and communication skills, they offer candidates the home-field advantage, as they can have this conversation from the comfort of their own familiar living space.
What do you need to know to ace a virtual interview? Be prepared, confident and engaging, just as you would if meeting someone face-to-face. Of course, you also need to address the technology. Here are some tips to help you think through your strategy.
The Basics of Virtual Job Interviewing
One of the most important things to remember when participating in a video interview is that in-person job interview best practices still apply:
Research the company and its culture beforehand so that you can develop a short list of questions to ask your interviewer about the company and position.
Research commonly asked job interview questions and practice your answers. You don't want to sound like you're reading a script, but becoming comfortable with the subject areas and with talking about yourself may strengthen your performance.
Be a few minutes early to the meeting.
Be engaged and engaging. This should be a comfortable conversation for you and the interviewer to discover whether you and the company might be a mutually good fit.
Follow up with your interviewer to show gratitude and continuing interest.
There are also some differences between virtual and in-person interviews. Following are some tips that apply specifically to connecting electronically.
How to Dress for Your Video Interview
Always dress professionally for your virtual meeting, taking into account the position you're interviewing for and the culture of the company. Your research should give you a sense of how people dress there. If not, use your best judgment as to how you can feel confident and comfortable while projecting a sense of professionalism. Also keep in mind that softer colors and solids tend to look better on camera than brighter colors and patterns.
Set Up Your Virtual Interview Location
When choosing the spot where you'll sit, make sure that the interviewer's focus will be on you and not your surroundings. Set up a table or desk in front of a neutral wall or background where you will be the center of attention and choose a chair that will help you maintain good posture. Check for any glare that might be in the shot and adjust it accordingly; you don't want the interviewer to have to struggle to see you.
Also be sure to ditch any distractions. Prevent embarrassing interruptions by choosing a room where you know you'll have privacy. Close any windows that may let outside noise in, silence your cell phone and close out of any unnecessary documents on your computer. Finally, clear your space of everything except what you'll need for the meeting (e.g., a copy of your resume, pen, notepad and glass of water).
Test Your Technology
First, think about the video platform the interviewer has chosen for your virtual meeting. Make sure you are using a professional username for your account; if not, this may be a good time to create a new account you can use solely for your professional communications.
Next, check your internet connection and laptop battery charge. You don't want your signal to cut out halfway through the conversation. Then sign in to the platform to check your webcam, and make sure your speakers and microphone are working correctly. Some people find that using a set of earbud-style headphones with a built-in microphone works best for both hearing and being heard.
Make a Strong Connection with Your Interviewer
It's not just what you say; it's how you say it. Positive body language is essential to any job interview, meaning you should smile, sit up straight and gesture as you would in any professional conversation. You do need to make one notable adjustment when you're on a virtual call: When you want to make eye contact — especially when you're answering a question — look into your camera rather than the interviewer's eyes. This might feel a little strange if you're not used to video chatting, but it's important to making a strong connection.
Stay Calm if Something Goes Wrong
Since video interviews are relatively new for most of us, don't be surprised if there are hiccups here and there. Be patient and collaborative with your interviewer in working through any challenges. Look at these moments as opportunities to demonstrate your resilient and resourceful nature.
Prepare for any glitches as best you can. Ask for a phone number where you can reach the interviewer in the event your video or audio cuts out. Let anyone who lives with you know not to interrupt. And
if an interruption does occur, excuse yourself professionally, mute your microphone and turn your camera off until you've handled the interruption. Then get back to the conversation as quickly as possible.
Follow Up on Your Virtual Interview
It's always a good idea to send an email to your interviewer within 24 hours, to thank them for their time, express your continuing interest in the position and let them know you're available for any additional questions they may have for you. A thoughtful follow-up note is the ideal ending to a positive interview experience.