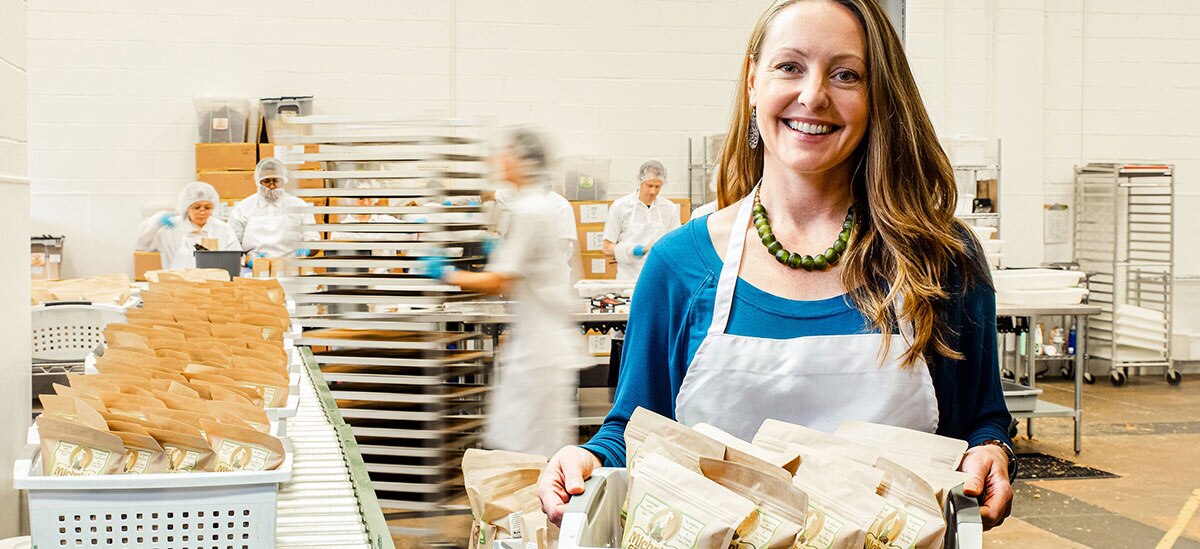 Michele's Granola    Timonium, MD                                                 Photo by Justin Tsucalas, Plaid Photo

Michele's Granola may be in every Whole Foods store around the country, but the Maryland-based company comes from humble beginnings. Founder and owner Michele Tsucalas started making her beloved granola in hopes of recreating a delicious snack she'd enjoyed in New England.
"I became passionate about making the very best granola that anyone had ever tasted," she says. That passion bloomed in the kitchen of her apartment. It eventually grew into a 44-employee business that distributes granola to multiple grocery chains around the country.
Tsucalas joins a growing number of women starting food, beverage and agribusiness companies. Scaling these businesses isn't for the faint-of-heart—Tsucalas has moved locations multiple times to keep up with company growth. But the efforts have paid off – both in ways she expected and in some she didn't.
"Being an entrepreneur has allowed me to give back more than I anticipated, from developing our employee experience and sharing my passion for business and entrepreneurship, to expanding opportunities for people in our community," she notes.
Small batches, big business
Within a year-and-a-half of selling granola at the farmer's market, Tsucalas knew that her side business could become a full-time job. Although she didn't have any culinary or business experience, Tsucalas believes her naivete worked to her advantage.
"We had to figure out a way to run the business that was different and contributed to the quality of the product," she says. She wasn't beholden to specific ideas, but instead committed to maintaining what made her granola so special.
For example, the company has been in three production locations, moving each time to get more space. In 2015, PNC bank helped facilitate a loan for expansion into a 10,500-square-foot-facility. However, in spite of its growth, the company still makes every bag—an astounding 6,000 daily—by hand. Tsucalas considered automating more of the processes, but realized that would imperil what makes her granola delicious.
"Everything is done by hand, by real people," she says.
Supporting women-in-business
The number of women-owned businesses applying for loans increased by 13% in 2018, according to a study by Biz2Credit. Connie Small, an agribusiness banker with PNC Bank, has experienced this trend first-hand. She's working with more women who are running nurseries, agri-tourism businesses, and food and beverage companies.
"It's encouraging for me to work with them, and it's encouraging for the entrepreneurs to know that there are other women following this same path," Small says. In addition to providing financial expertise for the agribusiness sector, as an agribusiness banker, Small also brings industry connections and an understanding of her client's unique needs.
"A friend suggested I view my banker as a partner … and as someone interested in supporting and encouraging women in business," Tsucalas says. Now she does the same, by participating in women-led business initiatives and providing mentorship to those just starting.

Growing and giving back
Looking back, Tsucalas says she's learned a lot about business, food manufacturing and herself. For instance, she's focusing on hiring people who complement her skills and fill in gaps. Similarly, the entrepreneur has found that growing her business demanded that she find balance, especially after her second child was born.
"I had to hire and train a workforce because I knew I wouldn't be able to be present to the degree that I was previously," she says. "It was a turning point to recognize that and ask 'How can I step away?'"
Today, Michele's Granola continues to grow and contribute. Through its Give One for Good Food program, the company donates 1% of sales to organizations that are creating more equitable food systems.
"I set out in this business to make granola," she says. "Now, we're using the power of profit to create positive change, and that's what's been the most rewarding."
Q&A with Michele Tsucalas
1. How long have you been in business?
I started selling granola at my local farmers market in the spring of 2006 after a good friend suggested I take my homemade recipe to the masses!
2. What inspired you to be an entrepreneur?
I was initially inspired by delicious food. Though I didn't intend for my granola-making hobby to become a business, once I began working at the farmers market, I was deeply motivated by the local food movement and the other local vendors, many of them farmers, who were growing thriving businesses from scratch and providing healthier, more sustainable food options in our largely industrialized food system. Then, as I began thinking about the possibilities of expanding my business in a wholesale direction, I became excited by the idea of being my own boss! I am in control of the opportunities I choose for myself and my family, and even though it's a round-the-clock responsibility influenced by a growing team or employees, suppliers and customers, I'm fortunate to be the one who decides when to pump the gas and when to hit the brakes.
3. What is one tip you would give someone who is just starting their business?
I received a piece of advice early on that has shaped the growth strategy of Michele's Granola: Do one thing and do it better than anyone else. We produce a full line of several different flavors of granola and muesli cereal, but we have not expanded into any other product lines in nearly fifteen years of business. This has kept our manufacturing operation streamlined and allowed us to carve out a solid niche in the market by offering a high quality, small batch product. We certainly weren't the first to market with a granola product, and so focusing on being the best at it has helped us compete in a crowded category.
4. How do you make each moment matter with your business?
Each moment matters because every ounce of granola matters, every customer matters and every employee matters. These moments are happening in and around our operation every day, and I do my best to make sure they are positive and productive! My role has changed so much in the years since I started up; I wear many hats and have played many different roles, from baker to controller to working mother, and I take all of them equally seriously. By giving genuine attention to all the details, big and small, I hope to be a positive role model for my growing team so that they can also be committed to making each moment matter for everyone involved.
5. What matters the most to you as a business owner?
What matters most is that we are making a positive difference. In many ways, being an entrepreneur is about creating the world I want to live in. This desire is woven into so many layers of our company, from maintaining our small batch process and looking for opportunities to make it more environmentally friendly, to providing worthwhile employment opportunities and constantly working to improve on our employee's work experience, to giving back to our community in meaningful and consistent ways through our Give One for Good Food® program. I believe making choices that are good for everyone makes good business sense, and we look forward to increasing our impact and leadership as we grow.