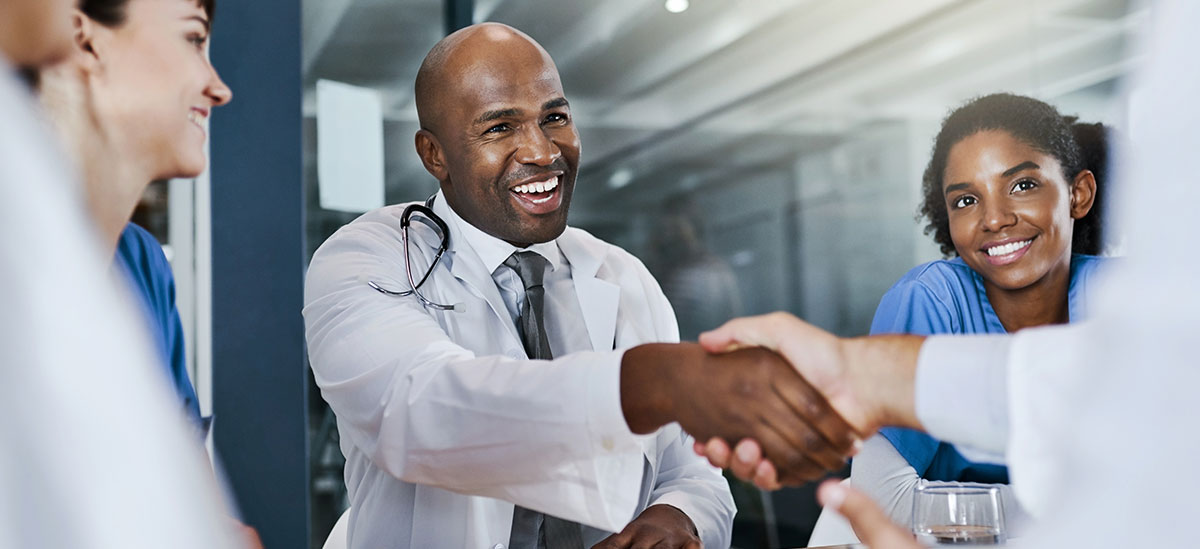 There are several considerations you'll need to make when you're looking for a new professional to join your business as a partner. Besides the obvious skills and background that will be necessary to do the job well, you'll want someone who's personable and friendly with clients, and someone you can get along with, as well. With millions of Americans[1] leaving their jobs following the pandemic, now is a good time to be in the market for new talent. Following a few key steps can help you find the right person from a sea of qualified candidates.

Step 1: Start with the basics

When searching for a candidate, you're likely to find plenty of people who look good on paper and are highly qualified. Remember, though, that you'll be working with this person day-in and day-out, and likely making important decisions about the practice together. Ensuring that your personalities work well together is also an essential element to finding someone for the long haul. In fact, one study[2] found that while job experience alone only allowed for predicting job performance with 16 percent accuracy, using a combination of cognitive ability and personality led to a 78 percent accuracy in future performance prediction. Other things to consider include:

While a certain level of personality match is nice, you should ultimately try to find someone who brings different talents to the table than you do. For example, if you're book-smart but shy, try finding someone who is more personable and outgoing.
Can this person help bring in new business to the practice? Are they already well-known in their field, for example, or do they excel at finding new people to work with?
Is this person financially stable? Especially if you'll be including your new partner in any financial decisions for the practice, you'll want to make sure that they are good at managing their own personal finances, and that they haven't left behind a trail of failed businesses or bankruptcies in the past.

Step 2: Write down what you're looking for

Rather than working from memory, take pen to paper and write down what you're hoping to achieve with a new partner. This can include both general things like the background and experience you want the person to have, as well as your broad view on overarching achievements you hope to reach for the business with this person on board. Studies[3] show that people who write down their goals are 42 percent more likely to achieve them.

Step 3: Broaden your search range

Whether you're new to the hiring process or you've built companies from the ground-up before, it's important to be thoughtful before casting your net to find a new partner. Besides traditional methods, there are many additional ways to go about finding new people who might be a good fit for your practice. Some examples include:

Scope out healthcare conferences. Attending healthcare conferences is not only a great way to stay up to date on the happenings in your field, but they're also great places to scope out potential new talent. Even if you aren't in the market for a partner right now, consider jotting down the names of any speakers who pique your interest, or interesting colleagues you meet. This way you can keep them in mind down the road if/when you are looking for a new partner.
Keep up with new research and publications. Along with conferences, publications can provide a wealth of opportunities for reaching out to new talent. If you're interested in new research being conducted or a particular article that was recently written, chances are you might benefit from learning more about that author's work.
Tap into referral services. If you're lucky enough to have a tight network of physicians who refer patients to you, and who you trust and have worked with for years, consider leaning on them for any additional doctors within their network that they think might make a good fit for your practice. This is a good way to go about finding a potential new partner because it always helps to have an outside perspective during the search for someone new.

Step 4: Consult with an attorney

The search for a new partner is usually the fun part. Once that's done, it's time to move on to the business side of the process. Whether you've worked with a lawyer for new hires before or not, using one during the process of hiring a new partner can be a big help. A qualified attorney will help you make sure everything is fair and equitable for all parties involved, and they should be able to identify and present possible situations and solutions that you might not even consider. This might include things like:

How work is expected to be divvied up
How big decisions will be reached
How disputes will be handled
What equity each partner will hold
When and how to include non-compete clauses
Fair compensation of both salary and bonuses for everyone involved, as well as vesting schedules
Exit strategies — including termination and equity issues, as well as the sale of the company — should that ever become an option

Bringing on a new partner can ease a lot of your burdens, both financially and in terms of your time and schedule, but it's a process that shouldn't be entered into lightly. Use the steps above to help you cast a wide net to find the perfect person based on research and due diligence.