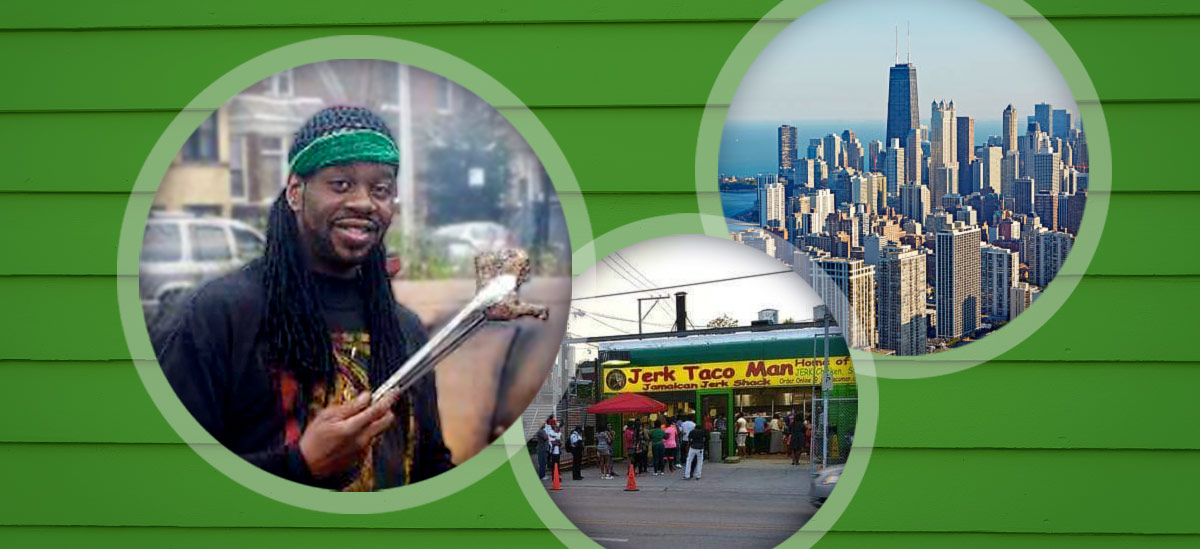 Start small. You can pilot concepts on the street like I did or get a food truck. Focus on keeping your expenses low. Once you have the knowledge and the revenues behind you, go for it!
After 14 years as a financial advisor, Julius Thomas opened his first restaurant — an upscale restaurant/bar/nightclub that became the training ground for his second-act career. He changed the concept several times before losing the restaurant to a fire, an event that inspired him to reconsider the scale of his effort and open a smaller place, Julio's, focused on carryout. "I learned what I needed to know from the big restaurant and put it into a little one," says Thomas. "I found that doing a small concept as opposed to a large menu made more money."
This realization helped Thomas zero in on a concept and build it out one location at a time. Today, there are three Jerk Taco Man restaurants in Downtown Chicago and one in its Riverdale suburb. Thomas plans to leverage the brand's momentum in other markets, too, beginning with Atlanta.
What inspired you to establish Jerk Taco Man?
Julio's was a Mexican cuisine restaurant I built on the South Side of Chicago. In addition to traditional steak and ground beef tacos, we offered jerk chicken tacos. I noticed that initially people would order two or three traditional tacos and maybe one jerk chicken taco, but when they would come back, they would order three or four jerk chicken tacos and only one or two traditional. So I decided to lead with the jerk tacos. When the restaurant wasn't doing as well as I would have liked, I decided to pilot the jerk chicken concept on the West Side, which I think is the best place in Chicago to test new ideas. I tested several outdoor locations and was so overwhelmed with business that I bought a building and built out the first Jerk Taco Man brick and mortar in 2014.
Was the restaurant successful right away?
A lot of people knew about Jerk Taco Man because of the pilots, so the lines were crazy long from the start. I decided to expand after just about a year. I bought a 10,000-sq-ft space and built a commissary and restaurant inside that building. It did just as well as the first location.
How has your company grown?
Today, Jerk Taco Man has four locations and I've expanded the menu to include many more jerk options. I'm also building two new, separate brands: a barbecue concept called Kiss the Cook Barbecue, and a seafood market concept, Soul by the Pound Seafood Market. Among the three brands, we will have a total of seven locations.
So many restaurant companies have struggled in the face of the labor shortage and coronavirus. Has this environment been challenging for your business?
I did feel it for a while in 2021, but then I built partnerships with some nonprofit organizations that supply businesses with workers who need a second chance — previously incarcerated individuals, troubled high school kids trying to get their lives together, etc. The program would place them for 60 to 90 days; after that, if they were doing well with us, we had the option of offering them a permanent position.
This program filled a void for us and gave us the opportunity to help some people get their lives back on track. Sometimes when you just give people a chance, they surprise you with what they can do. My goal has never been to see how many locations I can open; it's about seeing how many people I can employ. Thomas looks to double his workforce in the first half of 2022, from 60 to 120 employees.
How does having a dedicated business banker benefit your business?
Our PNC business banker is the best! She checks in on me regularly and makes sure I'm aware of any new technology or product that might help my business grow. I appreciate not being a number in the system, as I've experienced with other banks. She's the greatest banker I've ever worked with, and PNC is definitely on point in the way they build relationships with their business clients.
What is your vision for your company's future?
Long-term, I want Jerk Taco Man to be my legacy — a business that will be around for my great, great, great, great grandkids. I'd like to follow the lead between Portillo's and McDonald's in terms of building a model I can take into just about any market. Our next expansion, which I anticipate in the next year or two, is likely to be in Atlanta. I'll take all three of my brands there.
What advice would you give someone who is thinking of starting a restaurant company?
Start small. You can pilot concepts on the street like I did or get a food truck. Focus on keeping your expenses low. Once you have the knowledge and the revenues behind you, go for it! But no matter how big you get, stay humble. Always know that you're here for a purpose and that it's not just about yourself.
Find them on the Web: https://www.jerktacoman.com/