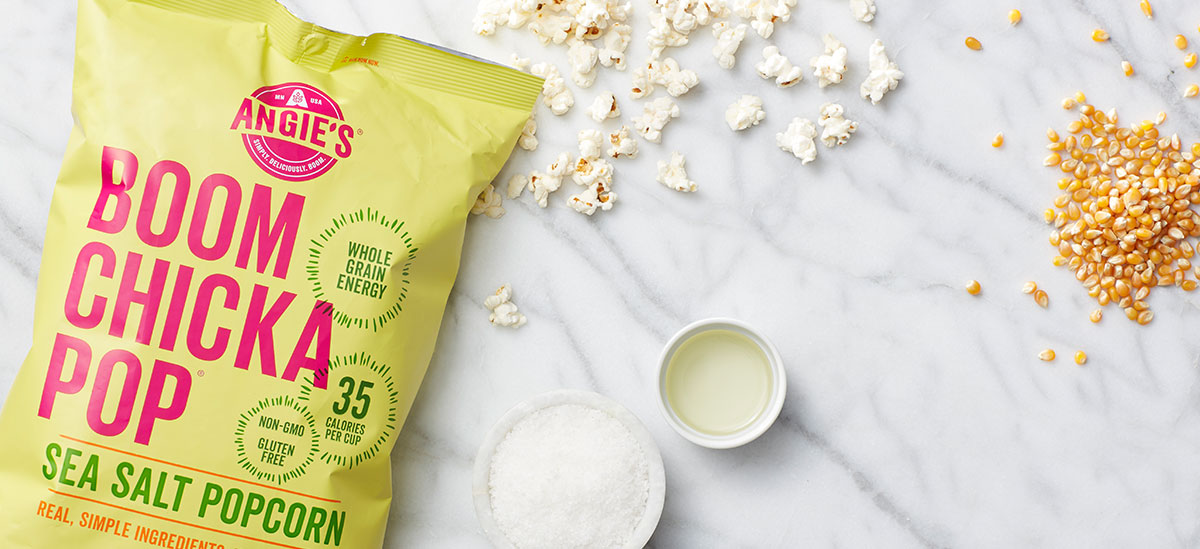 Of all the traits successful entrepreneurs have in common, one of them — resilience — stands head and shoulders above the rest. Building a business isn't easy, so it's important to be able to bounce back after losses, disappointments and missteps. Angie and Dan Bastian leaned on their resilience time after time as they grew Angie's Kettle Corn, now Angie's BOOMCHICKAPOP, from a one-kettle operation in their garage in Mankato, Minnesota, to a brand that today appears on retailers' shelves across the United States.
"I was a nurse; Dan was a history teacher. Between us, we had very little business knowledge. But we are restless people, and we're always looking for a new adventure," Angie says. "We started small and saw every tiny victory as validation to keep moving forward."
The Early Days
Angie and Dan hadn't thought of themselves as entrepreneurs before starting Angie's Kettle Corn. But it felt like a natural solution when they started thinking about how to build college savings for their 3- and 5-year-olds. "One night in 2001, while the kids were in bed, Dan saw an ad promising that you could make thousands of dollars popping kettle corn on weekends," Angie shares. "We thought Why not? and we ordered the $8,000 kit: a tent, a table and a big kettle that required you to hand-stir the corn over an open propane flame."
After perfecting the art of making kettle corn outdoors in the freezing Minnesota weather, the Bastians began selling their product at festivals, outdoor markets and amateur baseball games. In 2002, they reached out to the Minnesota Vikings with free bags of kettle corn for all of the players and managers. That led to a spot for their tent at the Vikings training camp and then a sponsorship deal that gave them the rights to sell popcorn on game days. Next stop? Relationships with several retail stores in 2004, which opened a new world of opportunity — and a new world of challenges.
The Market
Angie was delighted to be coming to market with a healthy, all-natural snack she knew fellow parents would appreciate. "I was always careful about the foods our young children were eating, and it annoyed me that it was so difficult to find snacks without artificial ingredients and preservatives," she says. "Parents deserved more choice, and we were happy to provide it."
In retailing their products, Angie and Dan joined a select group of small-batch, natural food manufacturers on the cusp of a wave of consumer change. People were starting to trade up to eat better foods. Since popcorn was already gluten-free and non-GMO, stringent control over any other ingredients would ensure the Bastians could offer a healthy alternative to potato chips and other snacks.
The Struggles
Keeping those ingredients natural was easier said than done. When a manufacturing difficulty arose due to making larger batches, Angie called in consultants. Unaccustomed to the constraints of keeping foods all-natural, they suggested adding a processing agent to eliminate the lumps of sugar that were forming. It was the easiest and least expensive solution, they advised.
Angie vehemently resisted. "The ingredients are so important to our customers; I couldn't let them down. So I told the consultants no, that they needed to identify another solution," she says. "It took them six months, but they found a way. Their innovative solution became a trade secret for us."
Financial obstacles threatened to slow the company's growth as well. While Angie and Dan had used personal credit cards to finance the company's start, they never intended to continue buying on credit. And as demand among retail stores increased, their capital needs to finance production facilities, staffing, distribution capabilities and more required a different solution. Notably in 2007, they secured a $1.2 million bank loan for the build-out of a 20,000-square-foot building. But at the time of signing, the loan officer withdrew the offer.
"We were devastated," Angie says. "We approached three or four other community banks and were turned down at every one. We weren't aware of the underlying macroeconomics that were beginning to take shape with the impending recession; we just knew we were hearing a lot of noes. We thought we would have to shut down."
Perseverance prevailed. One more try with one more bank got the Bastians the SBA loan they needed. It financed the build-out but wasn't enough to fund their fulfillment of grocery chain Trader Joe's first big order, for 25 truckloads of popcorn. Angie and Dan went back to their credit card strategy, getting a $100,000 line of credit they were able to repay within 45 days, thanks to the grocer's quick payment.
That Trader Joe's order was the aha moment for Angie. "Everything began moving in the right direction then," she says. "We finally thought, 'Oh my gosh, we did it.'"
They kept right on doing it, too, growing BOOMCHICKAPOP quickly from 2007 to 2010, in spite of the recession. Private equity investors noticed. In 2011, Angie and Dan partnered with Sherbrooke Capital, forming a relationship that helped drive their business from $11 million to $80 million in annual revenues in three years. And while this growth brought success to the brand, it triggered even more challenges — layoffs required to position the business for growth, for example. "The resources that a company needs at $11 million is much different from what it needs at $80 million. You have to be willing to learn, change and make hard decisions," Angie says.
The Happy Ending
Sherbrooke exited the business in 2014 when private equity firm TPG Growth bought a majority stake in BOOMCHICKAPOP. Angie and Dan stayed with the company until food titan ConAgra Brands bought the business for $250 million in 2017.
Today, the Bastians look back on their journey with pride. "If you had told us back when we were popping corn out in the freezing cold in Mankato that we'd be selling the business 16 years later for $250 million, we wouldn't have believed it," Angie says. "But now I know that no matter what challenges you face, there's always a way forward. You just have to find it, fight for it, believe in yourself and keep putting one foot in front of the other."
---
Want to know more?
Register for our upcoming webcast featuring Angie Bastian, to be held July 23 at 12 pm EST.