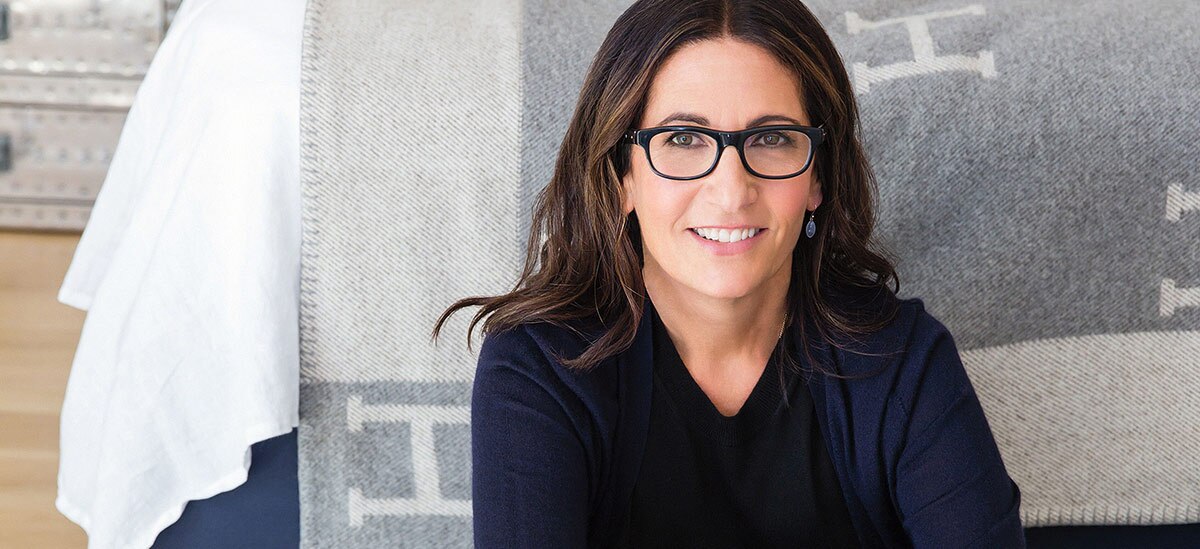 "I'm an accidental entrepreneur," says Bobbi Brown, now a titan in the beauty industry. Brown shared her story of entrepreneurship and intrapreneurship (i.e., when an entrepreneur works within an existing organizational structure) in a webcast with PNC in 2019.  "I just followed my passion, makeup, without really knowing what I wanted to do with it."
After graduating with a self-designed degree in theatrical makeup from Emerson College in Boston, Brown became an assistant to a freelance makeup artist in New York in the '80s. She loved the work, but hated the decade's "garish" makeup trends. "I started doing models' makeup so they would look natural and healthy; I didn't think they looked good in that heavy makeup," Brown says. "Even though people thought I was weird at first, I believed then as I do now: Women want to look and feel like themselves, only prettier and more confident."
"It wasn't until I learned to show up as myself that I became comfortable in my role as an [intrapreneur]."
During a photo shoot at a pharmacy, Brown met a chemist who collaborated with her to formulate 10 new, natural-looking lip colors that stood in stark contrast to the bright reds, intense oranges and fluorescent fuchsias that were all the rage. Agreeing to split the revenue of each $15 lipstick with the chemist, she introduced the Bobbi Brown Essentials line of cosmetics, originally as a "side hustle," which she operated out of her home, in 1991. Another chance encounter at a party with a department store cosmetics buyer opened the door to her first wholesale customer.
"I had two babies and two employees," she says. "My husband took the lipsticks to the post office; my sister-in-law did the books. We had a mini-business."
Before long, Brown's "natural look" became the trend to watch, and companies, including Estée Lauder, were knocking on her door. "Either the cosmetics industry changed," says Brown, "or I helped change the industry."
Building a Beauty Empire
The Estée Lauder Companies bought Bobbi Brown Cosmetics in 1995, and asked Brown to serve as chief creative officer. Although she had not studied business, and her first language was makeup, not spreadsheets ("Numbers aren't my friend," she says), Brown knew an opportunity when she saw one.
"I can't tell you how many times I thought of Melanie Griffith in the '80s movie 'Working Girl,' walking into meetings in the expected suit and shoulder pads, but lacking confidence. It wasn't until I learned to show up as myself that I became comfortable in this role," says Brown, who began to routinely show up at the office in jeans. Like at most companies, the decision-makers at Estee Lauder were predominately male. "Finally I realized that I knew more about what women want from makeup than they did. I learned to express my opinions nicely."
During 22 years at Estée Lauder, Brown elevated Bobbi Brown Cosmetics to a billion-dollar P&L — a healthy return on the company that started as a home-based business with $20,000 of capital. She also built her personal brand by authoring books (nine have been published to date), making herself available as a subject-matter expert, and continuing to practice her makeup artistry with high-profile clients such as former Second Lady Jill Biden. Her tireless commitment to the cosmetics industry has made her one of the leading voices in the style arena today.
From Intrapreneur to Serial Entrepreneur
Since leaving Estée Lauder in 2016, Brown has focused on building a new global lifestyle business, Beauty Evolution. Under the Beauty Evolution umbrella, she has launched the editorial and e-commerce lifestyle platform justBOBBI.com, a podcast called "Long Story Short" and the Evolution_18 line of wellness products, including a collection of collagen- and keratin-based ingestibles that will be offered exclusively at Walmart. She has also become a partner with her husband, Steven Plofker, in The George, a boutique luxury hotel, and 18 Label Studios, a film and photography studio, both in Montclair, New Jersey.
How does she juggle so many business endeavors? "I hire people to do the things I'm not good at; I like to bring them on and then see what else they can do so they can grow with the business," she says.
Brown says her first three hires are usually a multitalented personal assistant (she found her current assistant at the Apple Store Genius Bar), a creative mind and an operations person who can "get things done." She also relies on Plofker, an attorney and real estate developer, as her business partner and mentor.
"Whatever business venture you consider, make sure it's something you truly believe in because there are endless ups and downs; you will need the courage of your convictions to navigate them," she advises. "It's not always easy, but it pays off in the end."