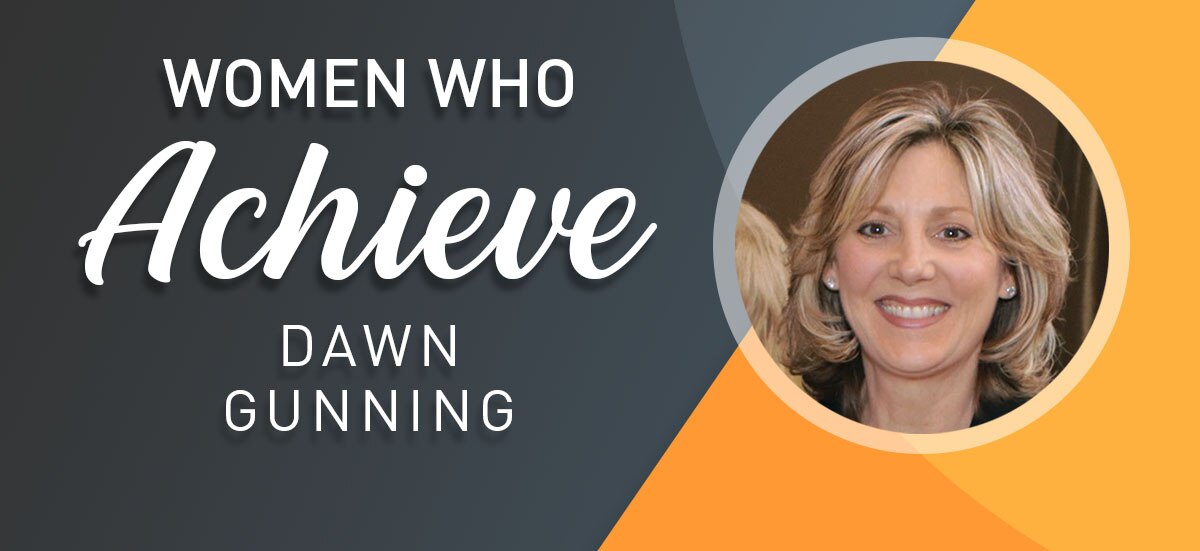 Gunning Mechanical Contractors    Pittsburgh, PA

I appreciate PNC's commitment to supporting women businesses and being a valued partner as we grow.
Building a Family Tradition of Entrepreneurial Excellence
Dawn Gunning had leveraged her communications degree and administrative experience (both acquired at the University of Pittsburgh) into a software training and employee development position with a prominent telecommunications firm when her dad, Jerry Kaelin, asked her to come manage the finances of his two-year-old company, American Boiler & Chimney (AB&C). Although this wasn't Dawn's area of expertise, nor her chosen field, she took the leap based on her faith in her father and herself. It was a good call, she says.
"Over nine years, we grew AB&C from $3 million to $35 million, at times employing more than 1,000 construction workers representing 10 different building trades," shares Dawn, who became president of AB&C and, with her CEO father, successfully negotiated its 2004 sale to a West Coast company pursuing an East Coast presence. "I learned so much about operating a business, managing finances and being an employer that I was confident I could start my own company."
One of the things Dawn learned — the importance of investing in people — has been pivotal to her ongoing success as a business leader, she says. "It's critical to be clear about your purpose and mission, and then hire people who share your vision. Make sure you put them into the right positions, invest in training and tools to equip them for their jobs, give them space to thrive, and then reward them for their hard work and commitment."
This approach has certainly been successful at Dawn's current company, Gunning Mechanical Contractors, which she established in 2005 with her husband, Mike Gunning, an experienced and respected mechanical professional. "We grew rapidly from the start, ranking among Pittsburgh's fastest-growing companies for six years in a row [2009-14]," Dawn reports. "But double-digit, and certainly triple-digit, growth has to level off at some point. It's one thing to grow from $1 million to $2 million; moving from $5 million to $10 million is a different ballgame. We leveled off from 2015 to 2018, but now we're seeing another surge of momentum."
She attributes this positive momentum to the trust general contractors and clients place in not only Gunning's management team but also its highly skilled, extensively trained union employees and talented administrative staff members. "As entrepreneurs, we need to recognize that we can't do it all; our teams are the lifeblood of our businesses," says Dawn.
Following in Her Father's Footsteps
In 2017, Dawn bolstered the Gunning team the same way her dad did a generation ago: by tapping the financial expertise of her son, who had earned a business degree from the University of Pittsburgh and was working in the finance industry. "Now our controller and corporate treasurer, Evan is learning the business and building relationships. We have every confidence in his ability to keep growing Gunning Mechanical after we retire," Dawn says.
Focus on being the absolute best at your product or service. Run your business in a state of continuous improvement because complacency impedes momentum.
Bringing family into the business isn't the only tradition Dawn has upheld. She continues to work with PNC, whose predecessor National City Bank financed her dad's business back in 1993. "PNC has been instrumental in enabling our growth," she says. "Last year, we completed the expansion of our fabrication facility, and this year we are investing in additional top-of-the-line manufacturing equipment.  I appreciate PNC's commitment to supporting women businesses and being a valued partner as we grow."
Business Awards
Master Builders' Association (MBA) Building Excellence Award for New Construction Under $10 Million, 2018
MBA Building Excellence Award for Renovation Over $10 Million, 2014
MBA Safety Award, 2012 - 2014
Pittsburgh Business Times: Pittsburgh's Fastest-Growing Companies, 2009 - 2014
Community Involvement
Member, Women Presidents' Organization (WPO), 2016 - Present
Committee Member/Fundraiser, NOCC Pittsburgh Chapter, Annual Run/Walk, 2012 - Present
Former Member, Young Presidents' Organization (YPO), 2004 - 2010
Find them on the Web:
www.gunningmechanical.com
---
More Women Entrepreneurs & Executives Who Achieve
As PNC proudly serves the financial needs of women in business, we often come across truly inspirational leaders. Read their success stories.