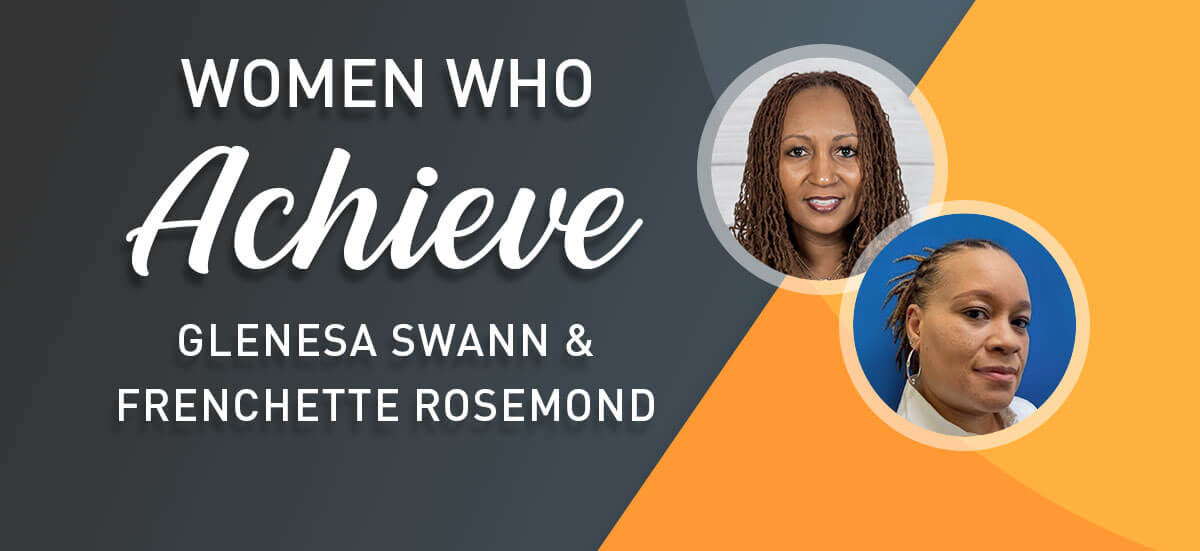 Tooney Town Early Learning Center    Baltimore, MD

Before you undertake a professional venture, make sure it's something you are passionate about. Surround yourself with positive people who can help you grow, and never give up.
Building Strong Foundations for the Future

Every parent's hope when they take their child to a daycare facility or an early childhood learning center is that their child will be safe, nurtured and engaged. Those hopes were the impetus behind the establishment of Tooney Town Early Learning Center by sisters Frenchette Rosemond and Glenesa Swann in 2002.
"We both had toddlers at that time, and neither of us could find childcare that was up to our standards," says Glenesa, an engineer who had aspired to become an entrepreneur. "We started discussing the possibility of building a business together to fill this void in our community."
Shortly thereafter, Tooney Town Early Learning Center opened its doors in Owings Mill, Maryland. Frenchette, who brought years of childcare and licensing experience to the business, became the center's director. Glenesa became its finance director. "I learned the intricacies of accounting, payroll and other areas of finance with the help of business experts in my network. Within a few years, we had our operations down pat."
In 2009, Glenesa and Frenchette shifted into expansion mode, adding two locations that enabled them to build enrollment to 200 and staffing to 30-plus. "PNC stepped up to support us in the purchase and renovation of these childcare centers," Glenesa shares. "Our PNC banking team is always there for us, helping us grow and introducing us to new solutions. We truly value our relationship."
And while they are proud of their business's growth, it's their passion, not the bottom line, that drives Frenchette and Glenesa to excel.
"In many centers, owners are just owners. At Tooney Town, we are advocates for the children and their families, as well as our communities," says Frenchette. "When families in need enroll their children, we connect them to the financial subsidy program. We ensure that children with learning disabilities are appropriately assessed per Child Find guidelines. And we understand that one approach to learning will never fit every child. We help each child find their best way of learning so they can achieve success and enjoy their childhood experience."
Averting Crisis Through Fast Action

Like most entrepreneurs, Frenchette and Glenesa have faced their share of challenges. Notably, when the COVID-19 pandemic struck in early 2020, they lost 65% of their enrollment. Quick action kept them afloat.
"It wasn't just the dramatic enrollment drop putting pressure on the business; we had more than 30 staff members looking to us for help. In an industry that works on ratios, losing 65% of your children means requiring half as many employees," says Glenesa. "We applied for the Paycheck Protection Program (PPP) as soon as it became available, preventing our staffers from needing to file for unemployment."
In addition, Glenesa and Frenchette worked with the state of Maryland to ensure subsidies continued (pre-COVID-19, 60% of their enrolled families received subsidies) and promptly adopted state standards for cleaning, screening and keeping their doors open.
"Our staff members were amazing," Glenesa adds. "They stepped in without fear to care for the children of essential personnel — parents working for the government, in law enforcement, in foodservice, etc. Within a few months, as restrictions eased, our business started picking up again."
It's a lesson in perseverance and resilience they won't soon forget — one that promises to help guide Tooney Town through its 20th anniversary and beyond.
Community Involvement
Frenchette and Glenesa have long provided supplies and support to community shelters and food banks in Baltimore, including the House of Ruth, Hannah More Emergency Shelter, Bea Gaddy Family Centers and the Maryland Food Bank.

Find them on the Web: https://www.tooneytown.org
---
More Women Entrepreneurs & Executives Who Achieve
As PNC proudly serves the financial needs of women in business, we often come across truly inspirational leaders. Read their success stories.

Be sure to visit pnc.com/businesswebcasts to watch our webcast replay  which includes Glenesa Swann as one of our panelists: Black Business Owners: Covid-19 Impacts & Economic Outlook.