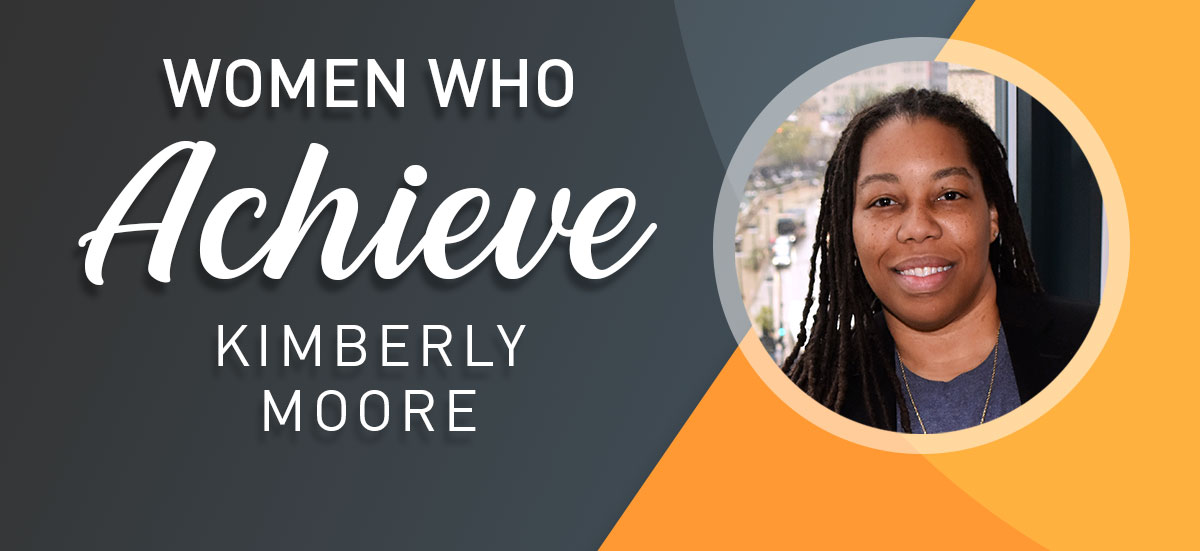 KDM Engineering    Chicago, IL
Our previous bank wasn't moving the bar in terms of our capital needs as we grew, so we came to PNC.
Lighting the Way for Aspiring Engineers
You might not be surprised to learn that a teen known to her friends and family as Ms. Fix-It would grow up to become a respected electrical engineer. But Kimberly Moore had no intentions of stopping there. The accomplished engineer went on to build a multimillion-dollar enterprise, KDM Engineering, which was recently named among the Women Presidents' Organization's (WPO's) 50 Fastest-Growing Women-Owned/Led Companies. Moore has also established the nonprofit Calculated Genius, which is helping change the face of the male-dominated engineering field.
Kimberly started her electrical engineering firm in the fall of 2008, just before the country began to feel the impact of what would become the Great Recession. To keep the business afloat during this challenging time, she sold her home and worked side jobs until her father's illness compelled her to take a sabbatical. By 2014, KDM was not only back in business but had won a major contract that set off a surge of momentum.
"We've seen double-digit — sometimes triple-digit — increases the past five years in a row, and our team has grown to 90 employees," Kimberly says, adding that the firm could have grown even faster had she had ready access to capital. "I'm not alone as a woman entrepreneur who is proud to have built her business without using other people's money, but I see that those who did accept external funding positioned their businesses to grow faster. I didn't have access to capital early on; who knows how much that might have helped?"
Today, Kimberly looks to PNC to support the financial needs of her growing company. "Our previous bank wasn't moving the bar in terms of our capital needs as we grew, so we came to PNC," she says. "In just a short time, our PNC banker has introduced us to a variety of new ideas and strategies. We're looking forward to working together toward continuing growth."
Building Careers and Reshaping the Industry
KDM's momentum hasn't gone unnoticed. In 2018 and 2019 alone, Kimberly and her company racked up awards including not only the WPO honor but also Crain's Chicago 40 Under 40, ATHENA Emerging Leader, Chicago's Best and Brightest Companies To Work For and a half-dozen others. The 2019 Chicago Council on Science and Technology Young Professional Award recognizes her work with minority youth through Calculated Genius."
Everyone gets told 'no.' Don't be discouraged: Keep gathering the courage, energy and optimism to pursue the next opportunity and all of those ahead.
She formed this nonprofit in 2015 to help high school students explore math and science careers through school year and summer programs. Calculated Genius also provides scholarships to young women pursuing STEM-related degrees. "Being among the first few black women to graduate from Northern Illinois University with an electrical engineering degree, I'm committed to supporting all women who want to enter the field," says Kimberly, who serves as a mentor and role model to many aspiring and early-career engineers.
At KDM, she has built a culture of diversity that welcomes all nationalities, races, religions, genders and ages. "Our diversity began unintentionally, as engineering tends to draw individuals from many countries. But after recognizing what an advantage this was to have such diversity of thought and experience, we put policies into place to ensure a diverse and inclusive culture going forward. Our diversity drives our innovation, and our innovation drives our success."
Business Awards
2019 Women Presidents' Organization 50 Fastest-Growing Women-Owned/Led Companies (#15)

2019 Crain's Chicago 40 Under 40

2019 ATHENA Emerging Leader Award

2019 Chicago Council on Science and Technology Young Professional Award

2016, 2017, 2018, 2019 Best and Brightest Companies To Work For® in Chicago

2018 Enterprising Women of the Year

2018 Entrepreneur 360TM - 360 Best Entrepreneurial Companies in America

2018 Engineering News-Record 40 Under 40 Midwest, 20 Under 40 National

2018 Consulting-Specifying Engineer 40 Under 40
2018 ComEd Diverse Business Partner Award, Overall Performance, Professional Services
Community Involvement
Founder, Calculated Genius Inc., 2018 - Present

Board member, Northern Illinois University Alumni Association, 2018 - Present
Find them on the Web:
www.kdmengineering.com
---
More Women Entrepreneurs & Executives Who Achieve
As PNC proudly serves the financial needs of women in business, we often come across truly inspirational leaders. Read their success stories.