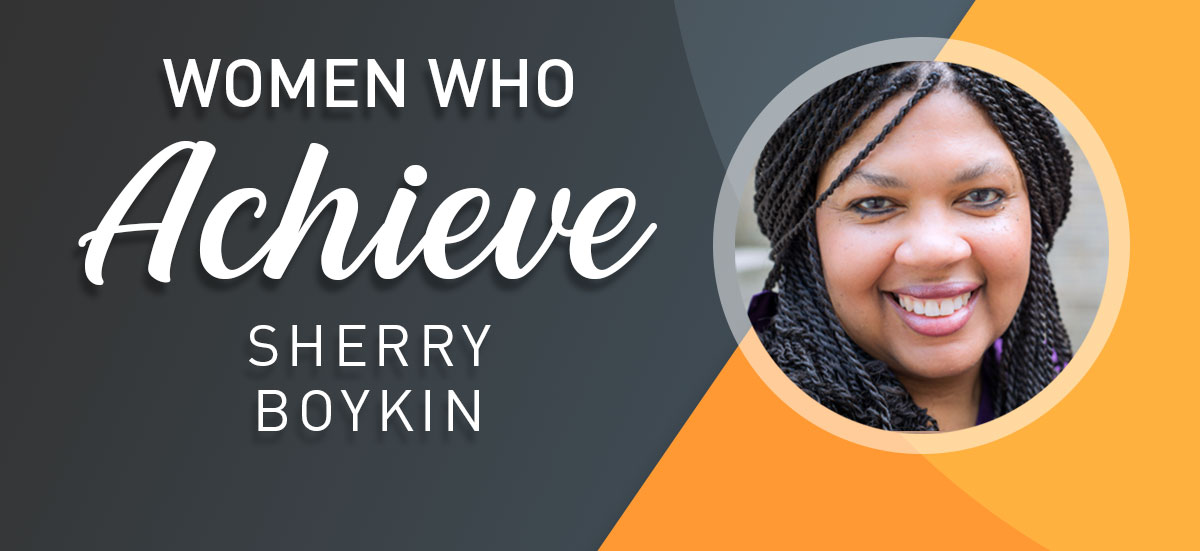 Faith and Tales, LLC    Clarks Summit, PA
From our first meeting, my PNC banker made it clear that he was with me. I continue to feel at home every time I visit the bank.

A Business Born of Extraordinary Experiences
Sherry Boykin has a gift for finding meaning in life's experiences — the good, the bad and even the mundane. Through storytelling, her consultancy, Faith and Tales, strives to help women overcome personal and professional obstacles, and live with greater purpose and intention.
"Armed with fresh perspectives, women can often fine-tune their niche, recharge their faith, achieve their goals and succeed in their businesses," says Sherry, whose outlook on life was shaped by four years of service as a missionary in the Peruvian Amazon jungle. She describes this period as one of simplicity and resourcefulness: "I lived with two other missionaries and a family of nine in a thatch-roof hut in a small village without phone, mail or radio. The people of this community spear fish, carry water in 20-liter buckets on their heads, build their dugout canoes by hand and are kept well by witch doctors."
Faith and Tales draws from Sherry's many extraordinary experiences— from getting lost in a snake-infested evening jungle to overcoming a disease that affected her ability to see, walk, talk and think for more than three years, as well as enduring her husband's near-death experience.
"Once the shock had worn off and I knew he was going to be all right, I thought, What if it had been me? What if I had left this earth without doing all I could to share the stories God had given me?" says Sherry, who had been speaking and writing for years but felt she needed to get her stories out to a larger audience. She established Faith and Tales in 2019 to do just that. Today she shares her personal and biblical narratives as a speaker and writer, and through individual and group consulting. She has also published her first book, "But-Kickers: Growing Your Faith Bigger Than Your 'But.'"
Tackling the Challenges of Women Entrepreneurs
Although she customizes every talk and consultation, Sherry believes there are some issues that affect women universally. "When our efforts are not fully appreciated, we often feel disappointed or even devastated," she says. "I recently spoke about circumstances in which we are forced to pay the price for a negative situation that wasn't our fault. I was overwhelmed by the number of women who thanked me afterward for validating their sense of frustration and helping them move beyond it."
As your business grows and money flows in, remember that it doesn't do the most good sitting in your pocket. Invest it in yourself and others to do the greatest good.

Sherry also helps women move their companies forward by teaching them how to mesh their personal and business stories in a way that attracts and engages prospective clients or business partners. "Everyone has a reason behind doing what they do. Sharing that compelling story can be the differentiator that puts you over the top in competitive situations," she says.
Her own success is based on that type of differentiation, along with business support from a variety of resources. "Early on, I felt like a fish out of water in the business world, but the University of Scranton Women's Entrepreneurship Center and Small Business Development Center gave me insights into business planning, market research and networking, while PNC helped me understand how to strengthen the financial side of my business," she says. "From our first meeting, my PNC banker made it clear that he was in it with me. I continue to feel at home every time I visit the bank."
Community Involvement
Speakers Bureau, Rape Abuse & Incest National Network (RAINN), 2014 - Present

Speaker, Women at Risk (WAR) International, 2016 - Present
Volunteer, Marley's Mission, 2014 - 2016, 2019
Find them on the Web:
www.SherryBoykin.com
---
More Women Entrepreneurs & Executives Who Achieve
As PNC proudly serves the financial needs of women in business, we often come across truly inspirational leaders. Read their success stories.