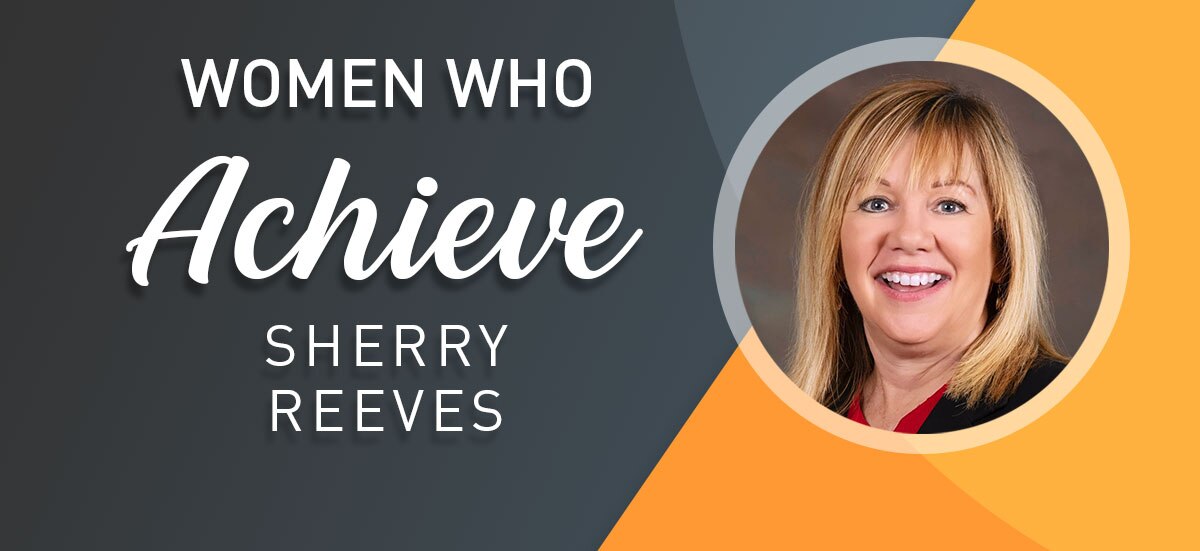 Manufacturers Association of Central Florida    Orlando, FL
I'm confident referring MACF members to PNC, because PNC bankers understand the needs of manufacturing companies.
Shining a Light on Manufacturing Careers
Sherry Reeves wants women to see what she sees in manufacturing: opportunities to build exciting, successful careers. As executive director of the Manufacturers Association of Central Florida (MACF), Sherry recently established a women in manufacturing networking group and a scholarship fund for local students pursuing manufacturing careers. She also collaborates with high schools, workforce development groups and career centers to build awareness of, and support for, manufacturing careers.
"Only 29% of manufacturing jobs are held by women, in part because women don't recognize the tremendous opportunities in this sector; many don't give manufacturing a passing thought," Sherry says. "We're working to change that, helping students, teachers, counselors and parents better understand what manufacturing is all about. Sure you can work on the shop floor, as manufacturing jobs are often envisioned, but you can also become an engineer, an accountant, an HR representative, a member of the management team — or you can start your own manufacturing company."
While MACF provides education, advocacy and networking opportunities for all manufacturers in its four-county region, Sherry is particularly supportive of women considering entrepreneurship. "We connect women with mentors and role models who have built their own successful businesses, help them pull strong teams together, and invite them to plant tours and other events that give them the opportunity to exchange ideas and best practices with other manufacturers in the region," she says.
Finding Her Own Way to Manufacturing
Sherry hasn't always worked in manufacturing herself. She first built a career in hospitality and travel, helping build a global resort brand as director of sales. When the travel industry fizzled after 9/11, she sought a new opportunity. Her networking efforts led her to MACF.
Don't be afraid to ask for help. Relationships are vital to success.
"I had never thought I could be as passionate about another industry as I had been about travel," she says. "But once I explored manufacturing, I realized that these companies aren't just pivotal to our day-to-day lives; they also lift our national economy and position us for a bright future. It's exciting and gratifying to be part of that momentum."
Sherry also appreciates having the opportunity to connect people and companies to the resources they need to thrive. One of those resources is PNC. "I'm confident referring MACF members to PNC, because PNC bankers understand the needs of manufacturing companies," she says. "We've found that some banks don't understand the process of buying a piece of equipment or exporting goods, but I stake my reputation on the experience and advice our PNC banking team shares. They are true partners — loyal, knowledgeable and professional."
MACF relies on PNC for a variety of banking solutions. For example, Sherry set up the Henry Graeber MACF Memorial Scholarship Fund at PNC several years ago to support young people interested in manufacturing careers. Named for a revered MACF board member, the fund has grown to provide more than a dozen scholarships annually. "Manufacturers across Central Florida wholeheartedly back this program," she says. "We're committed to ensuring the success of the next generation of manufacturing professionals."
Business Awards
2015 Orange County Public Schools Outstanding Business Partner and 2009 Tech-Ed-Nomics Founding Supporter

2014 Manufacturers Association of Florida Presidents Award

2011 Manufacturers Association of Cental Florida Presidents Award
Community Involvement
Orange County Public Schools Tech Colleges Manufacturing Council, 2008 - Present
Valencia College Manufacturing Council, 2013 - Present
Lake Technical College Advisory Council, 2008 - Present
Lake Mary High School Advanced Manufacturing Academy Business Advisory Council, 2016 - Present

Find them on the Web:
MACF.biz
---
More Women Entrepreneurs & Executives Who Achieve
As PNC proudly serves the financial needs of women in business, we often come across truly inspirational leaders. Read their success stories.