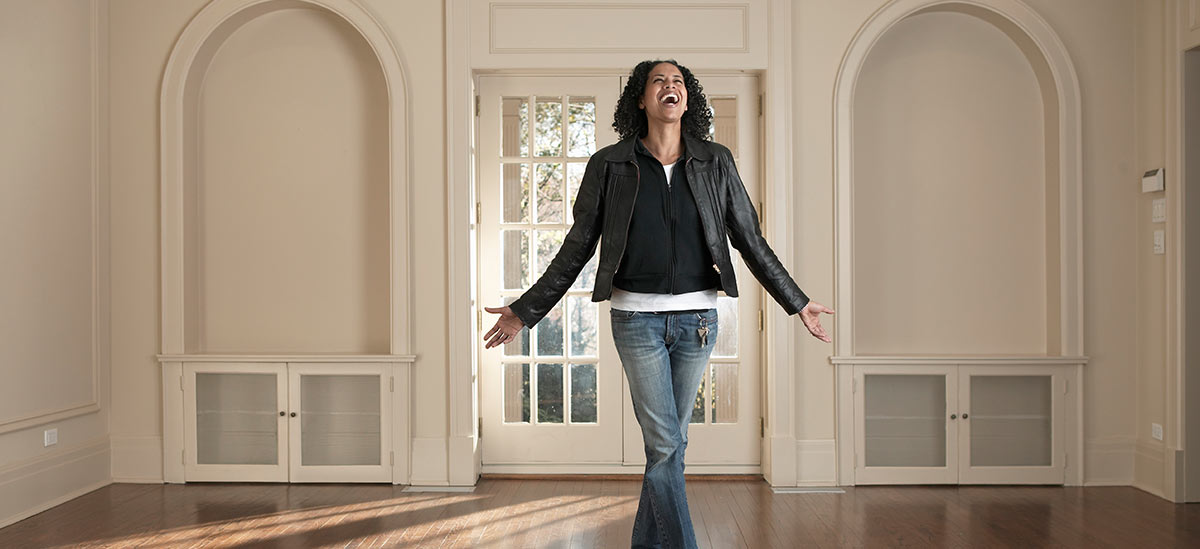 Single women are buying homes at more than double the pace of single men, according to the National Association of Realtors.[1] And with more and more women becoming the primary earners in their households,[2] they're increasingly funding shared home purchases, too.
"To build wealth, owning a home is an important stepping stone," says Susan Dwornick, an Ann Arbor, Michigan-based Mortgage Loan Officer at PNC with over 16 years of experience. "A home will be your biggest asset, and it continues to appreciate in value."
Taking the first step into real estate can open doors for future opportunities, from upgrading your home (and, therefore, its value) to purchasing investment properties. It's also important for reaching financial equality for women — a gap that experts estimate will take 257 years to close, and an issue PNC is working to address with Project 257SM. The gender housing gap accounts for roughly 30% of the gender disparity  in wealth accumulation at retirement,[3] and entering the real estate market provides an opportunity for women to build wealth independent of wages.
What's more, the path to owning a home doesn't have to feel intimidating, whether you're buying alone or with a partner. These five expert-backed tips can help make your journey to homeownership a success.
Start by Becoming Financially Savvy
Preparing for homeownership starts with enhancing your financial literacy, explains Dwornick.  Financial planning is the first step to homeownership.
Good financial habits like budgeting, managing debts, and juggling short- and long-term goals can help you develop money management skills that will pay off before and after you buy. After all, buying a home helps you build financial independence, and strong money management skills can help you get there on your own terms — whether you choose to buy on your own or with a partner.
Explore Your Financing Options
Housing prices might be rising, but that doesn't mean that buying a home is out of reach. "Even if you don't have substantial savings for a down payment, you may still be able to become a homeowner," says Dwornick.
"When I meet a first-time home buyer for the first time, I talk to them about affordable lending products which require as little as 3% down payment," she explains. Other programs, such as a PNC homeowner's assistance grant, may help you purchase a home for as little as a few thousand dollars upfront, while the USDA Single Family Housing Guaranteed Loan Program is a zero down program and may help you buy in eligible rural areas.
Set Realistic Goals
It's easy to get caught up in a red-hot real estate market, but Dwornick's advice is to stay grounded. Know what you can afford to spend and don't compromise. "It's okay if it takes you three to five years to implement your plan," says Dwornick.
Develop a budget and savings plan that works for you today, whether you are starting to save for a home or you're ready to ramp up your efforts. Create room for each financial goal in your budget and consider setting up separate savings accounts to track your progress, she advises.
Lean on a Team for Support
Building equity isn't a solo effort, even if you're buying a home on your own. Bringing in experts — from a financial advisor to a mortgage loan officer and realtor — makes buying a home feel more manageable and can help you at each stage of the process.
Dwornick recommends tapping your network to find a trusted advisor. Empowering yourself to get the information you need to become a successful homeowner. Questions such as "How much will I need for a down payment?" and "What can I expect my payment to look like?" can help you gain a realistic view of homeownership.
Above All, Focus on the Journey
Forging your own path to homeownership might feel frustrating from time to time. If you're struggling, take a moment to reflect on how far you've come, your progress is proof you can follow through with your plan.
"It's about educating yourself and finding the tools and resources you need," says Dwornick. "The steps you take today will get you where you want to be."