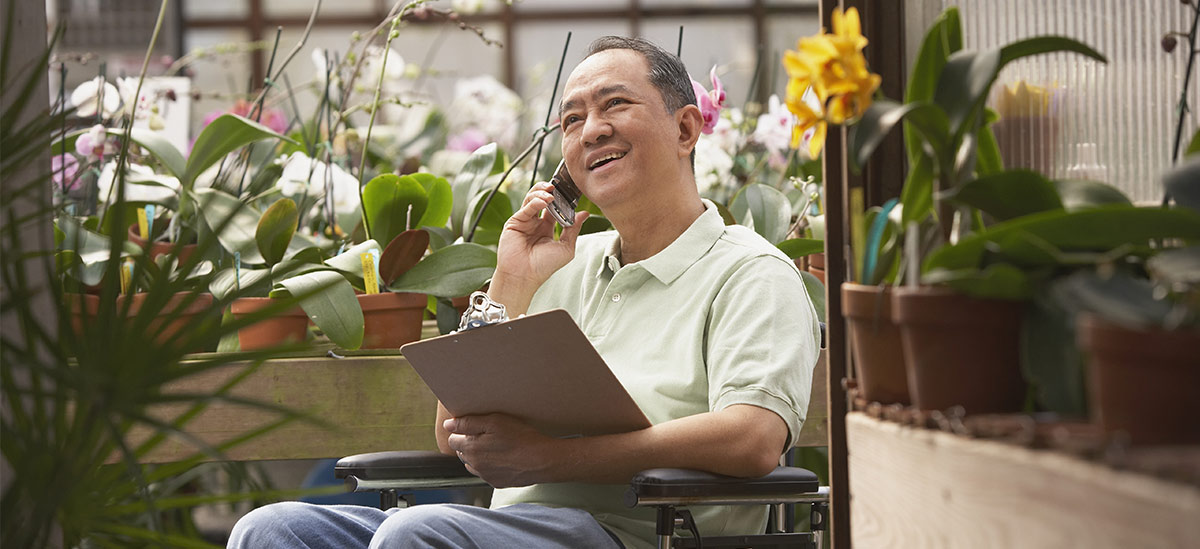 People have choices today. They don't have to patronize companies with inaccessible environments or representatives who are unaware of how to interact with them.
Ask business leaders about lessons learned from the COVID-19 crisis, and you're likely to hear a profusion of stories about the people involved — employees rising to the challenge, thinking outside the box, reaching out to their peers and solving problems like never before. At a time such as this, it's become clearly evident that building a team isn't as much about checking off a list of skill sets as it is embracing diversity and depth of spirit.
Experts generally agree that having a culture of inclusivity is essential to building an ideal team. And while a great many businesses are focused on diversifying in terms of culture, race, gender, age, religion and sexual orientation, they may be missing out on another diverse talent pool of tremendous potential: the disability community. Especially now, as our new business environment brings novel challenges into focus, intentionality toward hiring people with disabilities makes good business sense. Here are just a few reasons why:
We've all just witnessed the incredible power of innovative thought. When a crisis hits, conventional thinking goes only so far. The pandemic presented leadership teams with new circumstances and challenges. The need for innovative thinking was acute in areas ranging from communication and collaboration to product design and service delivery.
"In this global, highly competitive world, innovation is one of the greatest differentiators any organization can have," says Nish Parikh, CEO and co-founder of Rangam Staffing Solutions in Somerset, New Jersey. "People with disabilities contribute new perspectives that enable unprecedented levels of innovation." These fresh perspectives may be the result of neurodiversity, the variation in how brains function from person to person, or creativity born of a physical disability.
"Rangam has hired individuals on the autism spectrum who are good at finding alternative ways to address challenges," continues Nish. "Because these individuals tend to not have preconceived notions, they don't hesitate to ask questions in product development meetings. Their ideas help our teams build better and more foolproof technology platforms for our customers."
Similarly, people with physical disabilities look at the world through a different lens because they're accustomed to improvising workarounds in a world that isn't ideally designed for them.
Inclusive businesses deliver stronger performance. Rangam has been intentional about recruiting, retaining and placing people with disabilities in positions with client companies and within its own staff since 2007. In fact, the company has taken these efforts a step further by establishing a corporate social responsibility goal around inclusive hiring. "These placements have been transformational in strengthening the culture, creativity and productivity of these teams," shares President Hetal Parikh
Hetal's observation is backed by research, including a 2018 Accenture study finding that businesses that embrace best practices for employing and supporting people with disabilities outperform their peers in profitability, value creation and shareholder returns. These companies reported 28% higher revenues, 30% higher profit margins and net income twice that of their peers.[1] The study also noted improvements in innovation, productivity and work environment.
Retention is exceptional among employees with disabilities. Candidates with disabilities tend to appreciate stability. Once they find a good career match, they tend to stay, says the Society for Human Resource Management (SHRM). SHRM shares the example of a global hotel chain with an overall 52% turnover rate compared with only 6% among employees who were hired through a program for people with disabilities.[2] Hetal says the average turnover among neurodiverse individuals is 8%, compared with 45% for "neurotypicals."
A $21 billion consumer market is waiting. A business with a reputation for employing people with disabilities, and designing products and buying experiences around the needs of this market, is more likely to attract customers with disabilities. This can be quite a lucrative market, as the discretionary buying potential of working-age people with disabilities is about $21 billion according to the 2018 American Institutes for Research report "A Hidden Market: The Purchasing Power of Working-Age-Adults with Disabilities."
"The companies leading the way are those that build accessibility into every one of their products and services," says PNC Accessibility Officer Greg Pollock. "Technology companies are increasingly incorporating accessibility features, and retail companies are creating shopping experiences in which no one needs to physically enter a store. People have choices today. They don't have to patronize companies with inaccessible environments or representatives who are unaware of how to interact with them."
If your business isn't yet among those reaping the rewards of a disability-inclusive culture, here are some steps you can take to differentiate your company as an employer and provider of choice.
Building a Disability-Inclusive Culture
Instill commitment. Building an inclusive culture where employees and customers with disabilities feel welcome and valued requires intentional, ongoing effort that begins at the top. Company leaders must communicate a clear message that they are committed to a long-term, inclusive hiring model and to serving the needs of all customers, inclusive of the disability community.
Pollock shares, "PNC is fortunate to have a chief executive officer, Bill Demchak, who is personally invested in diversity and inclusion. He understands the importance of hiring people with disabilities and has instilled a high level of commitment across his entire leadership team. Their support is vital to our efforts to build an increasingly inclusive culture."
Strong support at the leadership level ensures that employees with disabilities get the accommodations they need to be comfortable and successful at their jobs. For example, when Rangam placed a candidate with autism spectrum disorder (ASD) into a client corporation, the hiring manager collaborated with the Rangam team to understand the functional aspects of working with a person with ASD. Armed with these insights, the company made accommodations for the new employee, such as communicating instructions in writing and minimizing exposure to sensory sensitivities like noise and fluorescent lights. The manager encouraged the employee's development, which led to a promotion and an all-star award in his industry.
Identify and include champions. To lead your effort, Nish recommends selecting individuals who have firsthand knowledge and experience with people with disabilities as well as empathy and passion. "These champions may establish an employee business resource group (EBRG), start small pilot programs and help determine how to build and sustain this inclusive culture," he says.
PNC established such an EBRG in 2011, when employees who had a disability or a loved one with a disability came together to help others with similar circumstances. Today, PNC ENABLE — named to reflect members' perspectives that that they are enabled rather than disabled — is nearly 1,400 members strong, across 26 states. Among their many contributions to the bank, members help PNC understand employees' accessibility needs.
"We strive to improve career development opportunities, and create a more inclusive culture and physical environment for employees with disabilities," says PNC ENABLE President Ron Lachell, a process improvement director at PNC. "PNC ENABLE gives employees with disabilities the opportunity to speak up about what they need in order to be understood, included and accepted."
Other groups within PNC support these efforts as well. Earlier this year, PNC's Accessibility team joined forces with Enterprise Innovation, and Talent and Total Rewards to hold an Accessibility "Flash Hack" to generate ideas for improving the employee experience. The event addressed questions such as How might we shorten the timeframe between a request and delivery of an accessibility accommodation?
PNC ENABLE members also participate on employee panels and serve as subject-matter experts for customer-facing opportunities, such as product development and facility design. For example, they worked with PNC's Corporate & Institutional Banking team to develop its ABLEnow account, a tax-advantaged savings account program for which PNC is a custodian. ABLEnow accounts provide a new way to save, invest and pay for qualified disability expenses. The accompanying debit card features a notch on the side so that people with visual disabilities can more easily locate and identify it.
Pollock says that including the insights of disability champions in this way can be pivotal to a company's success. "As a society, we're often so eager to get ideas out the door that we don't take the time to consider the perspective of every potential user," he explains. "Making accessibility adjustments after a product launch can leave you with a clunky product. It makes more sense to bring people in early on to discuss how the product or experience could be improved to accommodate their particular set of circumstances."
Train your team. Unless they've had prior success working with people who have disabilities, you can't expect employees to know how to interact with and support colleagues who do. Awareness training can help build knowledge and competencies, and make team members more comfortable about open communication — for instance, by directly asking, "How can we improve this experience for you?"
Lachell explains, "An employee may have access to the best technology, but the way we personally interact with them is a bigger measure of success. For example, one of my colleagues with a hearing disability uses software that provides captioning on our team calls, but the team needed to learn to speak at a slower pace, not to speak over one another and to identify ourselves when we started to speak."
These learned skills are transferable to customers as well. "Employees with disabilities reflect the positive, collaborative work environment they experience inside the company outwardly to our valued clients," says Lachell.
Recruit intentionally. Building your reputation as a company that embraces employees with disabilities is a great start in attracting more talent. When the word gets out that your company is inclusive and accessible from the application and interview processes to onboarding, training and day-to-day working relationships, you will begin to see more people with disabilities interested in your company.
You can accelerate this process by reaching out to organizations that work with the disabled community. "PNC works with multiple partners to help employers identify people with disabilities who want to work at a company where they can build a great career and be part of a team that values their unique contributions," says Pollock. "These organizations can be an amazing source of knowledge, expertise and job candidates."
In 2015, Rangam launched the TheSpectrumCareers.com portal — a platform connecting service providers, job seekers and employers at the national level — in partnership with Autism Speaks, to promote employment for people on the autism spectrum. In 2017, they developed an end-to-end solution to support disability inclusion programs. "SourceAbled™ helps companies hire people with disabilities on a large scale and retain that talent by creating a natural support system and a culture of inclusion and empathy," says Hetal.
That level of ongoing commitment is the goal for companies like PNC, says Lachell. "The disabled community is full of people who are educated and talented, and looking for an employment opportunity," he says. "From a business standpoint, hiring people with disabilities is a good decision; from a moral perspective, it's the right thing to do."
---
PNC is proud to offer insights, education, and support to female financial decision-makers. Visit pnc.com/women to learn more.