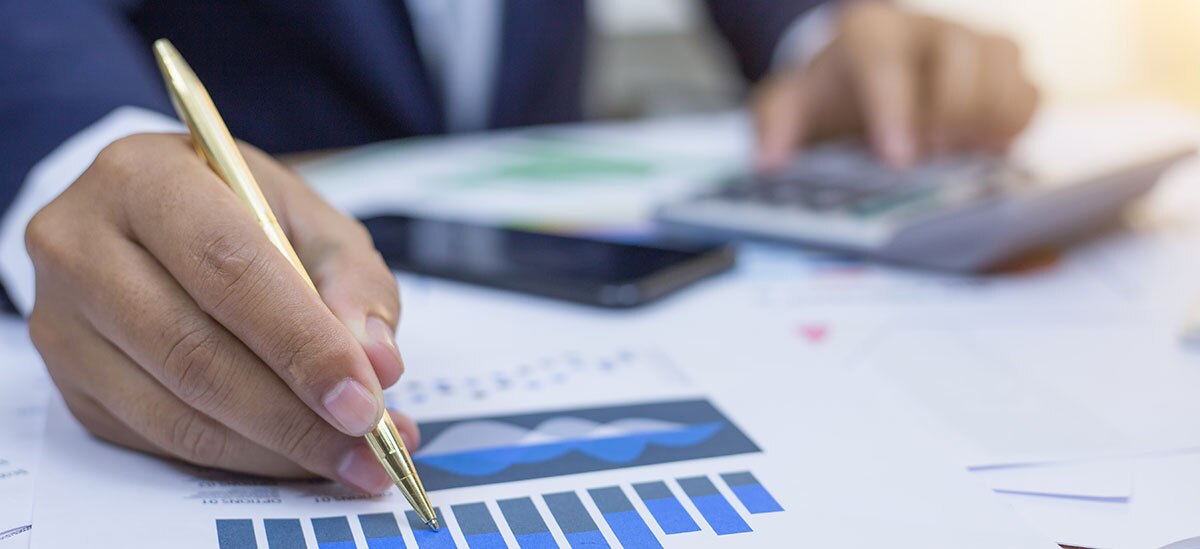 A smart place to start is evaluating your accounts receivable and accounts payable. Renegotiating terms with customers and suppliers could be like giving your business an interest-free, short-term loan.
In Control: How to Maximize the Potential of Every Dollar You Make
If you're similar to most entrepreneurs, you like being in control of your own destiny. Recent research even suggests that businesses started by solo leaders actually perform better than team-founded companies.[1] One potential reason? Entrepreneurs who are both financially and emotionally invested in a venture (and maybe even each other) can find it difficult to compromise when they disagree on their definition of their business's "destiny."
Luckily, solid cash flow strategies are driven by facts, not feelings. Whether you're a company of one or a larger firm with multiple decision makers, here are four tips for timing your accounts payables and accounts receivables for optimal cash flow.
#1. Understand your cash flow position.
Being able to cover all your bills is a satisfying achievement. Now, imagine what's possible when you lengthen the time between your customers paying you, and you paying your vendors. It creates more cash on hand that you can apply toward upgrading software, giving someone a raise or growing your rainy day fund.  
Accounting software and digital banking tools offer several reports you should be reviewing:
Cash flow statement – summary of the cash, and items that can be quickly converted to cash, flowing in and out of your business. You may also be able to generate a cash flow forecast, which helps with managing liquidity (money and assets available to spend and invest) as your business grows.
Average payable period – summary of the average time it takes customers to pay you. In cash businesses like restaurants and retail, payments are usually remitted at the time of the transaction. Manufacturers, consulting firms and other business-to-business organizations have longer payable periods based on their terms and the ability of their customers to meet them.
Aged accounts receivable report – summary of unpaid customer invoices and when they are due. This can be used to track and follow up with customers who are approaching, or have passed, their payment due dates.
Aged accounts payable report – summary of your payables to vendors, usually categorized in 30-day time periods. This high-level view can help you ensure your bills are paid when (but never before) they are due.
Using these reports will help you make fact-based decisions about where you can adjust your approach. You may discover a customer that is so habitually-late with payments that it no longer makes sense to serve them, or an opportunity to delay payments to a vendor that you've been paying earlier than necessary.
#2. Request that vendors give you more time to pay.
Perhaps the standard in your industry is 30 days. If you request to pay invoices in 60 days, would your vendors say no? It doesn't hurt to ask. If they agree, then you can potentially "skip" a month of payments, freeing up cash to use for other purposes. Just ensure that you continue to budget for paying these invoices when they do come due.
Remember, the difference between a "yes" and "no" could be 1.) who you ask and 2.) the quality of your existing relationship. Be sure to direct your request to the right person. This could be the owner at a small firm or someone in the purchasing department of a large enterprise. Also be certain that you can demonstrate good standing with the vendor in terms of customer satisfaction and your previous ability to pay on time.
#3. Ask your customers to pay more quickly.
Again, maybe the industry standard is 30 days. Or, if you're working with very large corporate customers, they may use their size (and potential sales volume to you) to demand terms of 90 days or more. To collect money faster, some companies offer a financial incentive to customers that pay more quickly, such as a two percent discount for paying within 10 days instead of the 30, 60 or 90 days. You may lose two percent of the invoice, but getting that cash so much sooner may more than offset the loss.
If you can negotiate getting paid more quickly, and then pair that with extended payment terms from your vendors, you'll really start to see your cash flow increase.
#4. Prepare yourself for negotiation.
The same rules apply whether you are renegotiating with a vendor or supplier:
Educate yourself. Know what the typical payment terms and trends are in your industry. Understand your value to your customer or vendor; for example, if you are a manufacturer providing 50 percent of the components a customer needs to build their equipment, they will be more likely to grant your request rather than having to potentially look for a new supplier. In addition, research the business health of the customers and vendors with whom you want to negotiate; if they are experiencing financial growth, now may be the perfect time to ask.
Present mutually beneficial terms. Your customers and vendors are entrepreneurs, too. They will be more open to new terms if they believe it is also beneficial to them. With a customer, will more rapid payments be matched with free shipping, same-day order processing or 24/7 customer service? With a vendor, will longer payment terms be offset by the promise of more future orders?
Get it in writing. Doing so will protect you against a forgetful business owner, or miscommunication between a larger company's procurement and finance teams. 

Optimizing your accounts payables and accounts receivables is a great way to take full advantage of your business's cash – without impacting your credit. Talk with a PNC Business Banker to learn how we can assist you with maximizing your business's cash flow.