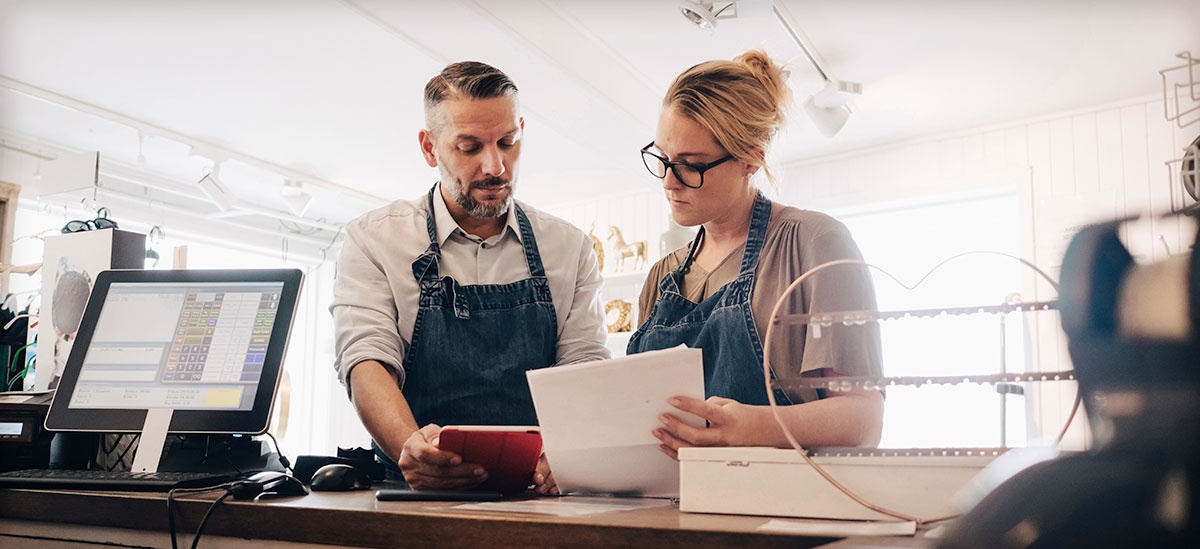 Hearing that the bank that you've been using to manage your business finances is being phased out could be a little unsettling. But bank mergers and acquisitions are fairly common, and smart institutions know how important it is to win the trust and confidence of new and transitioning customers.

That's why since the day that the PNC acquisition of BBVA USA was announced, PNC has been working to help keep BBVA account holders informed to help ensure that any future changes happen seamlessly.
Whether you're a BBVA USA customer migrating to PNC, or another of your banks has merged or been acquired, you might be wondering if it's worth it to stick it out with your new bank, or switch to a completely new one. And it's certainly a valid concern. After all, when your business accounts (or your personal ones) are involved, you should be an engaged consumer. What you don't want to do, however, is rush into any decisions.

To help you understand what to expect after you find out your bank is changing, follow these steps for navigating the transition.

Investigate what's really changing

When one bank merges or acquires another, it's quite possible that it really won't affect you all that much. In most cases, you can even continue going to your local branches and still be served by the same small business banking professionals and account specialists as before.

Some changes to anticipate include:

New account numbers and ATM cards: Eventually, you'll be migrated over to accounts branded with the new bank's name. This may require some minor updating in your accounting software, such as if you need to change the payment source for your account payables or your EFT information for your clients.

Branch closures and/or a different ATM network: In some cases, mergers or acquisitions might mean consolidating resources, so if there was a branch from Bank A and a branch from Bank B within a short distance, one may be closed. But until the transition is official, you will most likely just continue going to your normal bank branch. If you have a banking relationship with a particular banking specialist, you might want to ask if that person will be staying on and where they will work after the transition. Regarding ATM options, it's likely that you will continue to have a large number of options since most banks have large networks.

Fee structure may be different than your old bank: Most transitions will offer a grace period in which your old account terms and conditions will remain in place. From there, changes will be clearly communicated so you have time to decide if you need to switch to a different account type that's more suitable to your needs, or if you might be better off exploring a new bank all together.

Changes to Savings Account interest rates: Your rates are subject to change concurrent with the acquisition of your current bank by another. Given the current interest rate environment, it's not likely to be a notable change nor will it likely cause a big change in your overall earnings. It is prudent to follow the communication from your current bank and the acquiring bank in advance of the planned conversion. Also, as ever, it's important that you read your monthly statements to ensure you understand the impact on your accounts.

Things you won't have to worry about:

CDs and mortgage/loan accounts have terms that are locked in: Interest rates and APYs will not change if your former bank is acquired. Fixed rate loan products or CD that have more time will carry forward their terms.

Give it time

Explore the new bank's website to familiarize yourself with its products and services. Take note of any new account features or changes, but don't panic and jump ship right away. That's because any new account rules will usually take at least a few months to go into effect. For example, BBVA USA accounts won't transfer over to PNC until October 2021.

In the meantime, look out for communications from both your former bank and the new bank, which will keep you updated on the timeline so you know when changes will be implemented.

Be mindful about FDIC insurance

If it happens that you were already an account holder at both BBVA USA and PNC, you could end up going over the FDIC Insurance $250,000 deposit limit for a single institution.

The good news is that once the merger is complete, your accounts will continue to be insured separately for six months, so there is plenty of time to move your additional funds to another institution if need be. Also note that CDs from the acquired bank are separately insured until the earliest maturity date, according to the FDIC.

Look for announcements

Expect to get communications from the new bank about the transition. For example, for the BBVA USA to PNC transition, PNC created its Customer Welcome Center online to go over the most frequently asked questions. PNC is also sending a welcome packet in the mail in August as another way to connect with customers.

Ask questions

If you're unsure of what will happen to your existing account, go ahead and reach out. For example, if you are used to an account with no fees and you're worried that those benefits may be disappearing, that's something to inquire about. Work with your current business account support specialist or get in touch with the new bank to set up a call or consultation with a new account representative.

Should I stay or should I go?
If you decide to stay with your new bank, you may have a few items to take care of. These include:

Updating any bill autopay accounts with the new bank account number.

Redirecting direct deposits to the new account number.

Finding out if you need new checks.

Finding out if there are any changes to how you should pay back any remaining loans or lines of credit with your former bank.

However, you won't have to go through the process of actually opening a new bank account (including bringing or uploading your identification to a new bank) because all of your information and history will transfer over seamlessly.

Although there may be some concern when your bank changes, with the right support and tools, it should go very smoothly. A customer-focused bank like PNC will help you navigate all of these changes, and is available to assist.
---
Visit the PNC Customer Welcome Center for the latest acquisition updates.