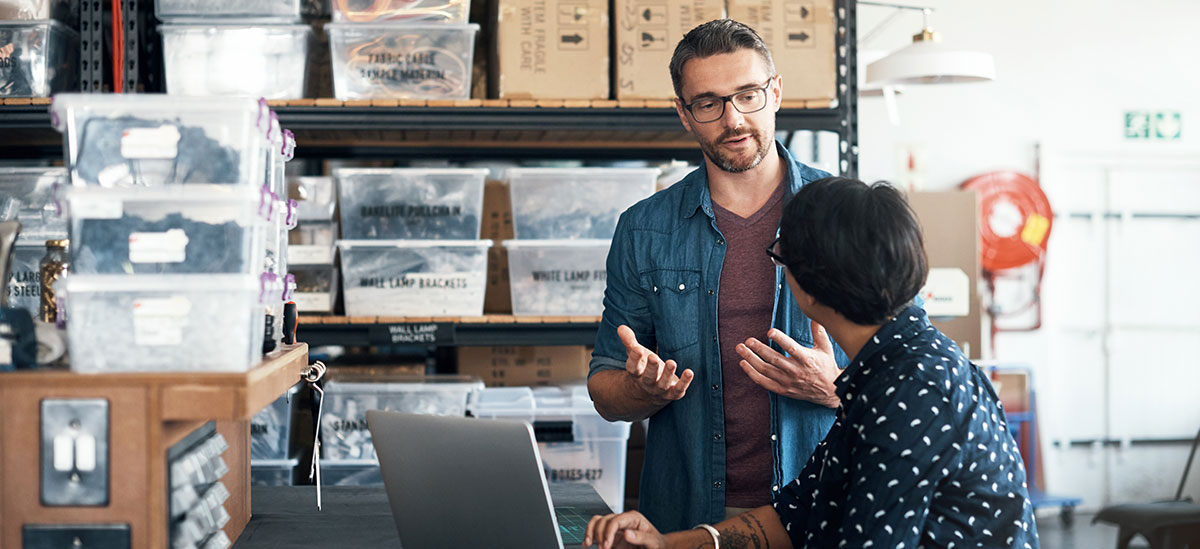 When reflecting on business lessons of the past year, one universal theme is recognizing the importance of being agile and adaptable in times of change. Even if your business isn't operating in a hard-hit industry, the pandemic could still serve as a wake-up call that uncontrollable circumstances can affect the way you do business — and sometimes without warning. If it's not a public health crisis, it could be new industry regulations, a disruptive force in your sector (think of how Netflix and Uber transformed their industries), or a natural disaster.
With springtime in full swing, there's some hope that the COVID-19 pandemic may soon be in the rearview mirror, making it a good time to rethink the way you do business. A small business survey[1] conducted by GetApp shows companies that pivoted their business model in the first few months of the pandemic were 3x more likely to report higher than expected revenue compared to those that didn't.
Whether the pandemic exposed shortcomings or inspired you to try different products, services, or business operations, consider these strategies for spring cleaning your business model.
Figure out what works
Did you develop new processes during the pandemic that are worth keeping, even when things return to "normal"? One study found, for example, that 68% of new digital grocery shoppers (those who only shopped in person pre-pandemic) say they will continue to shop online for groceries.[2] Businesses need to consider that their customer's habits may have changed, and therefore, going back to the old ways could mean missing out on a growth opportunity.
Identify what's not working
Sometimes it takes a crisis to shine the spotlight on shortcomings that were always lurking in the background. Get feedback from your employees and customers about areas of improvement. Maybe having an improved digital experience could improve the customer service. Perhaps your company needs a more strategic workplace flexibility policy to keep up employee morale. Or if you haven't made the switch to cloud-based solutions, that might make it easier for remote workers to collaborate and connect.
Think about how customer needs have changed
Even if the world returns to pre-pandemic habits, some fear and hesitation, as well as public health policies, are likely to linger. For example, many customers have grown more comfortable with touchless transactions, with 85% of mobile wallet users say they'll continue making payments this way two years from now.[3] If that's not an option you currently offer, it's worth exploring. Another example is that consumers may have grown accustomed to not having to wait in long lines or waiting rooms, so think about how to improve your appointment scheduling and check-in process if applicable.
Tap into fresh ideas and new voices
When changing your business model, it's a good idea to introduce fresh perspectives. This might mean hiring outside talent or consulting with an expert. If you're bringing on remote workers, that also means you can expand your search to talent pools outside of your geographic location. In addition, recruiting from diverse populations is another way to not only bring in fresh perspectives, but in can also improve your company's diversity and inclusion efforts.
Study the competition
See what others in your industry are doing to re-invent themselves. Whether it's adding a curbside pick-up option, or hosting virtual classes for students or clients, see how other companies have adapted to stay relevant and apply similar ideas to your organization.
Explore new product lines and target new customers
When faced with a steep decline in sales because restaurants were shut down, a Staten Island, New York-based wholesale produce seller shifted its focus and began marketing a home delivery service for people who were nervous about grocery shopping in person. It became so popular that the produce company has decided to continue these deliveries, even now that restaurants are operating. To grow and scale your business, think about how you can expand your offerings or change your marketing strategy. Demographics, neighborhoods, and customer sentiment shifts over time; perhaps you need to tweak your business to reflect those changes. This is true even in times when there isn't a major global event, but it's even more important to reflect after a year of big change.
It Could be Time for a Remodel
Your business model was never meant to last forever. Over time, as your company grows, technology improves, and customer needs change, it's important to regularly reevaluate your business model. If it's been awhile since you've thought about it, set aside some time this spring to assess the current state of your business and the goals you have for the future. If your old business model no longer supports short-term success and long-term growth, then go ahead and spruce it up.