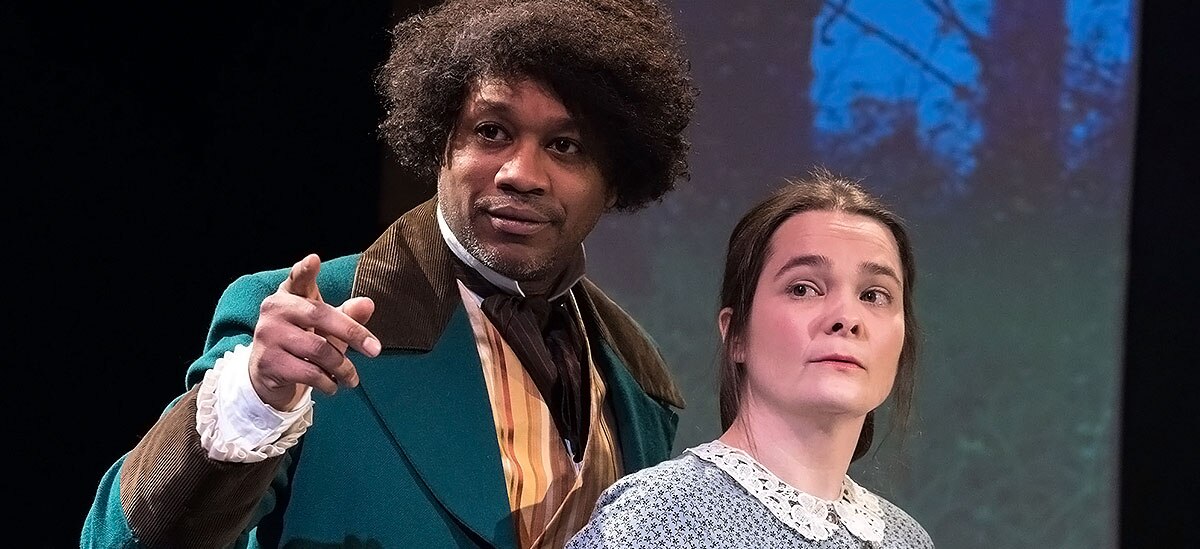 Photo Credit: Daniel Kontz Photography
One of the cultural casualties of the COVID-19 pandemic was the early closing of a Philadelphia-area theater production, sponsored through the PNC Arts Alive initiative, called The Agitators. Written to illuminate the battle for women's suffrage and staged by Theatre Horizon, a Norristown, Pa. contemporary theater company, The Agitators tells the true story of friendship and rivalry between Susan B. Anthony and Frederick Douglass, who met as young activists over a peach cobbler and a shared passion for the abolition of slavery.
"Through four previews and six performances, the actors received standing ovations every night, as well as a big wave of amazing reviews," says Hallie Martenson, Theatre Horizon's managing director.
The pandemic also cut short the related community activities occurring in the Theatre's lobby during the production, including tabling by the National Association for the Advancement of Colored People (NAACP) and other nonprofits to promote Census participation and voter registration. Theatre Horizon also planned to conduct mini-performances in a nearby, predominately Latinx community.
"PNC is an enthusiastic supporter of Theatre Horizon's thoughtful approach to stimulating conversations about diversity and inclusion," says Joe Meterchick, PNC Bank regional president in Philadelphia, Delaware and South Jersey. "In its short run, The Agitators gave us insight into the battle for women's suffrage against the backdrop of racism. Having conduits like the Theatre to help us dissect the complexities of the human condition is more important now than ever before."
What was all the agitation about?
As The Agitators evolves, Anthony and Douglass spar over opposing beliefs about who should be allowed to vote first – Blacks or women. "Was Frederick Douglass a sexist because he opposed women having the right to vote first? Was Susan a racist?" asks Martenson. "These are the themes that this play by Mat Smart and directed by Cheyenne Barboza so expertly explores. It is a very human look at two people who have become monoliths in U.S. history."
According to Martenson, the play's landmark scene is a "delicious" dramatization of a debate between Anthony and Douglass, with lines pulled verbatim from the actual event.
Anthony: "If you truly care about Black people getting the vote, should you not also care about Black women?"
Douglass: "Black women are not persecuted because they are women, they are persecuted because they are Black."
"Sadly, the nation wasn't ready to bite off both of these issues at once," says Martenson.  The 15th Amendment to the U.S. Constitution, which gave Black men the right to the vote, was ratified in 1870, a full half-century before the 19th Amendment.
While it's not yet clear when Theatre Horizon will be open again for live performances, its education work continues in the digital space. The company's award winning autism drama program has moved online – and is, consequently, drawing a much broader audience – and a new video series on YouTube was launched in March to help combat isolation. As soon as audiences can safely gather in person, Martenson looks forward to staging another PNC-sponsored production, Miss You Like Hell, a musical about an estranged Mexican American mother and daughter who venture out on a cross- country road trip.
For more about Theatre Horizon, visit theatrehorizon.org.
---
PNC is proud to offer insights, education, and support to female financial decision-makers. Visit pnc.com/women to learn more.