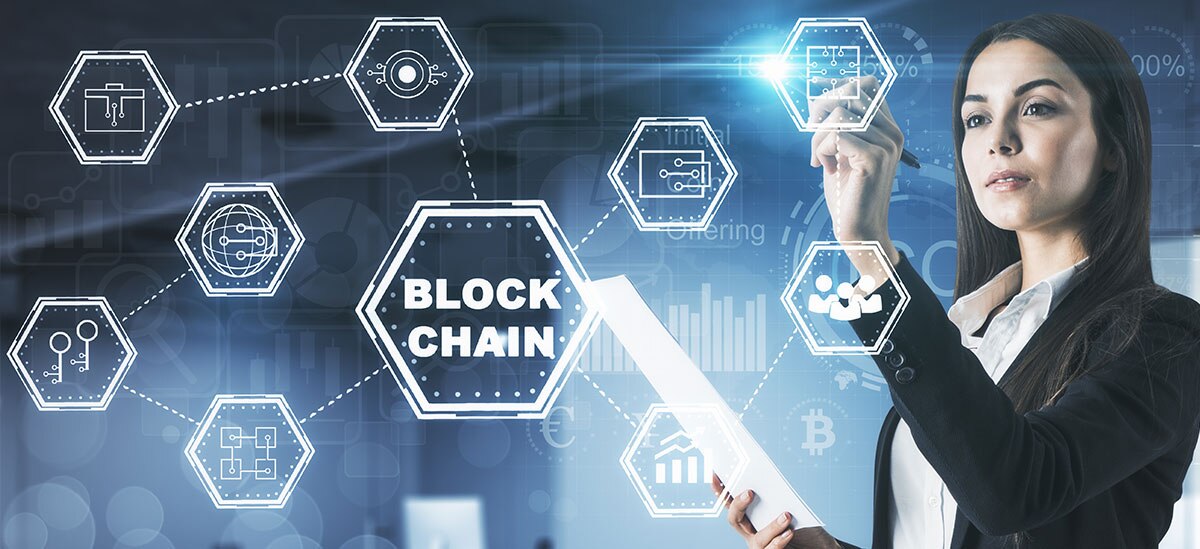 If your tendency is to tune out when you hear words like BLOCKCHAIN and CRYPTOCURRENCY, please stay with us for the short time it will take to digest this article. Here are the two reasons why:
1. Many smart people believe that blockchain technology will profoundly change how business is conducted. In the 1980s, no one understood the internet; now, we can't imagine living without it, or the jobs and innovations it's enabled. Blockchain is predicted to have the same impact as the internet did, and that means, if you're a businessperson, you need to know about it.
2. Blockchain offers an opportunity to create a level playing field and an entrée into technology for women. And although there is still a small percentage of women in the blockchain business, the women involved are certain about the power of blockchain to do good in the world, and they're leading the charge.
Women represent 50% of the world economy, and we can either sit back and allow someone else to decide how this disruptive technology will impact us, or make a deliberate decision to be involved and have a voice. From my perspective, there is no other option but to jump in, where the water is warm, and help guide how blockchain will benefit everyone.
-Kate Lybarger, vice president of Business Innovation for PNC.
What Is Blockchain?
Blockchain is not as difficult to define and describe as it sounds. As you begin to educate yourself about this potentially revolutionary tool, you'll be confronted by a lot of vague or elitist techno-jargon that can be challenging to comprehend. Persevere. The business of blockchain is in its infancy, and once you become knowledgeable, there will still be time for you and companies like yours to impact what happens.
Here's what blockchain is not: It's not Bitcoin, and it's not Libra or any other cryptocurrency you may have heard of. Blockchain is to Bitcoin what the internet is to a website. Blockchain is the underlying technology that allows a crypto, or digital, currency like Bitcoin to exist and transact.
Although digital currencies are proliferating, a great deal of skepticism exists about their current and future value. By contrast, there's little dispute among engaged business and technology leaders about blockchain's potential.
A blockchain is a peer-to-peer distributed digital ledger ecosystem that creates a many-to-many connection among participants. With blockchain, every transaction is copied to every ledger, and each participant has an exact copy. This enables users to transact digitally, across a network of parties, in real time, with higher levels of security and transparency, because there is no single point of failure. In a permissioned blockchain, all the participants are known.
Blockchain transactions are encrypted and time-stamped with a shortcut called a "mathematical hash" so only those with an encryption key can access the data within a transaction. These cryptographic hashing codes assigned to each transaction are grouped to become "blocks" and linked to similar blocks to form a chain. This connectivity is what differentiates blockchain technology from a traditional database or individual distributed ledger. Cryptography coupled with exact distributed copies in real time is what makes the blockchain more secure than current data stores. Another security feature of blockchain technology is its permanence: Once a transaction is committed to the chain, it cannot be deleted. Blockchains create a historical, linear and immutable record of events or transactions.
Blockchain enables a real-time ecosystem where every participant has the exact same copy of every transaction. It will transform the business of business.
-Mary Butler-Everson, Senior Vice President of Healthcare Product Innovations, PNC
"The more participants or nodes you have on a blockchain, the more distributed it is and the more secure it becomes. To hack the blockchain, you'd have to hack every transaction across every node simultaneously."
Solving World Problems
The potential for real-time, safer transactions using blockchain technology is one reason why there are currently more blockchain initiatives in healthcare than in any other industry. One example is the Healthcare Utility Network, a consortium of healthcare insurers and health systems that have come together with PNC and IBM to evaluate using blockchain to transform the business of healthcare. The goal of the Healthcare Utility Network is to remove administrative redundancies in the business of healthcare while simultaneously allowing transactions to be in real time and more secure.
"Our first blockchain solution will help solve the challenges providers and payers face in tracking and reconciling care delivery, billing and payment as healthcare moves from fee-for-service payment to paying for an episode of care — such as joint replacement, for example," Butler-Everson explains. "In the fee-for-service model, every individual clinician and department that touches a patient submits a claim for payment, and each claim is paid at a contracted rate. In the episodic or 'bundled' model that the industry is moving toward, the insurance company pays a single predetermined fee that all the clinicians providing the care must agree to and then split among them. Each becomes dependent on the other for their financial result."
Currently, caregivers contracting with payers for episodic payments have no visibility into the impact their care decisions have on the contract rate they are being paid until months later. Using blockchain, all parties to an episode will have real-time visibility into the care being provided and the impact of that care on pre-defined financial and performance metrics — transparency that doesn't exist today.
"We are actively working with payer and provider clients on a blockchain product, targeting a production pilot in early 2020," Butler-Everson says.
PNC is also involved in three blockchain trials. One is designed to track and safely expedite cross-border payments, one would convert currency into digital tokens backed by a money market mutual fund, and one explores how governments, financial institutions and others could use a digital identity blockchain to authenticate that individuals are who they say they are.
In addition to combating identity and financial fraud, this last trial could positively impact how nations manage refugees. "It's no longer just about disruptive technology," says Lybarger. "It's about the ethical and social good the technology has the potential to bring about."
Already there are several blockchain projects that aim to address humanitarian and public health issues. Everledger, a female-founded company that identifies itself as a "pioneer of digital provenance," is leveraging blockchain technology to eliminate the human rights abuses associated with the so-called "blood diamond" trade. Everledger's blockchain provides a permanent record of each gemstone's history, from the mine to the purchaser, so jewelry retailers and consumers can make informed choices.
UN Women, a United Nations program focused on gender equity and empowering women, is exploring blockchain technology to document and legitimize the identity, medical history and assets of women in conflict zones.
Working with IBM, Walmart has developed a food safety blockchain to trace the origins of the produce it buys. Because each entity that handles the produce will be represented by a digital block on the chain, pinpointing where contamination may have occurred in the supply chain may help prevent a public health crisis. With blockchain, it will take seconds rather than weeks to trace the origins of a produce item.
Mapping supply chains, such as the vendors involved in producing, inspecting and handling fruits and vegetables, represents a significant area of applicability for blockchain technology.
A blockchain digitizes what is typically a manual process. In fact, the same technology Everledger is utilizing to eradicate the economies of the blood diamond trade is also being used to help verify the value of wine, fine art and other luxury goods. Key to the value of items like wine and art is the ability to trace their origins; when all the hands that have touched a bottle of supposedly rare wine have been documented on a blockchain, counterfeits would be exposed.
What's in It for You?
Although it is the blockchain-powered cryptocurrencies like Bitcoin and Libra that are grabbing the majority of headlines today, in the future blockchain technology will likely impact everything of value, Lybarger notes. "It will show up in how I make a retail purchase and apply for an auto loan or mortgage, how I receive benefits at work, and how my company interacts with other companies and individuals," she says.
According to Butler-Everson, the advent of blockchain offers an opportunity to bring together a diverse set of interests to drive common, shared benefits. "We're calling it 'co-opetition,'" she explains, "where enterprises that typically compete actually come together to agree on a structure and standards that will serve as a platform for industry progress."  
For women especially, this is an inflection point. "I believe that where we'll see a big lift from blockchain technology is in international applications, and women play very different roles in emerging and developed economies," says Lybarger. "Because the technology is predominantly open source, everyone is working from the same sheet of music. That brings a level of fairness, access and trust that can create gender parity. "There's no precedent to overcome here, so let's get it right from the get-go."
---
How to Stay Informed About Blockchain
Given the potential impacts and applications of blockchain technology across industries, PNC suggests that all business leaders begin to follow the trend. Consider these resources:
Talk with your industry association, your technology provider and your financial institution about their involvement in blockchain projects.
Familiarize yourself with companies and organizations active in the space, such as the Chamber of Digital Commerce (digitalchamber.org) and Global Women in Blockchain (globalwomeninblockchain.org).
Enable medium.com to curate for you a daily assortment of articles about blockchain, cryptocurrency and other technology subjects from an array of voices and viewpoints.
Follow some of the leading female voices in blockchain on social media, such as:

Leanne Kemp, founder and CEO of Everledger
Amber Baldet, cofounder and CEO of Clovyr, and advocate of ethical design
Blythe Masters, former CEO, Digital Asset Holding