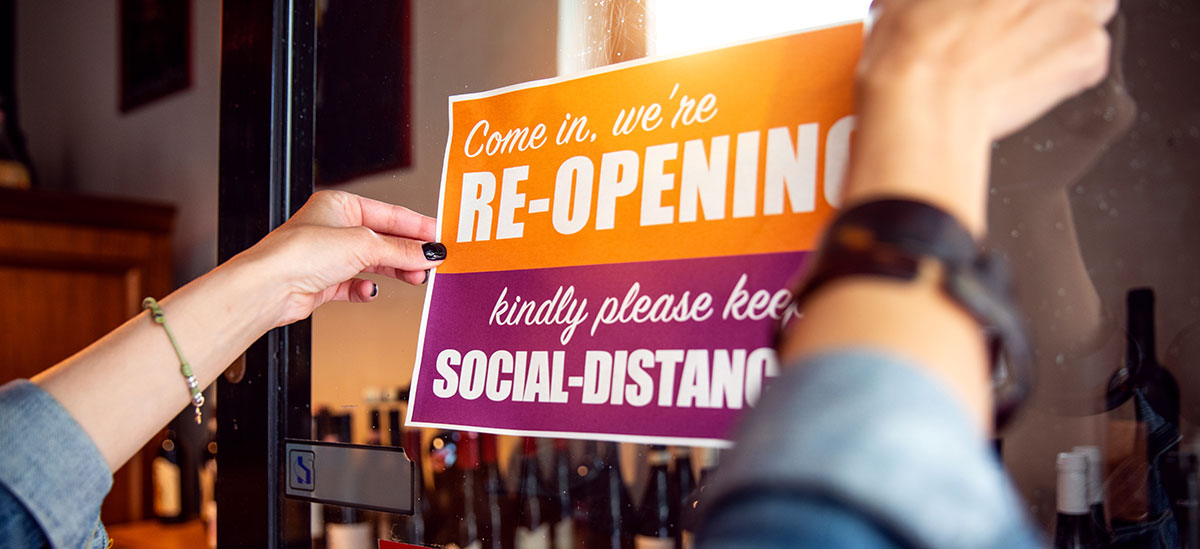 As the year goes on, economies have been coming to life (subject, of course, to local requirements). But many businesses have found that resuming operation isn't as simple as re-opening the doors and willing customers to return. Instead, small businesses must adopt proactive measures as they seek a return to the "next normal." Here are four key areas that can help support a successful re-opening and return to profitability.
1. Use Marketing Promotions to Drive Traffic
You've restocked and sanitized; what can you do to bring those customers back through the doors? Now is the time to double down on marketing to draw visitors back in and build momentum. Here are a few ideas:
Share a special offer to repeat customers from throughout the pandemic to thank them and strengthen the relationship.
Unveil a loyalty program to encourage repeat business.
Create a livestream event to highlight new offerings—and your clean, ready for social distancing location.
Offer new limited discounts to entice people to use gift cards they bought during the pandemic.
Partner with nearby businesses to host a socially distanced "welcome back" party, allowing you to build traffic but spread it out among locations.
2. Implement a Solid Communications Plan
Remember that all the safeguards and promotions in the world won't entice visitors if you haven't effectively communicated them to your customers. You want to instill assurance and build interest, so utilize all the tools at your disposal on the channels most likely to reach your target audience. Consider the following:
Create an email newsletter highlighting updated products and services.
Post a YouTube or TikTok video that gives a behind-the-scenes look at your new hygiene procedures.
Promote your specials on local business pages, such as the Chamber of Commerce or a community-focused Facebook group.
Create branded signage for your store that emphasizes new guidelines for customers, like your mask or dressing room policy.
Communicate alternatives to in-person visits, such as options for delivery and pick-up.
Ensure your visuals reinforce your commitment to health and safety—show your team wearing masks and social distancing and avoid stock photography picturing groups.
3.  Shift to contactless methods to inspire confidence.
While small businesses are eager to get back to business as usual, customers may be wary for some time. One survey[1] found that only 44% of shoppers were eager to return to retail stores even when allowed.
One critical way to earn loyalty is by implementing contactless procedures that eliminate touch points while maintaining a focus on customer service. For example:
Allow customers to place their orders online.
Communicate accurate pick-up times to avoid waiting. Implement contactless hand-offs, such as designated in-store or curbside pick-up areas.
Create in-store social distance markings for checkout and interacting with your space.
Your goal is to build trust by underscoring the actions you have taken to promote health and safety. Of course, this includes making sure you have created new sanitation protocols for your team and customers, including wearing masks and conducting frequent cleaning of high-touch areas.
4. Focus on Costs
Many small businesses have experienced a budgetary shortfall during the pandemic. Re-engaging the cash flow spigot requires a two-pronged effort: increasing income, but also cutting costs wherever you can. And that can be challenging in today's environment, where you are likely serving fewer customers due to social distancing requirements while simultaneously shouldering increased costs for personal protective equipment, sanitization and other new requirements.
That's why it's essential to take a hard look at costs you can mitigate. For example, a restaurant can downsize its menu offerings, thus requiring fewer ingredients and potentially incurring less waste. A retail store could reduce inventory on hand by adopting a showroom model that allows clients to see a curated collection of products that can be ordered in additional sizes or colors as needed.
Staffing is another area where you might need to cut back as you wait for business to rebound. However, if you received a loan through the Paycheck Protection Program, make sure that you talk to your PNC Business Banker about applicable guidelines that could impact your ability to obtain loan forgiveness.
As small businesses evolve their operations to meet new and ever-changing needs, your questions about bolstering cash flow might mount. Be sure to contact your PNC Business Banker, who can help advise you on potential adjustments to your business model or suggest additional revenue streams. Remember, we are all in this together.