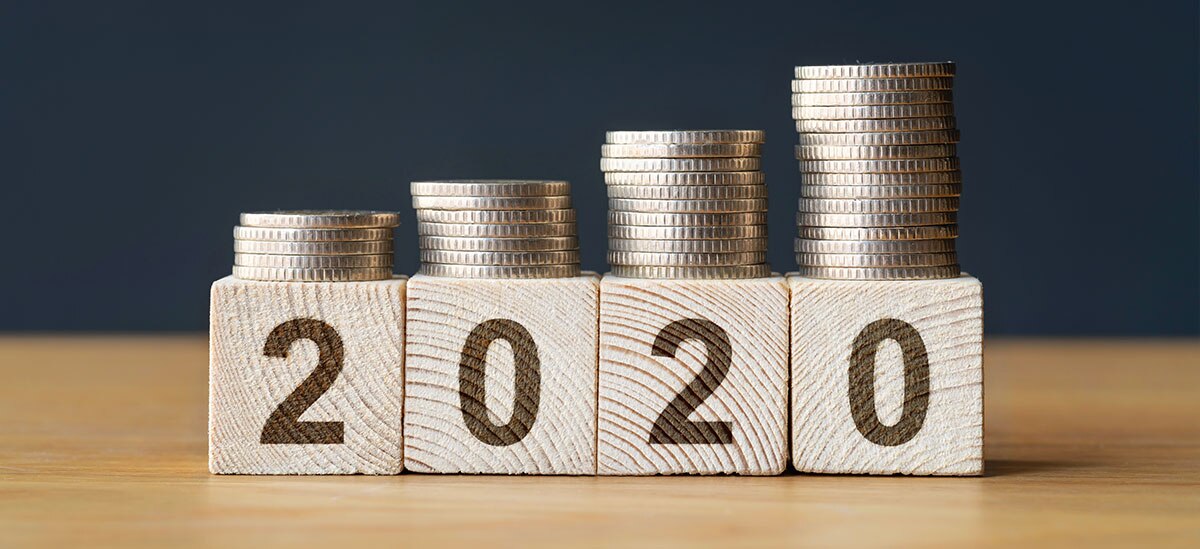 Saving money often tops most small business owners' lists of New Year's resolutions. There are surely ways you can trim unnecessary expenses. But, sometimes thinking of your finances in terms of "making cuts" can be short-sighted when you consider the flip side: identifying areas where you could grow your business through strategic investments.
You've probably heard the adage that sometimes you have to spend money to make money, and if there was ever a time for it, 2020 might be just that time. That's because small business owners are feeling incredibly confident, according to the Small Business Optimism Report, conducted by the National Federation of Independent Business (NFIB), which in November saw its most significant month-over-month gain since May 2018.
Here are five ways to consider investing in your business to reap the rewards all year round.
1. Upgrade your equipment.
From obsolete software to sluggish machinery, your business might be suffering if you are using outdated tools. We get it: the infusion of both money and staff resources required for system upgrades can be daunting and can be easy to put off.
But, odds are you'll agree that the eventual benefits far outweigh the disruption. For example, consider the boost in functionality and customer satisfaction you'll achieve with a more intuitive point of sale system, or the monthly savings you'll see on your utility bills by using more energy-efficient office equipment. 
2. Hire more talent.
Small business owners are accustomed to wearing many hats and keeping their fingers on the pulse of the business through involvement with every aspect, no matter how small. And while it's wise to keep overhead low when you're first starting, as your business grows, you might be limiting your potential by not investing in personnel.
From a new salesperson who can oversee business development to an assistant who can keep you organized by shouldering administrative tasks, hiring additional support can free up a small business owner for more impactful work, such as focusing on strategy or growth. Consider freelancer or contractor support for one-off creative projects or events.
3. Invest in your workplace.
Once you have the right talent, you want to make sure you retain them—and a strong culture can help. Glassdoor says that 2020 will begin a "culture-first" decade for employers.
While employees expect benefits such as health insurance and retirement options, they are also looking for perks like flexible scheduling, paid time off for volunteering, and free snacks. A commitment to improving employee experience can pay off: research finds that employees who are satisfied with their work environments are 16% more productive and nearly 20% more likely to stay.
4. Upgrade your marketing.
Many small businesses start with a marketing on a shoestring budget, relying on the free buzz from referrals and organic word-of-mouth on social media platforms. While those tactics can be successful, your marketing budget needs to expand as you grow. The chances are good that your competitors are making a marketing investment: the CMO Survey predicts marketing budgets will rise more than 8% in 2020, according to Duke University's Fuqua School of Business.
Maybe this is the year that you hire someone to create a more professional website or pay for social media ads targeted to your ideal customers. Perhaps you choose to exhibit at a trade show or industry meeting to further elevate your profile and expand your customer base—there are so many opportunities available to upgrade your marketing.
5. Enlist the power of AI.
As a business owner, a fundamental expectation is to provide unparalleled customer service, but quickly responding to customers' inquiries can be challenging—unless you get some help. Thanks to artificial intelligence, your company can develop and use a "chatbot" who will answer your customers' questions in everyday language. Thus, meeting customer needs while freeing up you and your staff to handle more complex issues. 
By hiring someone to do some simple coding and subscribing to a chatbot development platform, you can have your own "chatty assistant" up and running to help customers in no time.
Of course, spending money to make money is all well and good—when you have the money. That's where a small business loan can come in. Talk to a PNC business banker today to learn about potential options for financing these new ventures that can make 2020 your most profitable year yet.
The article(s) you are reading were prepared for general information purposes only and are not intended to provide legal, tax, accounting or financial advice. PNC urges its customers to do independent research and to consult with financial and legal professionals before making any financial decisions. These articles may provide reference to Internet sites as a convenience to our readers. While PNC endeavors to provide resources that are reputable and safe, we cannot be held responsible for the information, products, or services obtained on such sites and will not be liable for any damages arising from your access to such sites. The content, accuracy, opinions expressed, and links provided by these resources are not investigated, verified, monitored or endorsed by PNC.