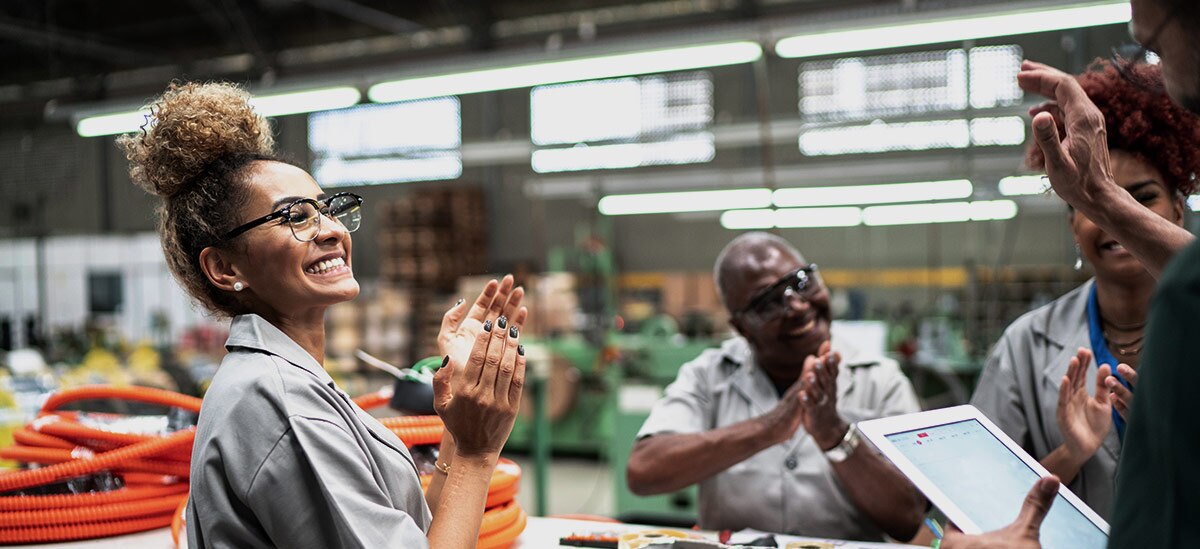 The Great Resignation means employers across multiple sectors are scrambling to find the talent they need — but manufacturers, in particular, are feeling the pinch.
The supply chain woes and shutdowns at the start of the COVID-19 pandemic prompted furloughs or layoffs across the sector. And now, with demand surging and talent in short supply, companies are struggling to get lost employees back. As of July 2022, 45% of manufacturing job openings remain vacant, according to the U.S. Chamber of Commerce,[1] and the National Association of Manufacturers predicts that, by 2030, 2.1 million manufacturing jobs will go un filled.[2]
As a result, any plan future-proofing your organization should put attracting and retaining talent front and center. The following best practices can help set your organization up for hiring success.
1. Keep Your Pay Competitive
Perhaps the most effective hiring solution is also the simplest: offer competitive compensation. In a competitive labor market, manufacturers must offer at least the market rate for salary — and should, ideally, use compensation to set themselves apart.
With more employees worried about rising costs due to inflation, employers have an opportunity to retain talent by offering annual raises guaranteed to exceed cost of living increases. Not only can this help bring new talent into your organization, but it also encourages them to stay there rather than job-hop in search of a raise.
2. Create Opportunities to Advance
Once salary expectations are met, opportunities to advance are a top priority for talent. But those with limited familiarity with manufacturing — including many college graduates — are less likely to believe they have paths to advancement working in a factory than in an office, according to research from Deloitte.[3]
To disrupt this perception, manufacturers must focus on creating opportunities for their staff. Encourage workers to collaborate across teams or departments to broaden their horizons and promote from within the company so workers can forge their career paths within your organization. Offer mentorship programs to help younger talent succeed and encourage candidates to share their career aspirations during the hiring process.
3. Invest in Automation
Manufacturing is at the forefront of technological innovation, and embracing new technologies can help you find the staff your organization needs to thrive. Investing in new technologies can attract tech-savvy talent seeking opportunities to hone their skills.
It also cultivates a happier workforce. According to Deloitte, nearly one in four manufacturing staff say the technology they use daily improves their work experience.[3] By embracing automation, manufacturers can outsource often-tedious tasks and allow staff to focus on creative and strategic pursuits that often prove more fulfilling.
4. Broaden Your Talent Search
A tight labor market means manufacturers must actively search for talent and think outside the box when scouting potential hires. Reach out to younger talent by forming strategic partnerships with regional colleges, high schools, and career fairs in your area, and participate in smaller networking events and connections that your competitors may miss.
Look for opportunities to attract a diverse workforce, as well. Work with recruiters that prioritize diversity, and leverage various networking groups and job boards. Finally, ask your employees for referrals, highlighting your commitment to diversity and inclusion, and consider offering rewards for successful referrals.
5. Reduce Implicit Bias in Hiring
Keeping an eye on diversity during the hiring process is also imperative. Diversity is increasingly a core "must-have" for talent, and 76% of workers say diversity is important when evaluating potential employers. 4 And, because implicit biases can cause qualified talent to self-select out of the hiring process, reducing or eliminating bias helps broaden the talent pool.
Bias can occur at any point in the hiring process, so manufacturers should craft a plan to address the multiple ways it may affect hiring. AI-powered applicant screening, for instance, may discriminate against older candidates or candidates with disabilities,[5] so manufacturers should use software developed with diversity, equity and inclusion in mind. Companies should also create a standardized metric to score each applicant and reduce interview bias by asking each candidate the same set of questions.
6. Strengthen the Employee Experience
Cultivating a magnetic work environment is key to attracting and retaining talent, so look for opportunities to enhance the workplace experience. On-site benefits and programs — such as lunch programs, childcare and fitness or stretching classes — enrich the employee experience and boost engagement.
Manufacturers should also explore ways to center wellness on the job. Encourage employees to get annual medicals, offering time off to go to the doctor and reimbursing out-of-pocket expenses for yearly check-ups. Craft benefits communications highlighting how your company's benefits and programs can enhance workers' health.
Finally, manufacturers should stay flexible to help employees manage their work-life balance. Consider allowing staff to work remotely, when possible, and allow on-site staff to select their own shifts. When more flexibility is not possible, consider offering added compensation or benefits — such as more paid time off — to compensate.
7. Revisit Your Brand Values
When it comes to attracting and retaining staff, values matter. Young talent, in particular, seek employers aware of social and climate issues and the environmental impacts of manufacturing. As a result, crystallizing and communicating your brand values can help you attract like-minded talent to your organization.[3]
Set goals around your organization's core values, and share your wins — on your website, in trade publications or events, and even in job postings. These efforts bolster your reputation as a socially-conscious and wellness-oriented employer, helping you safeguard your talent and attract new workers for the future.