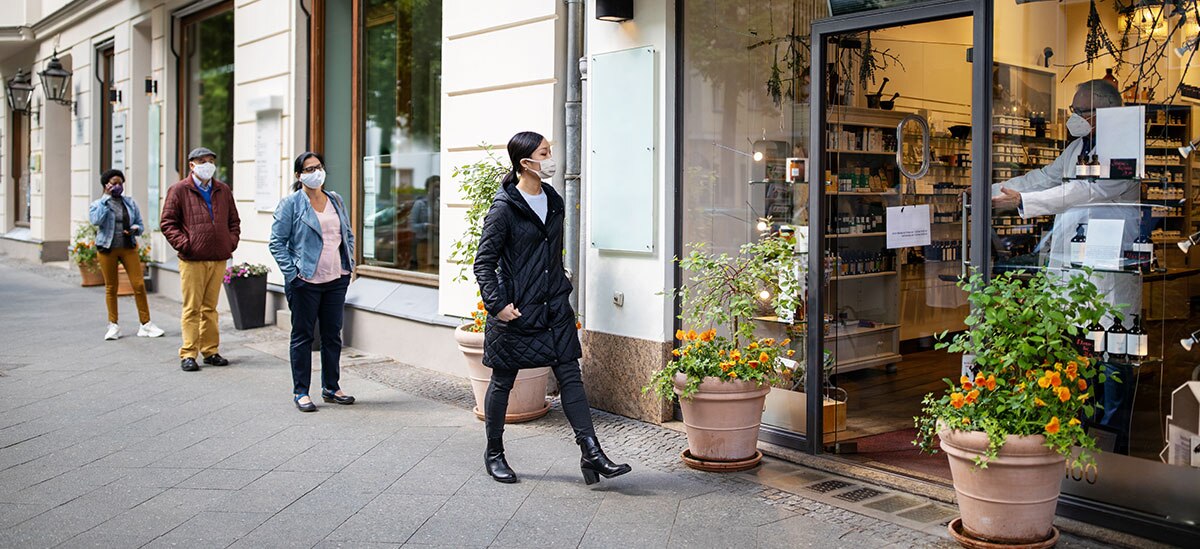 Typically small retailers pull out all the stops on Small Business Saturday (which will take place on Nov. 28, 2020) to entice customers in the door for a more relaxed experience after the Black Friday frenzy. This year, however, customers have been more reluctant to visit brick-and-mortar stores—and as a small business owner, you might have been hesitant to hold an "event" at all. Depending on your region, restrictions may have eased a bit, with people slowly beginning to take small steps into normalcy. So even if you had initially planned to skip Small Business Saturday, you might want to reconsider.  
That's because you can still provide your customers with a festive, yet safe experience that can jump-start their holiday shopping and your seasonal sales. If you are making a last-minute decision to participate in Small Business Saturday, here are four tips you can implement now to make the most of this key date on the holiday season shopping calendar.
1. Communicate your updated health and safety measures
Customers want to know that you are heeding best sanitation and social distancing practices to keep them—and your employees—safe. Clearly communicate your policies on mask-wearing, social distancing and your policies on fitting rooms and returns, so there is no hesitation on their part—and no surprises when they show up.
Share your messages on various channels, in-store signage, on social media, via emails, newsletters, and on your website. If customers can pre-order for curbside pick-up, reiterate your policies on the email confirmation you send.
2. Help decrease the amount of time customers spend in your store
Shoppers may want to get in and get out, making their purchases swiftly and safely. Here are some ways you can help make their visit more efficient and safeguard your employees as well.
Offer shopping "by appointment only" to limit crowds.
Extend more in-store assistance, so shoppers don't have to linger while they wait for help.
Create an online gift catalog or more updated website so customers can browse from their own home as a first step. Ensure you share ample information on sizing, product dimensions and other details to help customers make informed choices.
Have your display windows do double duty by creating signs that identify items and available sizes and colors, use snappable QR codes so shoppers can look them up online for more information.
Allow customers to make purchases directly from social media, consider Instagram, or linking to your website.
3. Promote a contactless system
A crucial part of the 2020 holiday shopping experience is emphasizing "contactless" throughout the process. Talk to your bank about adding contactless payments, such as a point-of-sale device that allows customers to pay with their mobile phone or with a wave of their chip-embedded card.
For curbside pick-up or delivery, allow customers to pay online in advance and communicate your procedure for how they can pick up their goods, including where to park and how your staff will bring out the items. Offer the option of putting their parcel directly in the trunk or back seat for a truly "contactless" experience.
4. Remember, Small Business Saturday is just one day in a busy shopping calendar
Many retailers rely on Small Business Saturday to jump-start their holiday sales, but this year the season is likely to create new shopping patterns we've never seen before, with some shoppers checking things off their holiday lists as early as September. That's why even though Small Business Saturday can be a fun event, it's just one option. Promote other shopping events, such as Cyber Monday, which might be more popular than ever due to people's safety concerns. Then, maintain a laser focus on customer service throughout the season and into the New Year to keep sales strong.
---
Want more tips on boosting sales and streamlining business operations throughout the holiday season and into 2021? Visit PNC Insights for the latest business advice and PNC Business Banking for information on products and services.