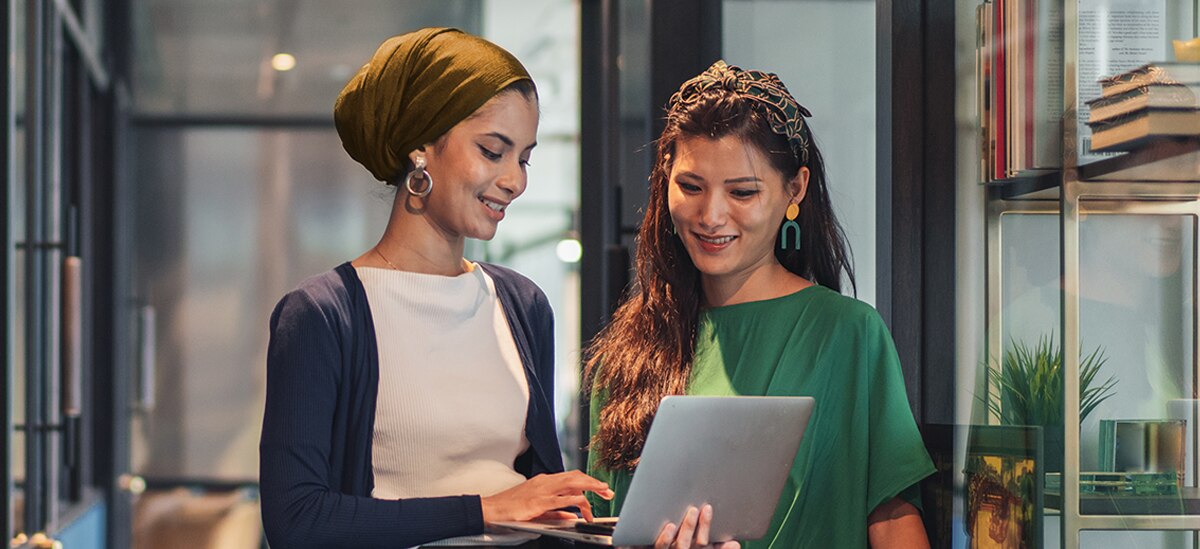 Sherri Allen-Reeves is one of 100 women and nonbinary entrepreneurs in the United States selected to participate in the first PNC Bank + Coralus Collective (Collective), a cohort of entrepreneurs and financial advisors collaborating for growth and success.
Networking and learning from other entrepreneurs were primary reasons Allen-Reeves, an international speaker, coach and nonprofit leader in Chicago, applied to be part of the Collective. She wants to surround herself with entrepreneurs who share in her goal to grow her business and brand.
The initial call with the Collective members confirmed Allen-Reeves' desire to be part of the Collective. "Everyone was warm and charming, offering suggestions on what I could do and how," she said. "I'm gaining knowledge and best practices from business owners like me, and we are learning together. It's not intimidating because we're all women doing our best and trying to make it happen for ourselves and other women worldwide — an amazing thing."
What is the PNC Bank + Coralus Collective?
In 2021, PNC launched a $1.257 million partnership with Coralus in tandem with Project 257®: Accelerating Women's Financial Equality to address the economic gender gap and women's unequal access to credit. The relationship expanded in 2022 when the PNC Bank + Coralus Collective was formed to gift Activator status in the Coralus community to 100 women or nonbinary U.S. business owners.
Collective participants have access to the global Coralus community, including Community Calls, events and learning series. In addition, each Activator is paired with a local PNC-Certified Women's Business Advocate and PNC hosts monthly educational and networking sessions for the Collective.
"Entrepreneurs tend to work in isolation, which can be challenging and limits the mindset of asking for help," said Janaki Hadida, Coralus partnership development lead. "We encourage participants to 'entrepreneur together,' to build the muscle of asking for help by being 'in community' with each other. Entrepreneurs need a community sharing all kinds of resources, whether it's your connections, your capital, your emotional support, your business as a customer, whatever it is you might need."
Tapping into the Collective Experience
That idea of "entrepreneuring together" is one reason that Maura Clevenger, founder and CEO of In Concert with Good in Seattle, joined the Collective. "What I love is all of us supporting each other," said Clevenger. "Being a Coralus Activator allows me to connect with other entrepreneurs, to learn new skills, and be exposed to a variety of perspectives."
Clevenger sees power in the PNC and Coralus collaboration and is confident she'll reach her goals with the Collective's incredible learning and support systems.
"Tapping into PNC expertise is a true gift. I am so excited to have the opportunity to be part of this Collective. I am bursting with the endless possibilities of working together for a better world."
Meet the Activators 
View a list of the PNC + Coralus Collective members at www.pnc.com/women.
Apply for the 2024 PNC Bank + Coralus Collective:
Are you interested in being part of a cohort of entrepreneurs and financial advisors who are collaborating for growth and success? Applications for the Collective open in fall 2023. For more information, please visit: https://www.pnc.com/en/small-business/topics/women-in-business/activated-loans-donations.html
| | | |
| --- | --- | --- |
| Business Name | City | State |
| ResearchPRO, LLC | Columbus | Ohio |
| What Works Studio LLC | Baltimore | MD |
| Sherri Speaks, LLC | Chicago | IL |
| SpellRead Works | Frederick | MD |
| Polaris Concierge | Glen Ellyn | IL |
| Taxley | Cincinnati | OH |
| Millennium Properties & Mgt. Co LLC | Waterford | MI |
| ULEAD | Pittsburgh | PA |
| Wine Down Nashville | Nashville | TN |
| Factora LLC | Austin | TX |
| Nurse Practitioners of Florida | St. Petersburg | FL |
| Bussert Medical, Inc. | Nashville | IN |
| Relish Catering LLC | Rockville | MD |
| Easy Oat Burgers | Myesrville | MD |
| The RCC Group Inc. | Stockbridge | GA |
| Ciconia Medical | San Diego | CA  |
| Blue Ocean Global Wealth | Gaithersburg | MD |
| In Concert with Good | Edmonds | WA |
| Brew & Sip Coffee Bar | Louisville | KY |
| Activate World Wide LLC | New Rochelle | NY |
| Danzell Wellness Group, PLLC | Bolingbrook | IL |
| Purpose Purchase | Philadelphia | PA  |
| C4CABLE LLC | Walpole | MA |
| Vivid Pixel Studio | Garrett | IN |
| SHIFT Work & Play | Frederick | MD |
| Unique Essentials | Louisville | KY |
| Womb Intensive Systematic Holistic Care | Philadelphia | PA |
| Catalyst4 | Center Valley | PA |
| NKS Sports Group | Elmsford | NY |
| Dirty Celebrity | Jersey City | NJ |
| DiaM Life Inc. | Plantation | FL |
| 14 Parish Restaurant and Rhum Bar | Chicago | IL  |
| All In One Management & Services, Inc. | Springfield | IL |
| Heavenly Real Estate LLC | Indianapolis | IN |
| Heavenly Hands Healthcare LLC | Saint Louis | MO |
| Ray Management Group LLC | Florissant | MO |
| Creating Fierce Female Titans, LLC | Wooster | OH |
| love, Pittsburgh | Pittsburgh | PA |
| Cirkled In Inc. | Bellevue | WA |
| Kodewin Systems | Dublin | OH |
| Hathaway Miranda LLC | Chicago | IL |
| Gifts for Good, LLC | Los Angeles | CA |
| ReacHER Project | Glenwood | MD |
| Magnum Group Inc. | Philadelphia | PA |
| La Tarjeteria LLC | Duluth | GA |
| Etten J & Co Photography & Custom Buttons, LLC | Daphne | AL |
| Community Dollar | Louisville | KY |
| J and Z Creative Solutions LLC | Riverside | NJ |
| workability LLC | Bend | OR  |
| Achievement in Motion, LLC | Pittsburgh | PA |
| Linden Square | Fort Wayne | IN |
| Magical Sweets & Savory Treats By Bridget LLC | Albuquerque | NM |
| Lockerbie & Co. | Passaic | NJ |
| Curvy Closet | Springfield | IL |
| Something Classic/The Mother Earth Group | Charlotte | NC |
| EM and EM ASIAN Asian Halal Grocery LLC | Stone Mountain | GA |
| We Sparkle Co. | Minneapolis | MN |
| Birches Brand | Boerne | TX |
| eddy Design Group | Wildwood | MO |
| Solstice LLC | South Dartmouth | MA |
| Mitchells Transport | Oakland | CA |
| MomSub | Woodridge | IL |
| Longview Education | Wyndmoor | PA |
| La Cita | Cherry Hill | NJ |
| Neptune's Mūn LLC | Haslet | TX |
| Cakewalk Chicago | chicago | IL |
| Go 2 Girl LLC | Shelbyville | KY |
| RAYNE IX | Milwaukee | WI |
| Franklin Hill Vineyards | Bangor | PA  |
| FastSigns | Pittsburgh | PA |
| Karo Aesthetics & Ink LLC | Tempe | AZ |
| Arlean Richards LLC | Las Vegas | NV |
| The Goat Milk Soap Store | Pomona | KS |
| Jozu for Women Inc | Miami | FL |
| Shooting Star Gardens, llc | Shoreline | WA |
| Libérate Life Coaching | Chicago | IL |
| GCL Enterprises | Newark | NJ |
| Skidmore Consulting LLC | New Smyrna Beach | FL |
| Self-Care Senorita | Baden | PA |
| Experience Relish, Inc. | Detroit | MI |
| DOC DASH | Ballwin | MO |
| IAMUS Consulting, Inc. | Sykesville | MD |
| Elderly Care Concepts | Ferguson | MO |
| Omi Wellness & Counseling | Katy | TX |
| KD7 Enterprises Inc | Raleigh | NC |
| Tommy Wong Select | Saint Louis | MO |
| DN Organics | Reading | PA  |
| Aromatherapy Healing Place LLC | Kansas City | KS |
| SueLOU's N SUSIE's | Ferguson | MO |
| DUES24, LLC | Louisville | KY |
| Build Diversity Better, LLC | Southfield | MI |
| Corbett Mitchell Media | Duncanville | TX |