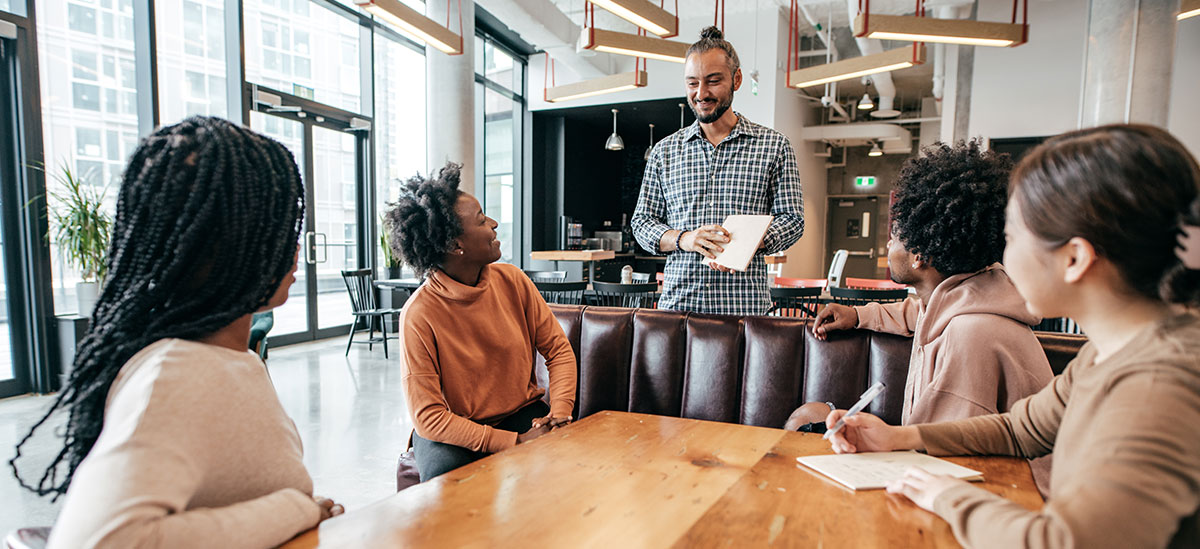 Not only is it good for your bottom line, as companies with cultural diversity among their corporate leadership financially outperform less diverse competitors[1], it's also essential to attract talent. Younger generations also demand diversity in the workplace[2], with top young talent avoiding companies without a diverse workforce or with negative satisfaction ratings from employees of color.
Diversity and inclusion are also increasingly essential to attract customers, especially in younger demographics. Research shows that millennials and Gen Z shoppers want brands to take a stand on racial issues, with 75% of Gen Z shoppers[3] saying they'd boycott a brand that discriminates against race or sexuality.
Truly embracing diversity and inclusion, though, means examining how unconscious bias might affect any aspect of your organization, from your recruitment efforts to your partnerships and community outreach. Then implementing solutions to address potential barriers to inclusion.
Read on to learn how to implement impactful diversity and inclusion initiatives at your company — and to learn what PNC is doing to embrace diversity and foster inclusion.
Make diversity central to your recruitment efforts
Creating an inclusive workplace starts with recruitment, and you can improve diversity by taking steps to reach more diverse talent and reducing unconscious bias[4] during the hiring process.
Write job descriptions and listings with diversity in mind, using inclusive language[5] to attract a range of candidates. Avoid jargon or slang that might marginalize some candidates, and be mindful of gendered language that might marginalize women and other gender minorities.
Leverage diverse job boards to attract talent from marginalized communities and highlight your organization's commitment to diversity in your listing. Mention your company's initiatives to boost diversity and inclusion — for example, your benefits for underrepresented groups, mentorship programs or diversity training efforts — and explicitly encourage candidates from a range of backgrounds to apply.
Consider structural barriers, such as gaps in education, that marginalized candidates might face during the application process, and take steps to level the playing field. Provide instructions for how to format or prepare an application, if needed, to help talented candidates overcome skill or education gaps. Reduce unconscious bias by considering nameless job applications, and use standardized interview questions to help eliminate bias during the interview.
Finally, look for ways to share your expertise via outreach and connect with new talent. At PNC, events like our Empower Hour Series, for example, provide resources and training for students and graduates interested in empowering their career. Job-seekers gain crucial insight into their industry, and learn about potential opportunities available to them at PNC, while we gain the opportunity to connect with talented candidates from all walks of life.
Invest in diverse employees
Truly embracing diversity and inclusion means making it a top-down initiative. The goal should not be to simply attract diverse candidates, it should be to promote diversity at every level of the organization. To help, companies should look for ways to develop and retain talent and provide opportunities for advancement.
Start by making diversity training available to managers to reduce the impact of unconscious bias in the workplace and all for fair and equitable evaluation and advancement. Consider hiring accessibility offers and diversity managers to identify structural barriers that could be affecting diverse candidates within your organization. You'll gain valuable insight into which programs and initiatives might benefit your company the most, so you can create a customized plan of action to boost diversity and inclusion.
Help develop your talent by building diversity and inclusion into your mentorship program, as well. Pairing employees with senior team members that share similar life experiences helps employees gain valuable insight into how to navigate their career and advance within the company.
At PNC, any employee who participates in our employee business resource groups (EBRGs) can access our mentoring program, and we have more than 2,300 employees involved in mentoring across our organization. By helping connect our employees with talented mentors with shared lived experiences, we can help them grow to their full potential and thrive.
Make diversity and inclusion part of your corporate culture
Embracing diversity means creating an inclusive atmosphere in which every employee can reach their full potential.
Use training to help employees learn how to create an inclusive atmosphere — for example, by encouraging team members to share their pronouns, if they feel comfortable doing so — and maintain a zero-tolerance policy for discrimination. At PNC, we offer training on unconscious bias and micro-behaviors, as well as host an Inclusive Dialog Series that shines a light on diversity and inclusion topics to help each employee foster an inclusive environment.
Make the office feel truly multicultural by celebrating all religions and holidays, and consider interfaith initiatives that invite employees to share their traditions and customs.
Finally, raise awareness around the value of allyship, and the power that privileged groups can have in creating an inclusive atmosphere. At PNC, our Men as Allies program explores how men at PNC can explore unconscious bias to create an environment that helps women and minority genders succeed.
Embrace diversity outside your organization
No company is an island, and the steps you take toward greater diversity and inclusion within your organization can have a ripple effect on your industry.
Open up about your commitment to diversity and inclusion as a core value in your organization, and the steps you're taking to improve diversity — you'll inspire others to follow.
Take steps to partner with like-minded organizations, as well. Embrace suppliers with diverse leadership and those that also prioritize diversity. Seek out joint ventures with organizations with similar values, and look for ways to provide resources and educational opportunities to traditionally marginalized groups in the communities you serve.
At PNC, we're proud to say that increasing diversity is essential to our success, and a core corporate value that shapes our vision for the future. Find more information about our diversity and inclusion initiatives, and how we empower employees from all walks of life.